It's the busy season as people prepare for the upcoming nuptials which means its all about finding those perfect bridesmaids dresses! We stock a huge range of brands in our bridal shop Wahroonga including Jadore dresses, Les Demoiselle, Shona Joy, Portia and Scarlett, Pia Gladys Perey, Lilly Luxe the Label, Dessy Group, After Six, Alfred Sung, Social Bridesmaids and more. The burgundy bridesmaids dresses are a favourite this upcoming bridal season, with burgundy suiting all skin tones, as well as pairing beautifully with a leafy bouquet.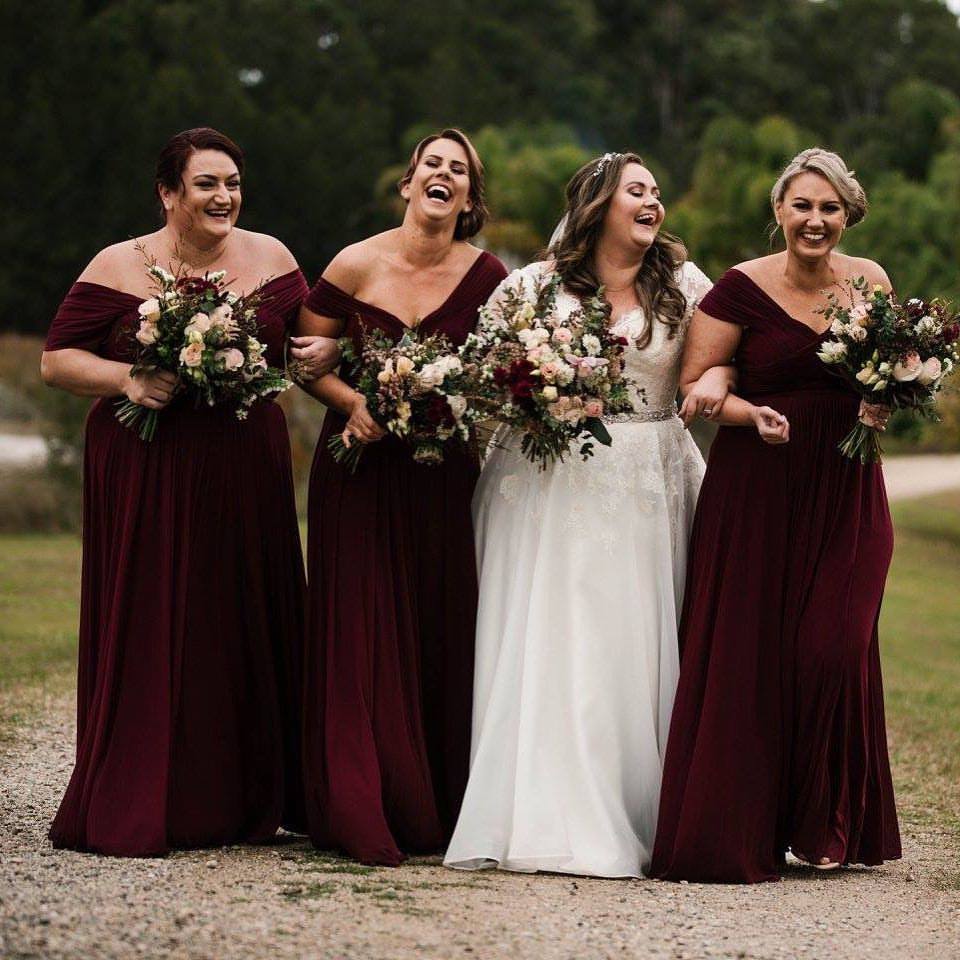 This gorgeous shot is our Lizzy dress (8020/LD8020) by Les Demoiselle and Jadore dresses. The off shoulder bridesmaids dress is a gorgeous A line dress, perfect for a traditional look. These dresses are available to custom in up to 30 different colours, so finding a perfect colour for your wedding is so easy!
Shop LD8020 Lizzy Dress Burgundy Bridesmaids Dress Les Demoiselle HERE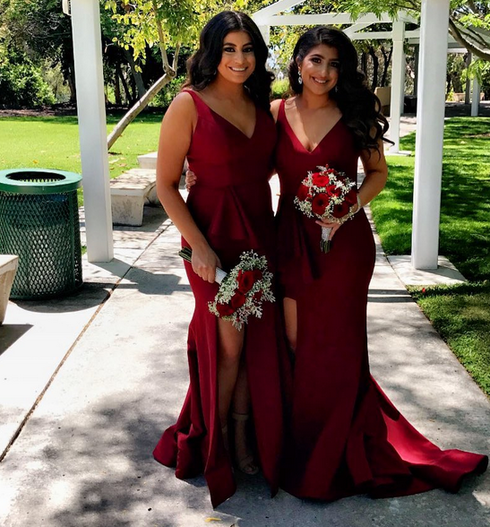 The Sansa Gown from Portia and Scarlett is available in a few colours and we love the burgundy for bridesmaids dresses. These dresses are a more fitted style and are suited more for a modern bride. These gorgeous girls pair their burgundy bridesmaids dresses with a rose bouquet!
Shop Sansa Portia and Scarlett Burgundy Bridesmaids Dresses School Formal HERE
If you're looking for cheap bridesmaids dresses, we have you covered with our range of Shona Joy dresses. The core cocktail range is 4 styles, available in 19 colours and are only $280 each! These Shona Joy dresses have become popular, especially for a more casual wedding. If you're having a beach wedding these are gorgeous and are more of a cocktail bridesmaids dress.
Shop Shona Joy Cocktail Burgundy Bridesmaids Dresses HERE
These are just some of the few gorgeous bridesmaids dresses we have available in store and online! Whether you're looking for a lace bridesmaids dress, sequin bridesmaids dress, long sleeve bridesmaids dress, burgundy bridesmaids dresses, gold bridesmaids dresses, white bridesmaids dresses, navy bridesmaids dresses, black bridesmaids dresses, cocktail bridesmaids dresses, maxi dresses, casual bridesmaids dresses and more!
Shop online with fast shipping to Sydney, Melbourne, Brisbane, Adelaide and Perth. Otherwise visit our bridal shop Wahroonga for a specialised bridal appointment.