Mermaid gowns that will make you fall in love all over again!
The date is set, ideas and daydreams about your special day have officially begun. Your dream wedding gown is just a few steps away and you cannot wait for that moment in which you two meet.
With a wide selection bridal gowns in our Wahroonga showroom in Sydney and online, we picked today 6 mermaid styles that we think you'll absolutely love!
At times, one needs to try different styles to know exactly what feels true to you, the kind of details you would like to have in your dress, the exact fit desired and how you would like to style it. Our lovely stylists would be more than happy to assist you in finding your perfect look. For those not in Sydney, we do offer a practical at-home try-on service, feel free to get in touch to know more about this.
Timeless and breathtaking, Logan by Moonlight Bridal stuns with its simplicity and perfect structured silhouette. Featuring high quality ivory crepe and embroidered lace on the off the shoulder sleeves, back and train, it gives just the right amount of intricacy.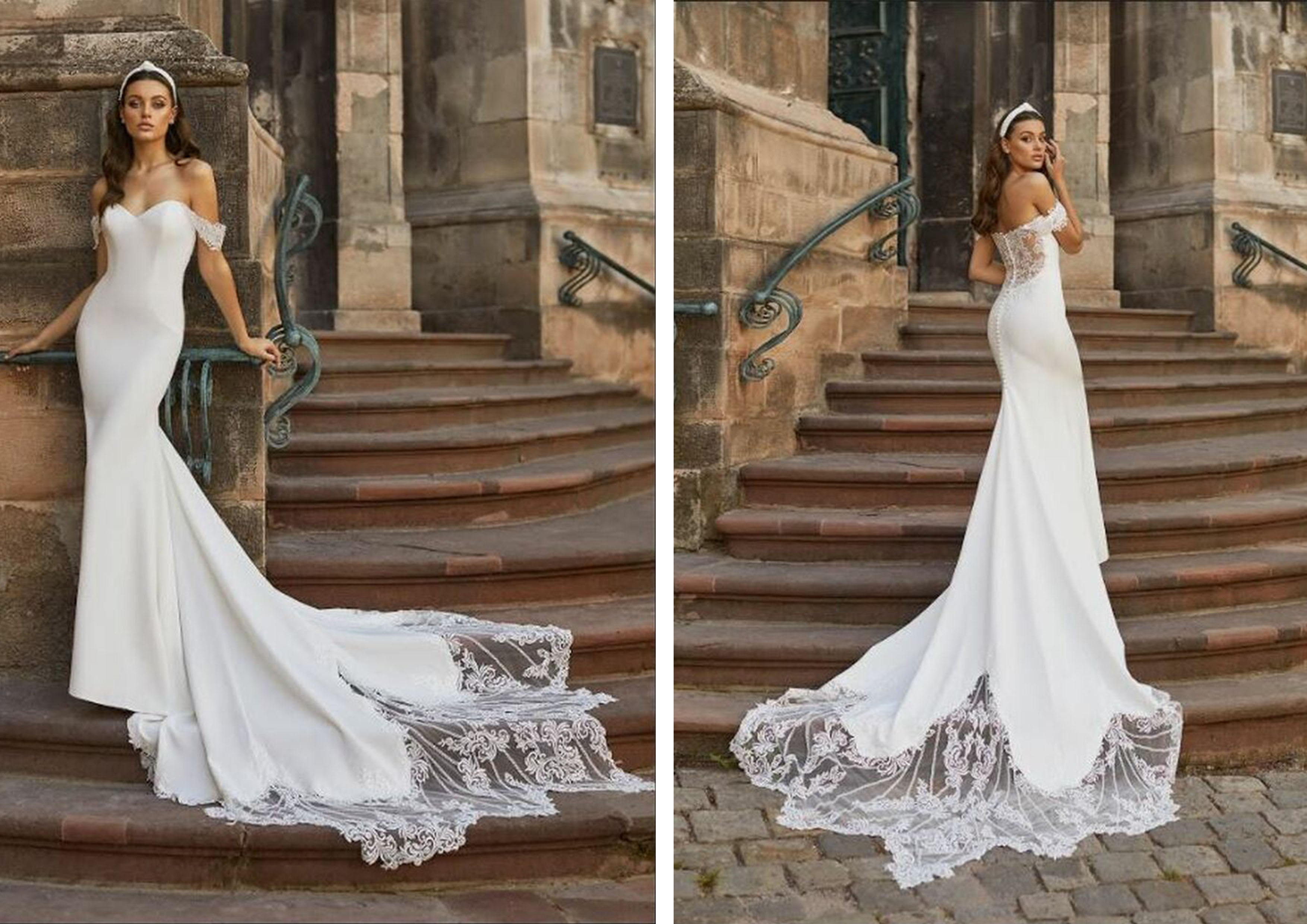 Eureka exudes effortless elegance and class like no other! It features a deep V neckline and open back, perfect length train and button details all along the middle back. Even though not everyone can pull off wearing this style, those that do get everyone just speechless.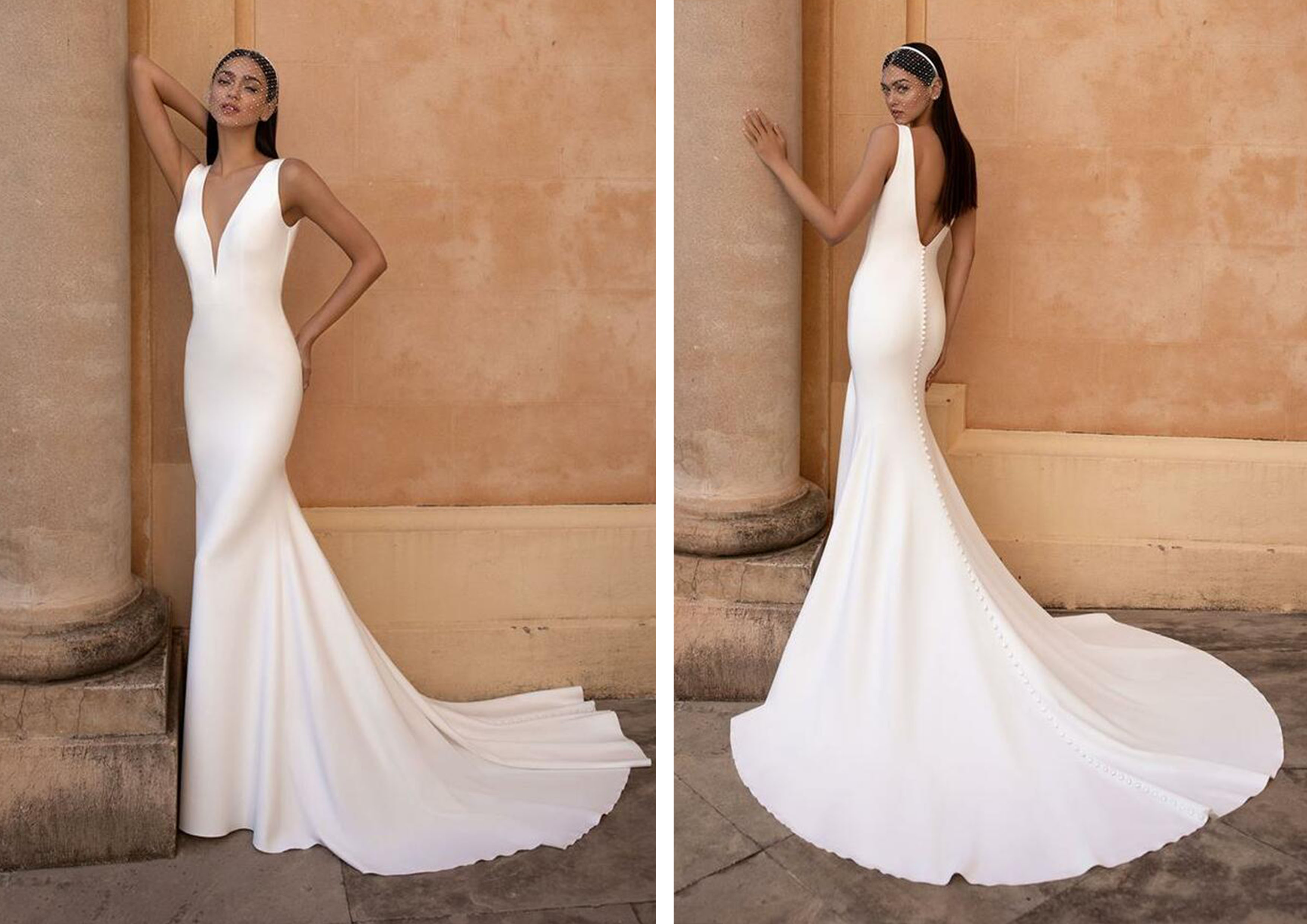 Grace is a winner for those wanting floral elements and lace on a figure hugging style. With a beautiful sweetheart neckline, waisted design and gorgeous organza layering, your love will wonder if he's dreaming as you make your entrance!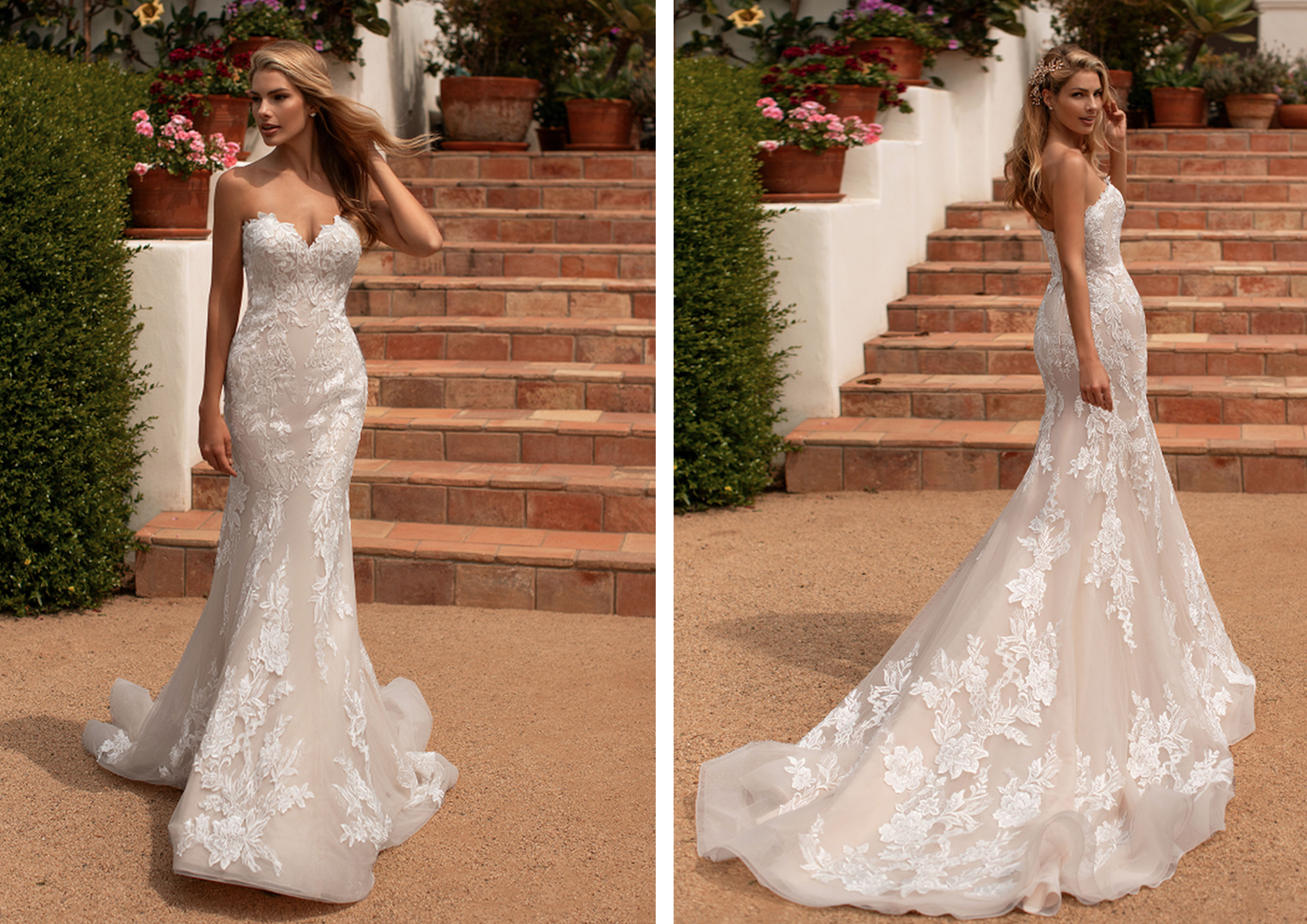 Oakley is a story of its own...speaking of romance and wonderland and taking us somewhere else with its beauty! The softness of its floral lace, off the shoulder sleeves, sweetheart neckline and stunning train are dreamy elements we simply just can't get out of our mind.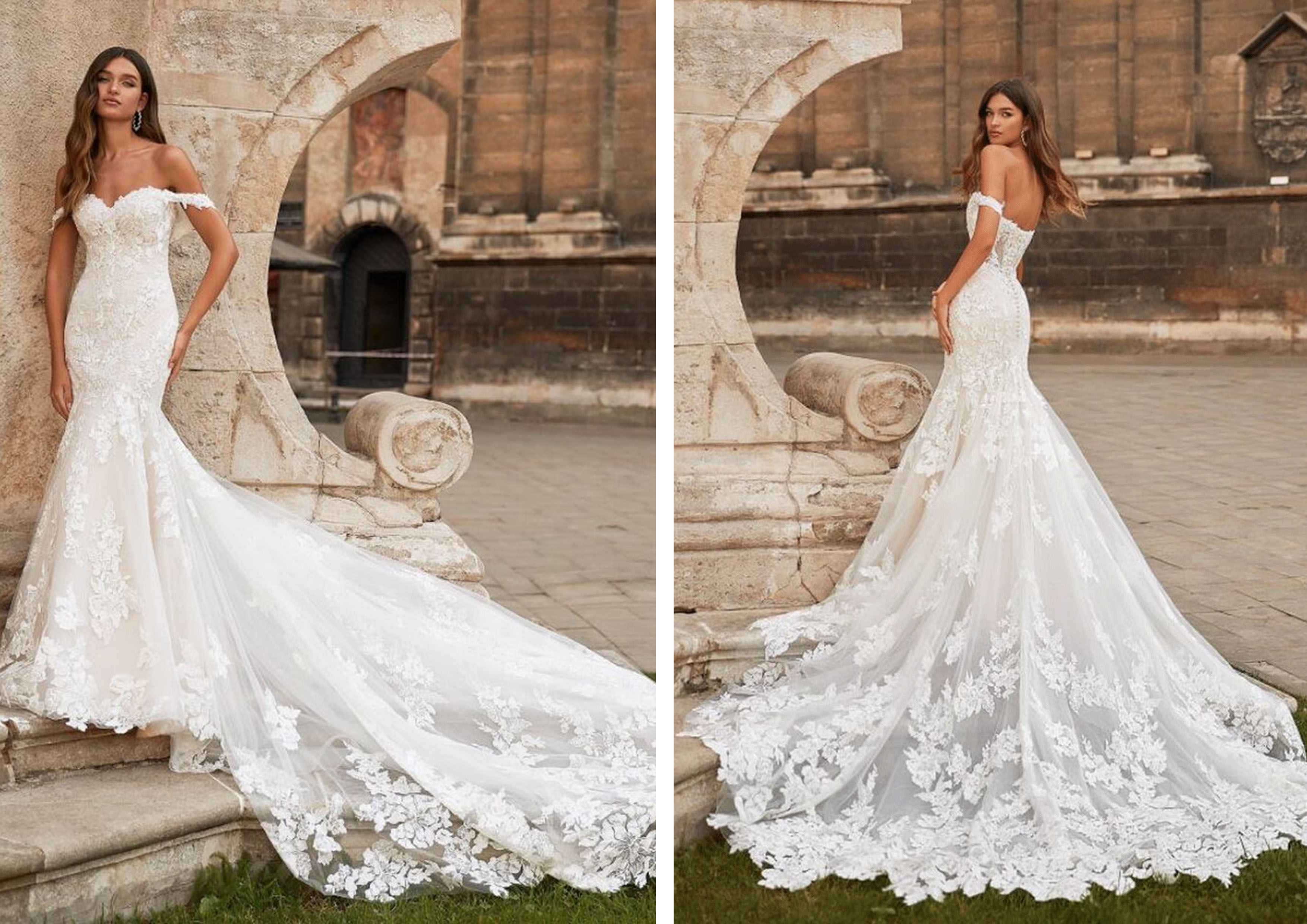 Sometimes that special day just calls for more...more celebration, more elegance, more sensuality, more details, more train for an everlasting more memorable impression! This is Lisa, offering a simple mermaid silhouette with all the extras that a bride is entitled to request in her gown. It features a V neckline, low back and a rich embroidered lace layered with another soft lace layer underneath to give it a depth of dimension and sophistication.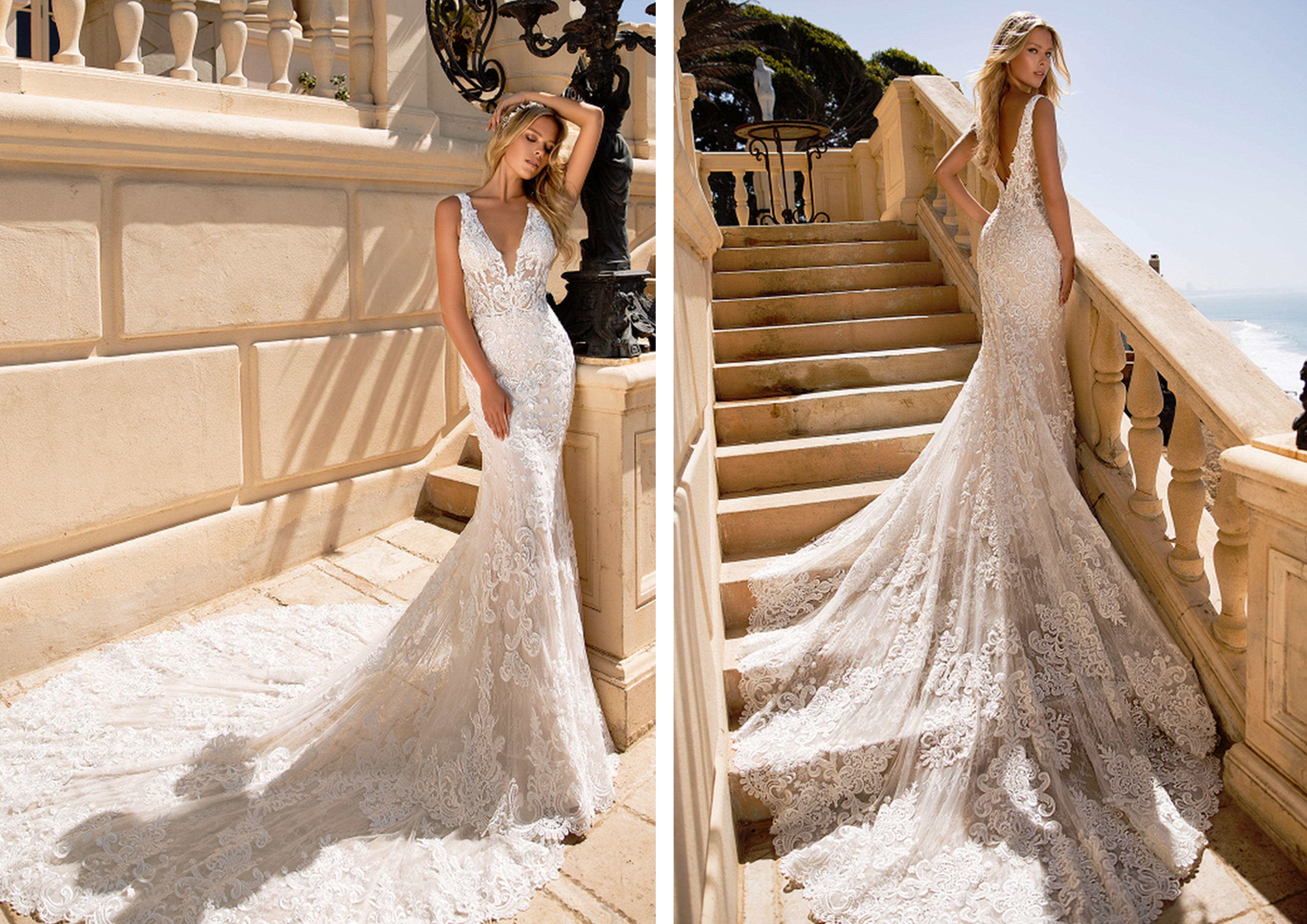 Lilia is the enchanting one with its sexy mermaid silhouette, dreamy floral details, tulle train and appearing corset details that will get everyone mesmerized as you walk in. Be prepared to give the entrance of a lifetime!