Not sure what to wear on the most romantic day of the year? Whether you plan on having an intimate, candle-lit dinner for two, or celebrating with your favourite gal pals, you need to look elegant, gorgeous and worthy of an Instagram post.
We have gathered some exquisite dresses fit for the occasion, no matter how you choose to celebrate. Our stunning new Alamour The Label Resort Collection features a superb range of mini and maxi dresses, which can be styled up or dressed down. They are perfect for any date destination he surprises you with or a girls' day out. Our Jadore and Tania Olsen dresses are ideal for a dinner occasion, featuring beautiful long gowns flattering to your figure and created for you to shine!
Whether you are in need of a smart-casual look or are craving a reason to finally dress up again, we have the dress for you. Call us cupid!
Keep scrolling to see the most fabulous outfits to wear this Sunday.
1 – Positano Dress by Alamour The Label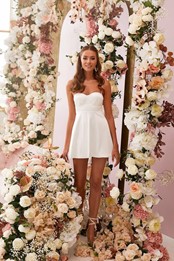 Dream of the gardens in Italy with the simple, elegant Positano Dress. This little white dress is so versatile, perfect for date night or brunch with the girls. It features beautiful white satin cloth, delicate spaghetti straps and a lace-up back with a flattering a-line fit. Style it with simple white heels or dress it down with white sneakers.
2 – Nalani Dress by Alamour The Label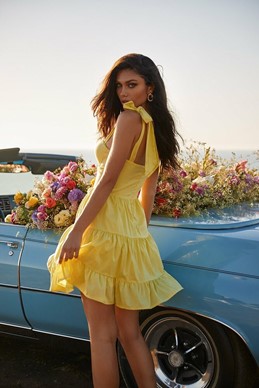 After something a little more radiant? Shine bright in the dreamy Nalani Dress, which features an a-line silhouette, cute tie-up straps and of course the stunning sunshine yellow fabric. This is the perfect daytime dress for a Valentine's Day picnic date. Finish the look with elegant beige heels and gold jewellery.
3 – Carrie Dress by Alamour The Label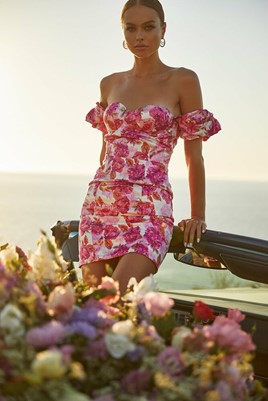 Embrace the classic Valentine's Day pink with our new Carrie Dress. You really can't go wrong with this gorgeous floral, off-the-shoulder mini, designed to flatter your figure and show off your curves. No matter where you go, he won't be able to keep his eyes off of you!
4 – Carlisle Gown by Tania Olsen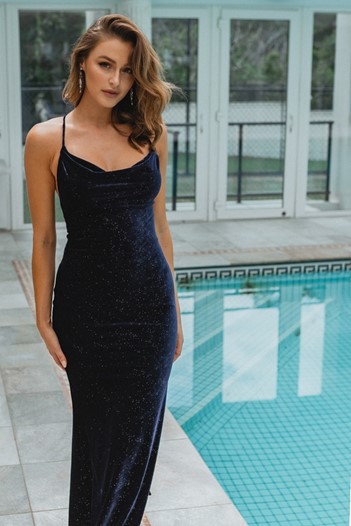 Need something a little smarter? Dress to impress in the Carlisle Gown. The design is strikingly simple, featuring a soft cowl neckline, spaghetti straps, and a low tie back. The Carlisle Gown is long, elegant and sexy, with its sparkling velvet fabric and side length slit. Paired with simple silver jewellery, this gorgeous dress is perfect for any evening date or dinner with the girls.
5 – Judi Dress by Jadore Evening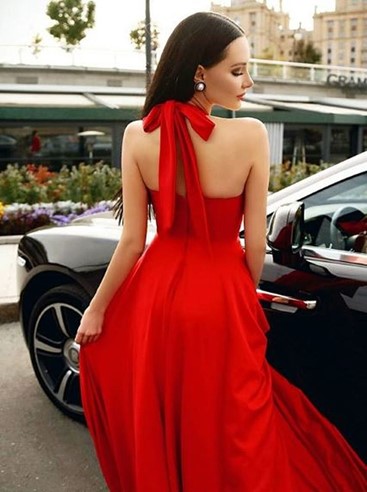 What better colour to wear this Valentine's Day than the colour of love and romance? Show up in this vibrant red gown with a beautiful a-line silhouette and unique tie-up halter neck. Finish the look with striking red lipstick. The Judi dress is ideal for an exclusive candle-lit dinner overlooking a beautiful view.