White bridesmaid dresses are one of the latest trends to hit the bridal scene! White bridesmaids dresses look clean and modern and can help brighten up the bridal party. It is also super easy to match the flowers, accessories, venue and theme, and the mens suit if you're going all white
When it comes to white bridesmaids dresses, people can often get overwhelmed by the "don't wear white to a wedding" rule, and obviously you don't want your bridesmaids to be mistaken for the bride in a wedding dress. We have so many styles, and a few simple rules to follow, to make sure you can pull off white bridesmaids dresses!
When it comes to wearing white bridesmaid dresses, my number one tip is to keep it different from the bridal gown, whichever way that might be. You can still find dresses which compliment your dress, just try and find a different style dress for your wedding gown. This will ensure no one can outshine the bride!
Tip 1: Break it up with a nude underlay
These sequin bridesmaid dresses are a great way to pull off the white bridesmaids look, with the nude underlay. This gorgeous bridal party wears our best selling Marilyn (JX039) from Jadore, and we are obsessed with this strapless mermaid fit. The nude underlay helps to break up the white, if you're still a little skeptical. These dresses for your bridal party are perfect if your wedding is OTT, and if you have a ballgown wedding gown, these would look amazing with it! I absolutely love the hair in a low messy ponytail and minimal accessories make sure it isn't too busy.
Shop Marilyn (JX039) Jadore White Bridesmaid Dresses HERE
Tip 2: Opt for a shorter dress for your bridesmaids
The Shona Joy bridesmaid range is our most affordable range, perfect if you're a bride on a budget. These gorgeous ladies wear our Knot Draped Dress in the ivory. These dresses are perfect for the white bridesmaid trend because they are a tea length to cocktail length, depending on height of your bridesmaids. These bridesmaids dresses are another more casual option if your dress isn't as extravagant. These bridesmaids dresses are best sellers for beach weddings as they're super comfortable and easy to move and dance in as well!
Shop Knot Draped Dress Shona Joy White Bridesmaids Dresses HERE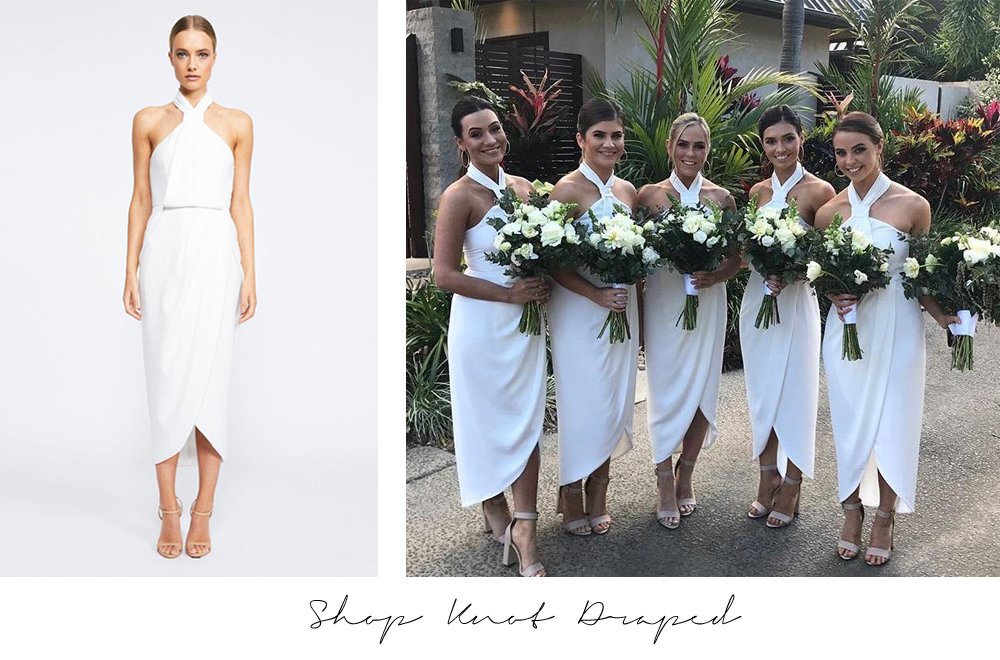 Tip 3: Choose a different neckline for your bridesmaids
These gorgeous bridesmaids wear our 8178 dress from the Dessy bridesmaids range and we absolutely love the one shoulder trend. The bridesmaids wearing the one shoulder plain dress looks so elegant and pairs beautifully with her V neck lace bridal gown. This is a great example of how a different neckline can compliment the bridal party. By having the dresses in a plain chiffon fabric is also makes sure to not detract from the bride.
Shop 8178 Dessy White Bridesmaids Dresses HERE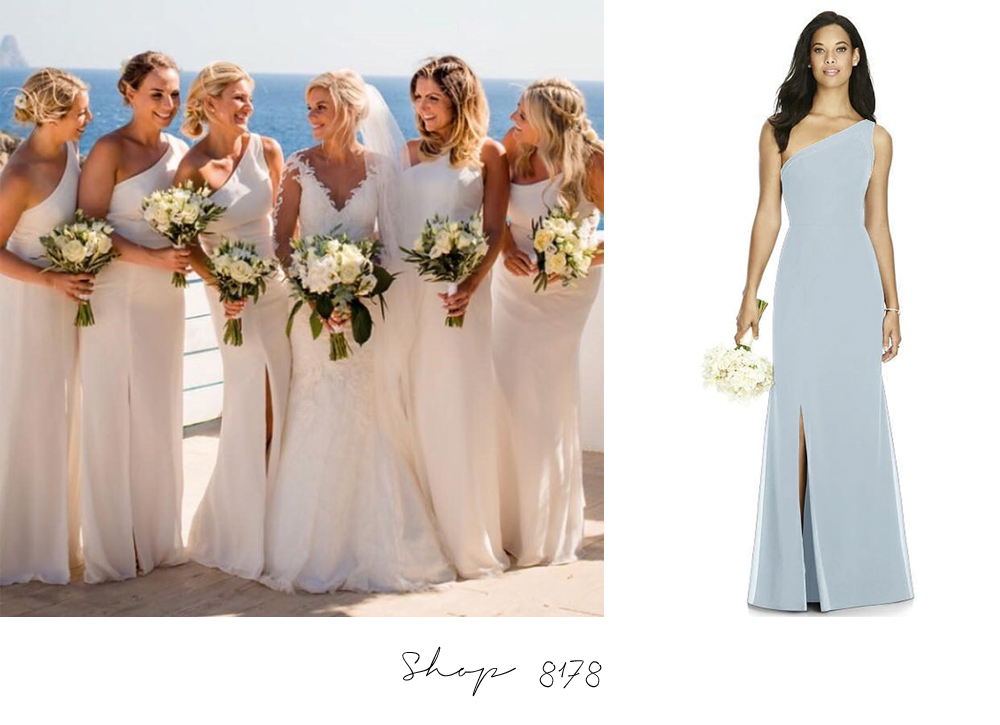 If you love white bridesmaid dresses, but are looking for a style that is a little more traditional, these Aggi dresses from Les Demoiselle are perfect! This garden wedding perfectly suits this A line style, paired beautifully with the leafy bouquet. I absolutely love the off shoulder detail, which gives the dress a little something extra, as it is quite a plain dress otherwise. These dresses channel a more boho feel if you are having a country or garden wedding.
Shop Aggi (LD1073) Les Demoiselle White Bridesmaid Dresses HERE
So what do you think of the trend of white bridesmaid dresses?! Would you dare have this for your big day? Of course, we are more than happy to help with any questions you have regarding bridesmaid dresses, colour swatches, fabric swatches and the like. Planning a wedding can be stressful and we are here to give you some ease!
Our range of bridesmaid dresses online include white bridesmaid dresses, black bridesmaid dresses, navy bridesmaid dresses, burgundy bridesmaid dresses, wine bridesmaid dresses, tea length bridesmaid dresses, cocktail dresses, sequin bridesmaid dresses, peach bridesmaid dresses, gold bridesmaid dresses, silver bridesmaid dresses, champagne bridesmaid dresses and more.
Shop All Bridesmaid Dresses Online Australia HERE
Our range of gowns include bridal gowns, wedding dresses online, bridesmaids dresses online, engagement party dresses, cocktail dresses, mother of the bride dresses, mother of the groom dresses, school formal dresses, valedictory dresses, debutante dresses, evening dresses, wedding guest dresses and more.
Our brands include Jadore dresses, Elle Zeitoune, Portia and Scarlett (Dollhouse bridesmaids), Shona Joy, Calla Blanche Bridal, Les Demoiselle, Pia Gladys Perey, Goddess by Nature, Tania Olsen, Lilly Luxe the Label, Social Bridesmaids, Dessy Bridesmaids Dresses, Lela Rose, Alfred Sung, After Six, French Collection, Wendy Makin, Mori Lee, Wtoo, Willoughby, Watters and more.