So much goes in to planning a wedding. Table settings, floral arrangements, venue, catering... all this before the bride has even started looking for a wedding dress! Not to mention, what will the bridesmaids wear?
For many brides, colour is the main concern when searching for the perfect bridesmaid dresses. Thankfully, our most popular bridesmaid designer brand makes colour hunting so easy! With up to 64 colour options for each dress, The Dessy Group leads you away from the traditional homogeneous bridesmaid aesthetic, to take a mixed and matched approach to styling your bridal party. Shop one dress in multiple colours, or choose multiple styles from one specific colour to keep all your bridesmaids happy.
Nothing inspires wedding colour palettes more than the season, so we've selected four Dessy dresses in four seasonal colours to spark your bridesmaid dress search for a sea-side summer wedding, a rustic autumn wedding, a frosty winter wedding or a spring garden wedding.
Summer is all about being outdoors, enjoying the sunshine, the sea breeze and bare feet on grass. If you're planning an outdoor summer wedding overlooking the sea, your bridesmaids will look dazzling in soft, warm hues to contrast the bright blue of the sky and ocean.
It's the season of showing a little skin, so why not opt for this floaty chiffon off-the-shoulder bridesmaid dress with a front slit?
Colours from left to right: Rouge, Porcelain Pink, Lilac Dusk, Jade.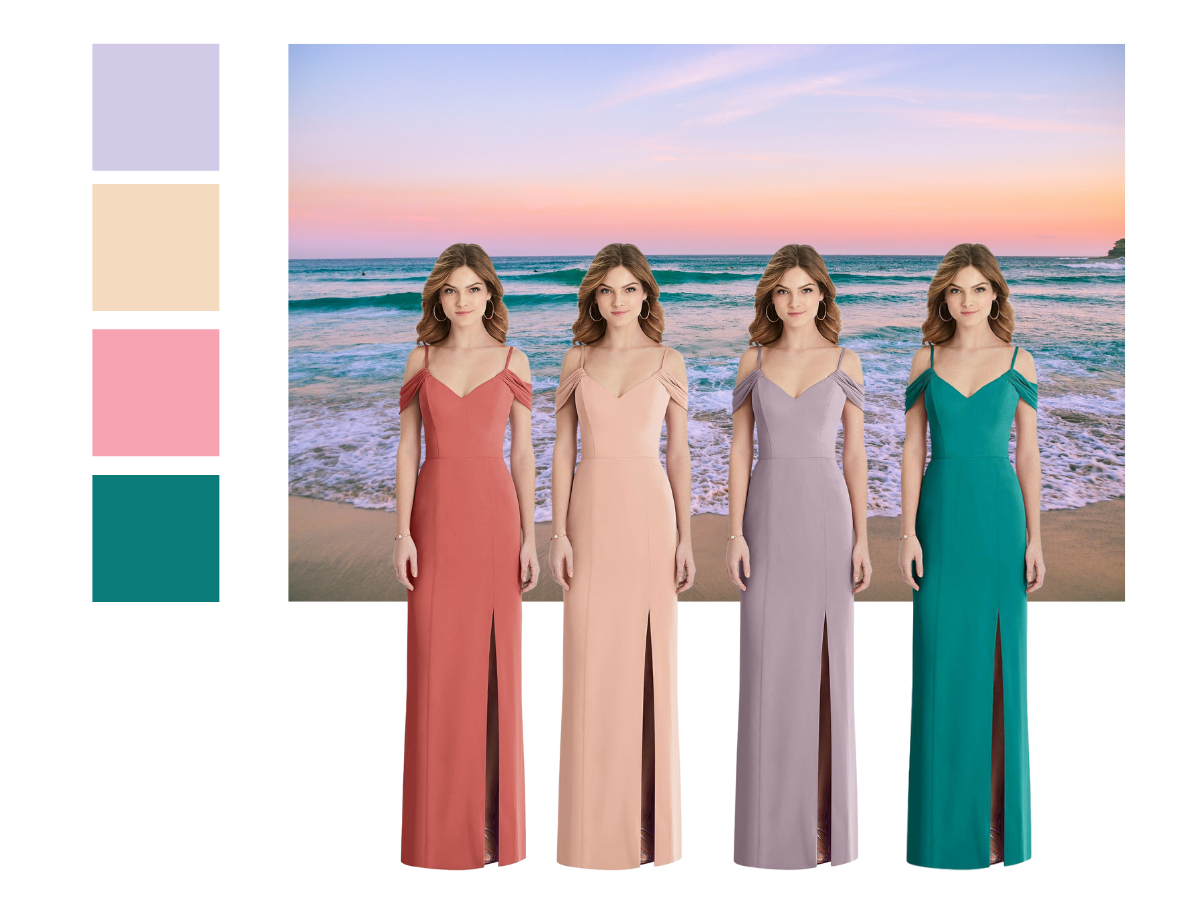 The weather's cooling down, but the colours are warming up! The gorgeous earthy golden, red and brown tones of Autumn are so flattering for every skin tone and fit flawlessly in to a rustic natural-themed wedding.The strong, dark shades of autumn palettes might seem like an intimidating choice for brides, but the contrast provides a stunning back drop for a bride wearing in pure white.
The floaty sleeves on this gorgeous cold-shoulder draped maxi bridesmaid dress mimic the drifting movement of falling leaves.
Colours from left to right: Amber Sunset, Auburn Moon, Burgundy, NYC Yellow.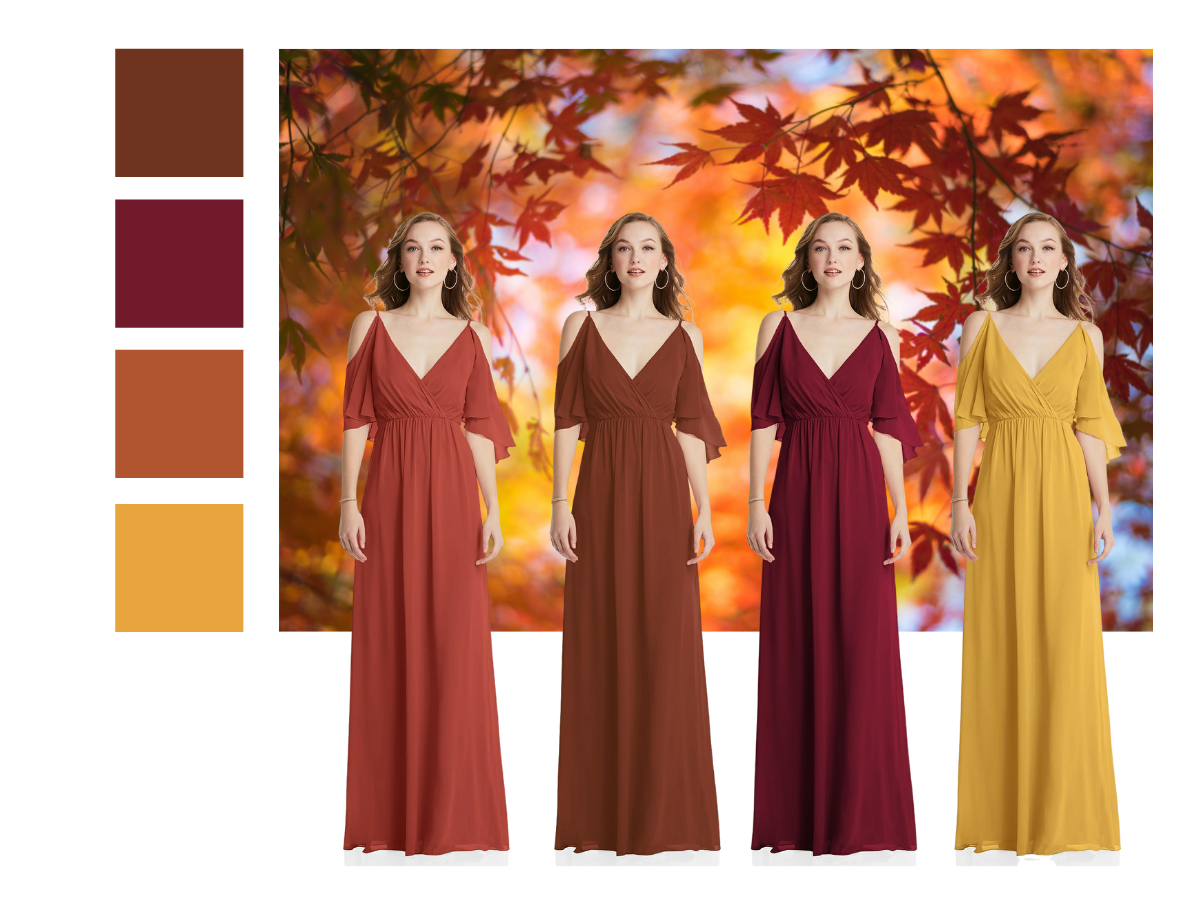 This winter wedding palette might seem more conservative than the others, but remember there's so many other elements of the celebration which present opportunities for explosive colours! Pale and muted tones in winter bridesmaid dresses are opportunities to balance out a vibrant palette, or to lean in to the steely sophistication of cooler tones.
This gorgeous and ethereal flutter sleeve high-low bridesmaid dress beautifully captures a winter mood.
Colours from left to right: Mist, Vineyard Green, Silverstone, Auburn Moon
What better way to celebrate the start of a new life than with a spring wedding? Celebrate the season of new life with a vibrant and lively wedding colour palette. It is basically compulsory for every outdoor spring wedding to have at least one bright, popping shade to thaw out the winter blues! Don't miss out on soft neutral pinks or intensely vivid greens either.
Wake up and smell the bridal bouquet roses with the simplistic elegance of this one-shoulder crepe bridesmaid dress.
Colours from left to right: NYC Yellow, Blush, Hunter, Fuchsia.