Shine BRIGHT like a diamond engagement ring! Sparkly and beaded wedding gowns are oh-so glamorous whether you're wearing it to the ceremony, wedding reception or both! This selection of sparkly wedding gowns are some of our most popular shimmery wedding dresses with that sexy mermaid silhouette. They feature beaded embroidery, sequins and glitter in abstract linear patterns, offering a contemporary twist for the modern bride.
You'll feel like a Hollywood star in these three beaded wedding gowns at Fashionably Yours Bridal, the perfect place to start browsing for your glitzy wedding dress.
---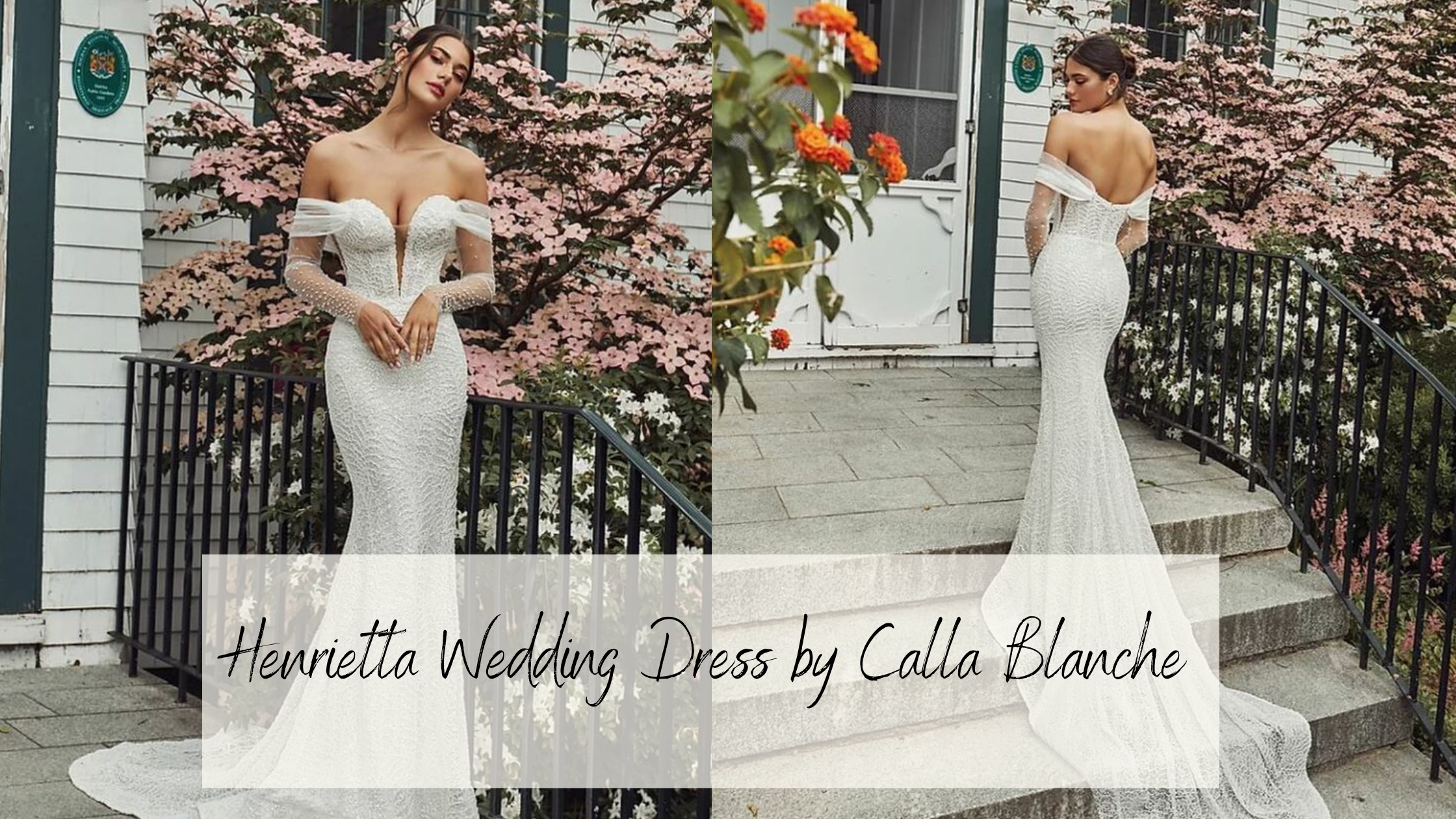 The Henrietta wedding gown by Calla Blanche is a gorgeous and glamourous gown. This dress has an embroidered beading overlay all up and down the entire wedding dress, adding interest to the corset and the mermaid skirt. The boned bodice of this wedding gown has a sweetheart neckline with a beautiful plunging V drop. With the corset-style make, you're guaranteed structure and support to confidently show off what you were born with- especially with that gorgeously seductive mermaid silhouette.
Now let's talk about the SLEEVES. Yes- the embellished long sleeves on this wedding dress are detachable, and therefore optional- however they do add an extra sense of glamour and sophistication to the wedding gown that separates it from the crowd. All in all, as far as sparkly wedding dresses go, you get a bit of glitz, a bit of glam, and a lot of wham-bam in the Henrietta wedding dress.
---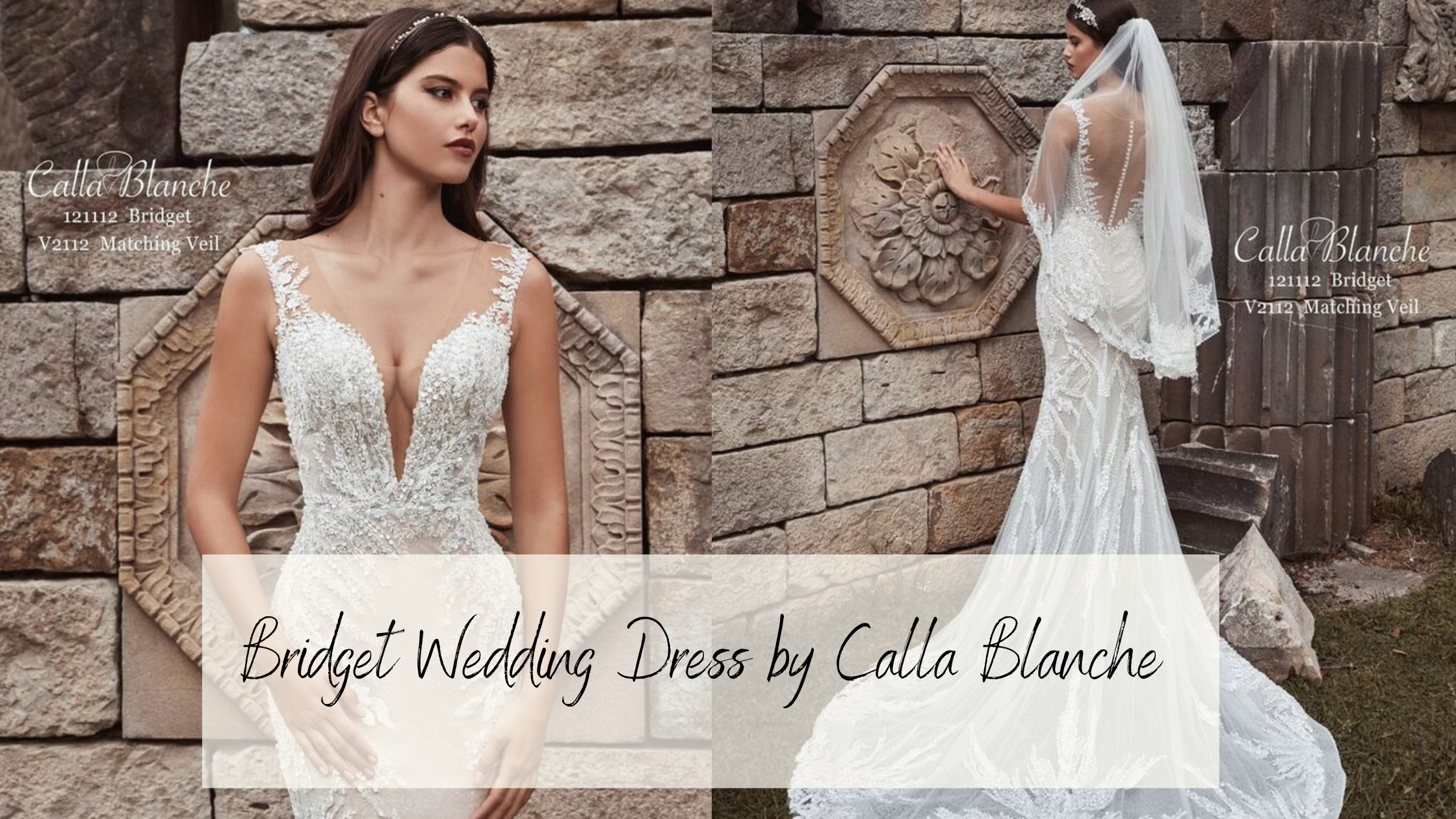 This wedding dress by Calla Blanche bridal serves up icy snow-queen vibes for frosty winter weddings. Not only does it feature an oh-so-flattering beaded sequin embroidery pattern that subtly traces your curves, this sparkly wedding gown packs a punch with its second layer of glitter tulle. The several dimensions of sparkle in this Calla Blanche dress show through best in the ivory/nude option, while the ivory/ivory option provides a more subtle approach to the glimmer.
The full beading on the bodice which brings attention towards the plunging V neckline, tracing up through the shoulder straps and flowing all the way down into an impossibly open V-back. The low-back illusion is made possible with the nude mesh, allowing for the beautiful floating ivory buttons which trail down your spine. The stunning crystalising beading and sequin embellishment weaves its way down the mermaid silhouette of the dress, ending in a stunning train. Overall, Bridget ensures your wedding guests are captivated by each part of your wedding dress as you walk down the aisle and say "I do!".
---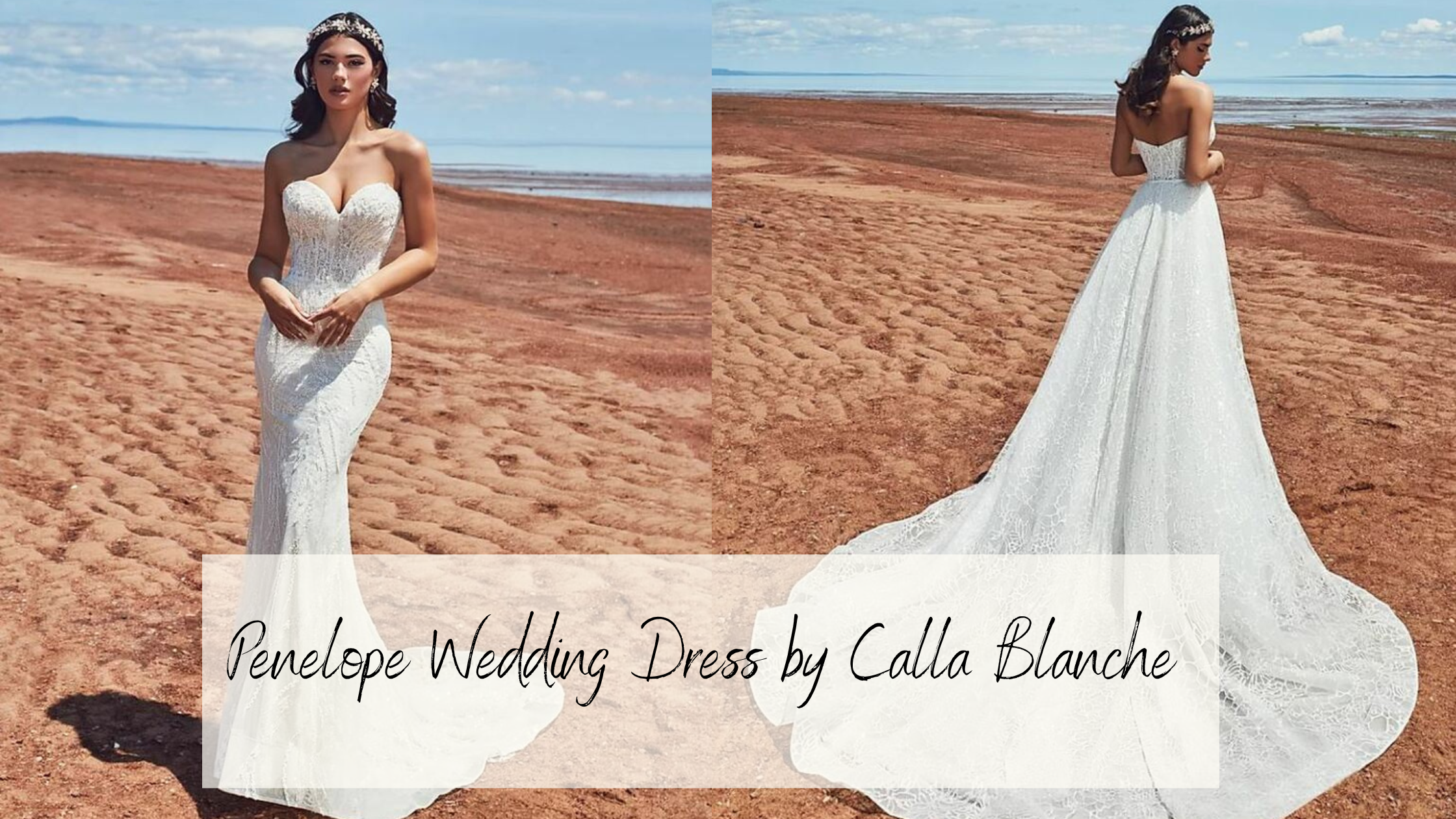 Penelope is such a popular beaded wedding dress that we have trouble holding on to our store sample! Even with all the shiny bits, this strapless sweetheart wedding gown is the definition of understated glamour. The linear criss-crossing beaded embroidery pattern with the tight-fitting sheath silhouette and optional un-lined bodice offers a contemporary take on beaded lace wedding dresses.
One of the best parts about this wedding dress is the versatility it provides. The wedding dress has an optional matching overskirt which transforms this beaded tight fitted wedding dress into a sparkly ball gown. This optional feature is perfect for a bride who wants her wedding guests to GASP out loud as she enters the ceremony, but would prefer something more paired-down when it comes time to hit the dance floor at reception. This stunning wedding gown is the perfect dress if you have always dreamt of a sparkly transformation wedding gown on your big day.
---
Shop our wide selection of sparkly bridal gowns and wedding dresses from Calla Blanche Bridal, simple wedding dresses, ivory wedding dress, satin wedding dress, white wedding dress, elegant wedding dress, crepe wedding dresses, Mikado wedding dresses, sequin wedding gown, sparkly wedding dress, satin wedding dresses, chiffon wedding dresses, lace wedding dresses, tulle wedding dresses, mermaid wedding dresses, contemporary wedding gowns, elegant wedding dresses, sheath wedding dresses, sophisticated bridal looks, wedding dresses with cape sleeves, square neckline wedding dresses, straight neckline wedding dresses, deep v illusion plunge wedding gowns, A-line wedding dresses, mermaid wedding dresses, cap sleeve wedding dresses and strapless wedding dresses from Pronovias Bridal Barcelona, Calla Blanche Bridal, Moonlight Bridal and at Fashionably Yours.
Our online bridal store ships Australia-wide and internationally, with fast shipping to Sydney, Melbourne, Perth, Hobart, Adelaide, Darwin, Canberra. We cater for a large range of brides and customers with bridesmaid dresses online, wedding dresses online, mother of the bride dresses, sequin bridesmaid dresses, mother of the groom dresses, school formal dresses, evening dresses, formal dresses, prom dresses, engagement party dresses, valedictory dresses, evening gowns, wedding guest dresses, long sleeve formal dresses, sequin formal dresses, second wedding dresses, casual wedding dresses and more.