Dare to be different and dress your leading ladies in something you wouldn't usually see in wedding albums! At Fashionably Yours, we have a gorgeous and diverse range of bridesmaid dresses to suit any bride's wedding style- even if that style strays from the ordinary.
If you're after something daring, unusual, contemporary or a little bit extra, read on to work these dazzling and extraordinary bridesmaid looks in to your unique wedding experience.
---
It might be a bit daunting to inject this level of glamour in to just any wedding. In the wrong setting, gold sequin bridesmaid dresses can be overpowering, and dare I say, tacky. The secret is, elevate every other aspect of your wedding to match!
Gold sequin bridesmaid dresses are so reminiscent of Old Hollywood Glamour, and provide the perfect opportunity to play up this aesthetic in your theme. Think old abandoned warehouse, spruced up with hints of sparkles and feathers throughout the decorations, and bright red roses in the floral arrangements.
And of course the most important decision for brides when it comes to gold sequin bridesmaid dresses: "But what do I wear?"
Make sure the wedding dress remains the most prominent garment of all by opting for dramatic ball-gown styles with a bit of shimmer, like the Dacia Wedding Gown in gold by Moonlight Bridal. Now you're ready to go out and chase the most perfect happy ending in Hollywood history!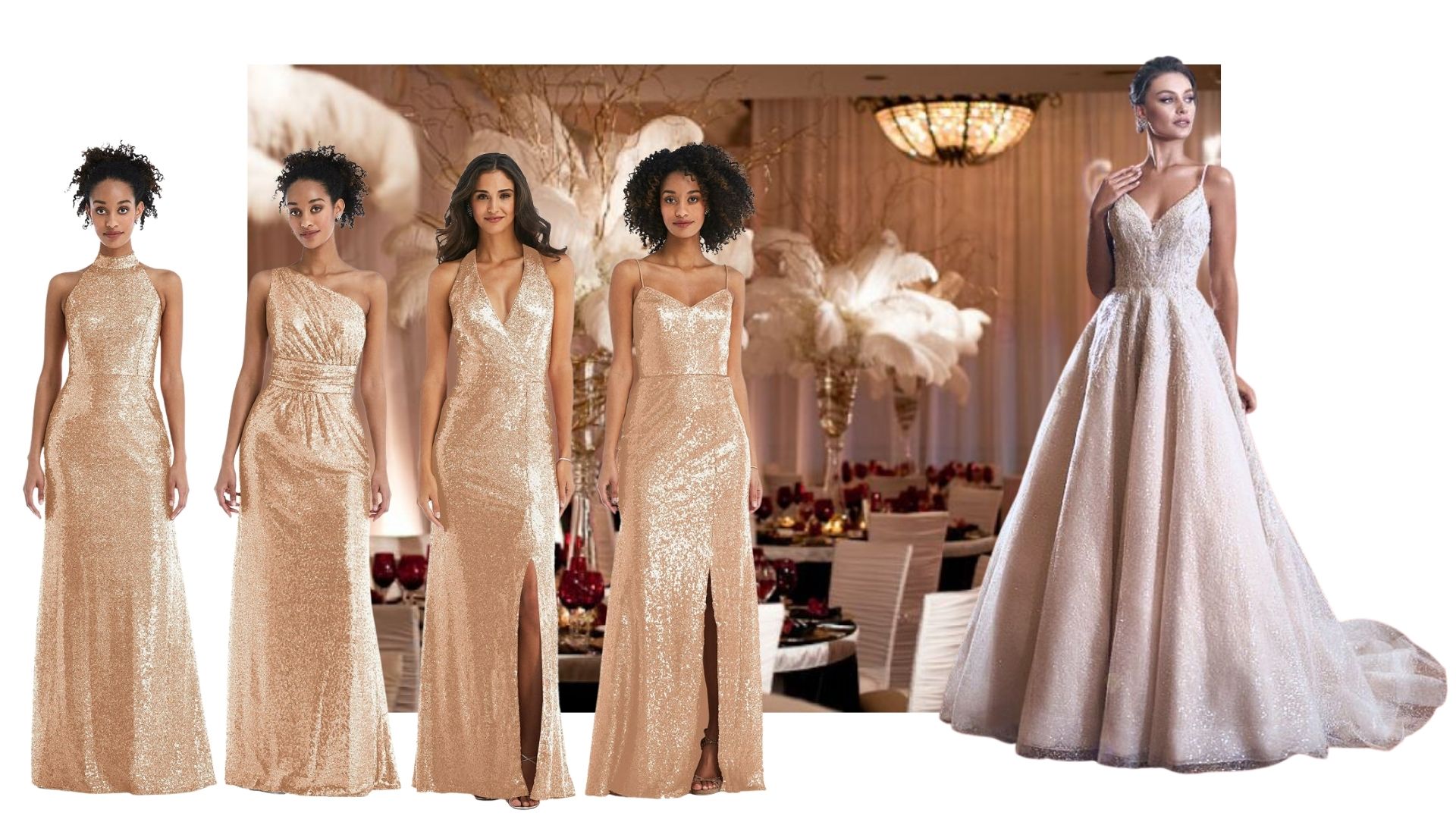 Bridesmaid Dress from Left to Right: Thread Bridesmaids Dress Style TH054, Thread Bridesmaids Dress Style TH058, After Six Dress Style 6846, After Six Dress Style 6845

---
White has long been reserved just for the bride; some may even consider it insulting to wear white to someone else's wedding! However white bridesmaid dresses have become the must-have trend for contemporary fashion-forward brides looking for a clean and streamlined wedding theme. White bridesmaid dresses look absolutely fantastic in curated garden wedding venues, complimented by manicured hedges and paired-back bouquets, and contrasted by the bright green flora.
The key to still having a stand-out white wedding dress against white bridesmaid dresses is a balance of variation and consistency. For example, pairing white chiffon bridesmaid dresses with a fully lace wedding gown like Lucia by Moonlight Bridal Mermaid Dress for that textural contrast, but keeping that diagonal of the V-neckline consistent across all dresses, either through similar V-necks or linear one-shoulder styles. In general, try to keep the same shade of white for the sleek and clean finish that forms the appeal of choosing white bridesmaid dresses, but play around with the textures, silhouettes and hemlines.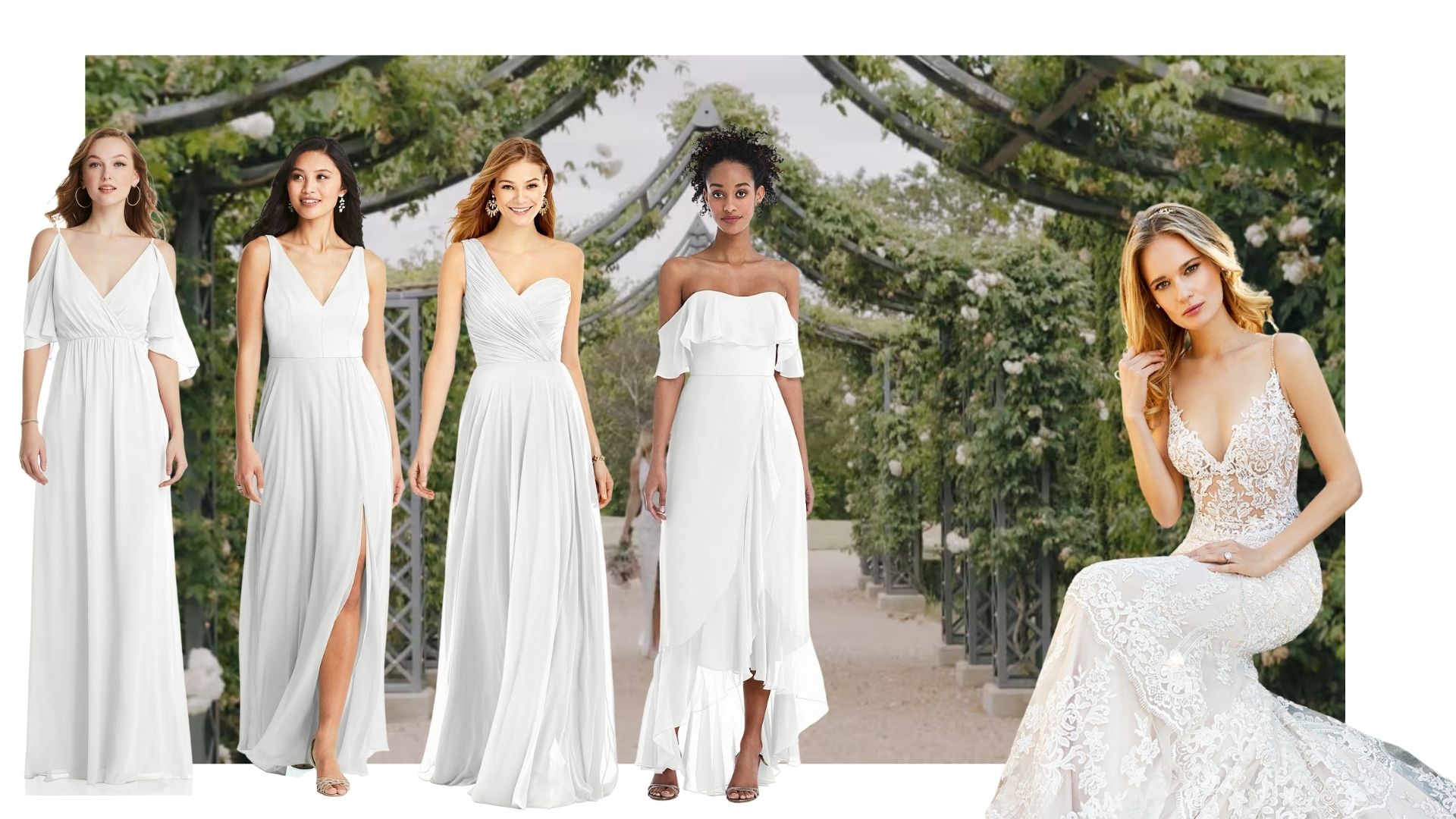 White Bridesmaids Dresses from Left to Right: After Six Maxi Dress Style 1547, Bella Bridesmaids A-line Dress Style BB131, Thread Bridesmaids One Shoulder Dress Style TH025, Thread Bridesmaids Strapless Dress Style TH039.
---
Pantsuits and Jumpsuits are slowly coming in to vogue as bridesmaid dresses for contemporary weddings and brides with a minimalistic disposition. They are the perfect compliment to chic and elegant simple wedding dresses, like Abby by Pronovias Crepe Mermaid Wedding Dress, featuring sophisticated sleeves and a faux wrap drape. Overall, this bridal party style suits the bride who subscribes to a different brand of femininity to the classical definition: one that encompasses strength, success and empowerment as well as beauty and grace.
Run with the minimalistic approach and keep the colours and decorations simple to complete the elegant and modern bridal party styling!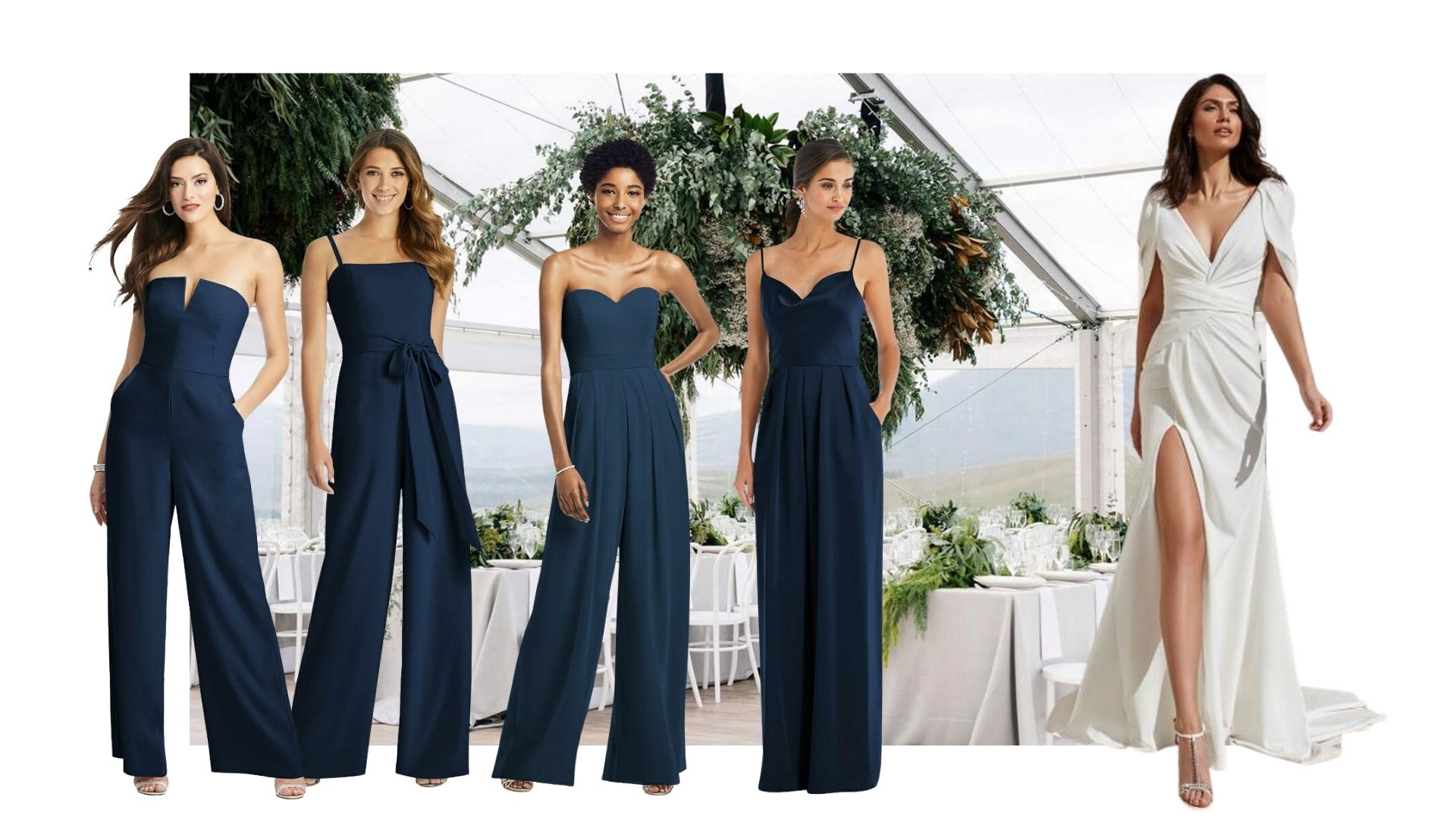 ---
modern bridesmaid dresses, bridesmaids dresses online, bridesmaids dresses, online bridesmaid dresses, full length bridesmaid dresses, bridesmaid dress shops sydney, bridesmaid dresses, bridesmaids dresses australia, bridesmaid dresses au, bridesmaid dresses australia, bridesmaid dresses online australia, plus size bridesmaid dresses melbourne, bridesmaid dresses australia online, bridesmaid dress australia, bridesmaid dresses afterpay, bridesmaid dresses sydney, online bridesmaid dresses australia, plus size bridesmaid dresses sydney, cheap bridesmaid dresses australia, affordable bridesmaid dresses australia, modern bridesmaid dresses australia, cheap bridesmaid dresses brisbane, cheap bridesmaid dresses sydney, designer bridesmaid dresses