The perfect dress comes with the perfect feeling. For our brides who are looking for a minimal yet glamorous bridal look, our crepe wedding dresses will have you at your feet. Whether you prefer a heavy or light weight dress, our stunning crepe wedding dresses will provide a sensational and luxurious fabric that will leave you standing out from the crowd on your big day. Although these dresses are quite traditional, they are extremely versatile and can be dazzled up with our beautiful accessories! Our crepe wedding dresses come in two different basic fabrics: heavy and thin. As the name suggests, our thin fabric is light weight, comfortable and has a crinkled look to it. On the other hand, our heavy fabrics is what you will most often see on wedding gowns. They are smooth, thick as well as comfortably stretchy. Both materials are extremely elegant and simple whilst also looking gorgeous on its own. Some of our gorgeous brides prefer to add a subtle lace or beading to the elegant look.
---
A masterpiece in embroidered lace, this opulent V-neck mermaid gown features glittering French lace motifs along the bust that travel into a checkered, semi-illusion waistband and add texture to a fitted crepe skirt. For our beautiful brides who are seeking a more boho look on their wedding day, our Emily wedding dress provides just that! With the stunning lace detailing at the front of the dress, there is nothing stopping our brides from looking flawless on their special day. This boho styled dress is perfect for the spring and garden featured wedding events.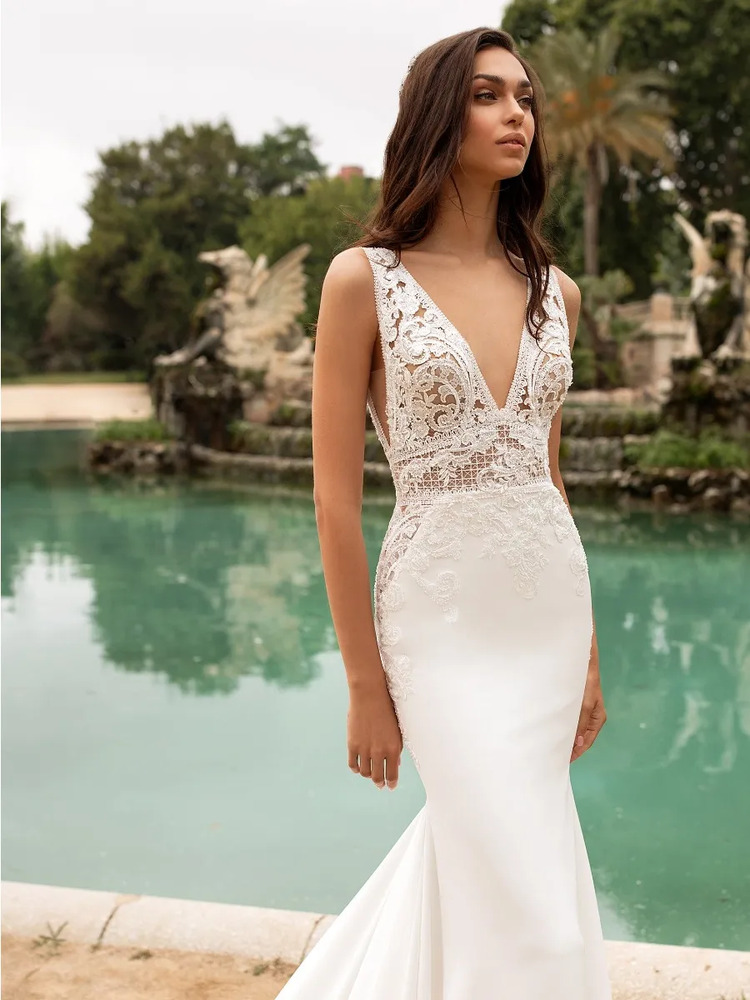 2/ Simple antiope mermaid bridal gown by Pronovias
A creamy, all-crepe masterpiece with chic spaghetti straps, a fitted waist, a low-volume skirt, and loose draping along the neckline and back. Our antiope mermaid bridal gown is a stunning elegant feature for our brides who are seeking a specifically minimal and simple look on their wedding day. With the cowl neckline and long train, this dress will leave your guests speechless when you walk down the aisle. The anitope mermaid bridal gown is perfect for weddings located in the scenery of the great outdoors.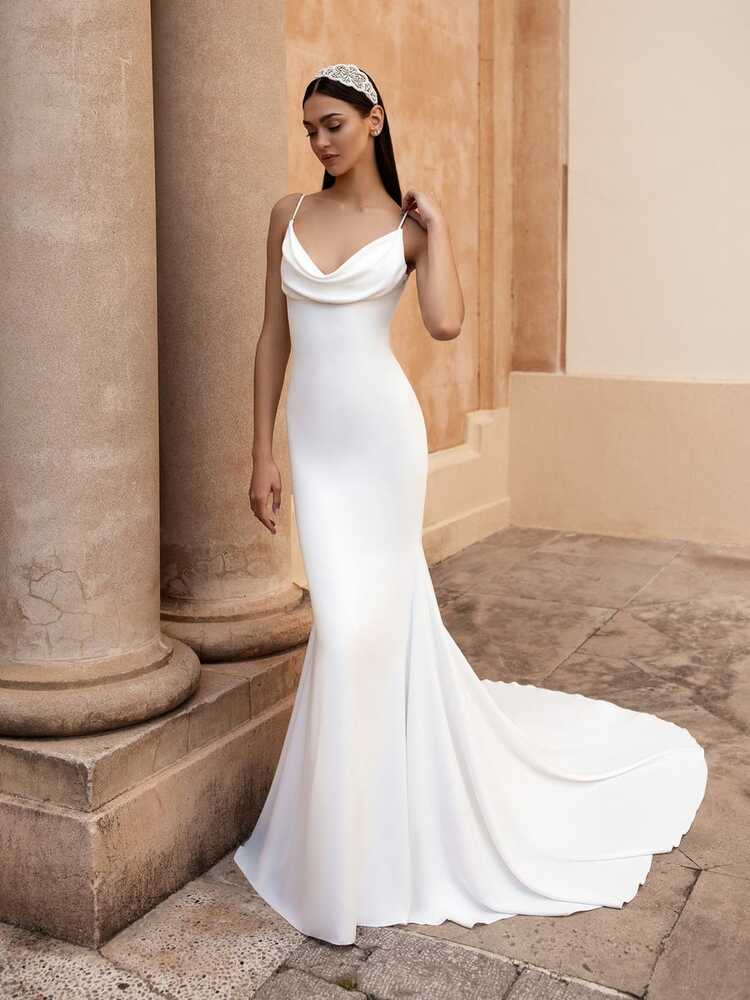 ---
3/ Anitra elegant wedding dress by Pronovias
This stunning crepe gown features a sleek, bateau neckline, embroidered cap sleeves, and a breathtaking scoop back framed in carefully cut, lace placements mirrored in the mermaid skirt's delicate edging. For brides who are looking for a glamorous yet sophisticated look on their wedding day, the Antria wedding dress is definitely a show-stopper. The simple and elegant dress is perfect for a more traditional bride throughout any season of the year.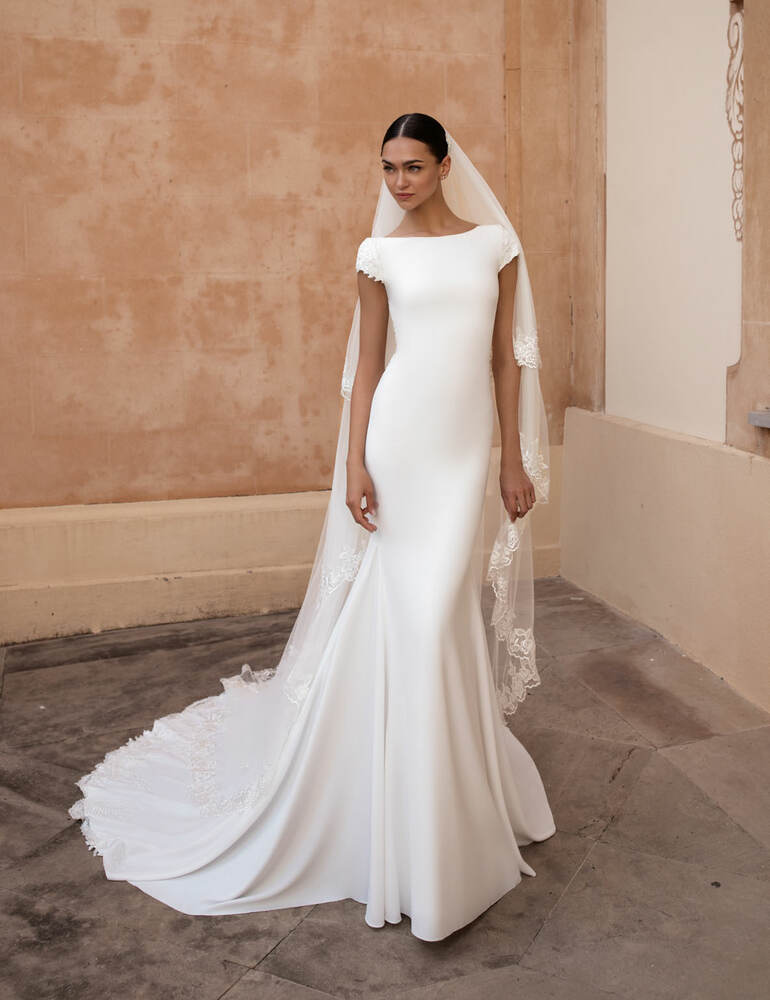 ---
4/ ADRIENNE long sleeve wedding gown By Pronovias
Inspired by screen-siren glamor, this mermaid-cut gown in soft crepe expertly frames the upper-body with drapery and a cut-away back, before falling into a fluid skirt and train. The Adrienne wedding gown looks absolutely stunning on our brides who seek a simple yet elegant look on their wedding day. By adding the long sleeves, this spectacular wedding gown is nothing short of stunning on our brides who prefer to accentuate different features of their body or who have a wedding event in the season of winter.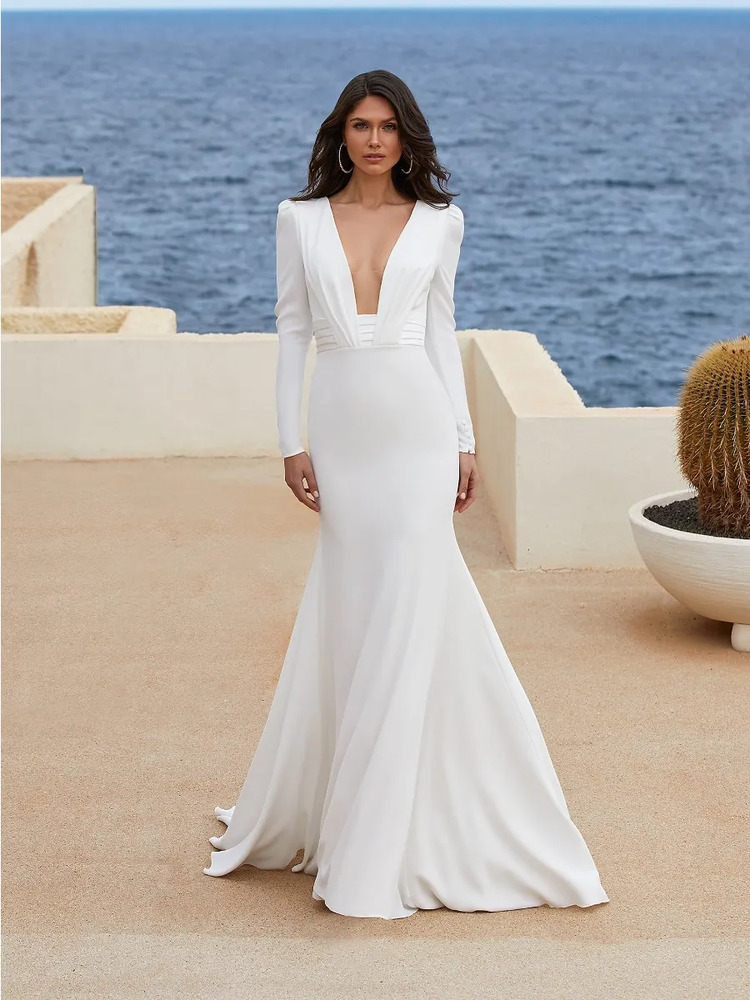 ---
5/ Williams Sheath simple Wedding Gown by Pronovias
Create your own unique look with this sleek, superbly proportioned crepe gown that you can personalize with waist accents and headpieces, a little beaded bolero or a strong statement necklace. The beautiful Williams Sheath Wedding Gown is nothing short of a figure flattering masterpiece. With a simple and elegant style, this wedding dress is a jaw-dropping statement piece for your wedding guests. Providing a slimming fit and customizable options, the William Sheath Wedding Gown is definitely one to add to your list! This sensational wedding dress is perfect for events in spring and autumm.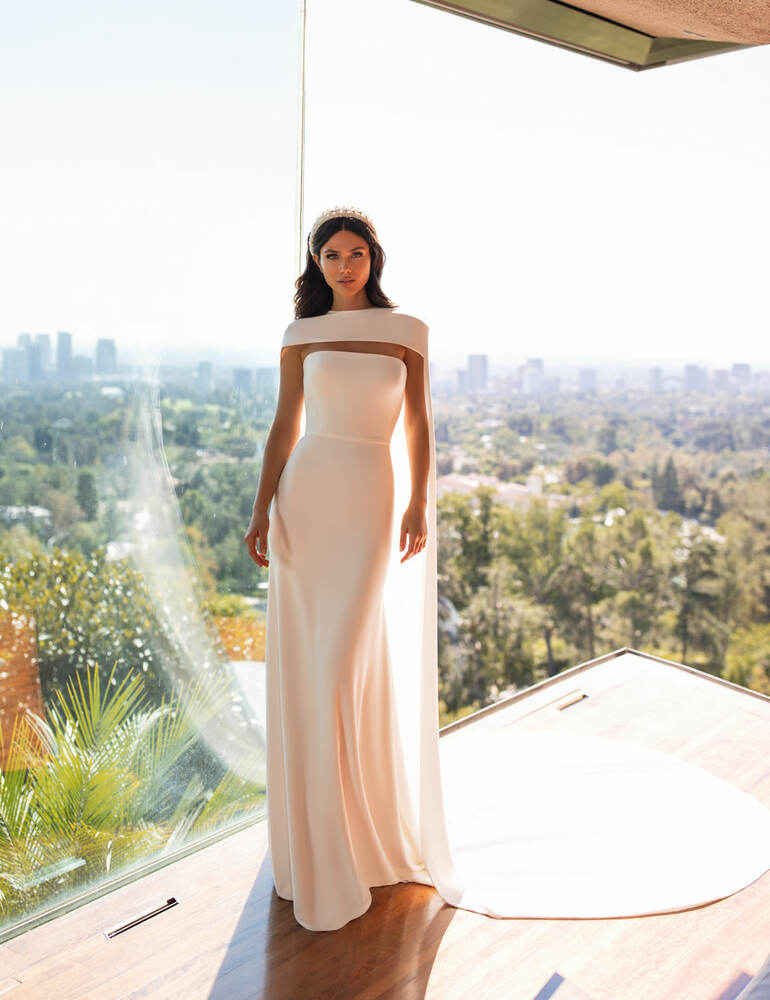 ---
Glossy lace placements flower about the bodice and frame the hips of this classic crepe mermaid gown, whose skirt features tulle panels embroidered in expressive lace of a similar pattern. For our brides who love 3D flowers on a simple and elegant dress, the Epico wedding dress will win you over. The subtle use of lace on our stunning strapless dress is perfect for brides who seek a minimalistic yet glamorous look. The Epico dress is nothing short of beautiful for any outdoor wedding events with stunning scenery to match the stunning bride. Match this dress with any of our simple earrings for an elegant look.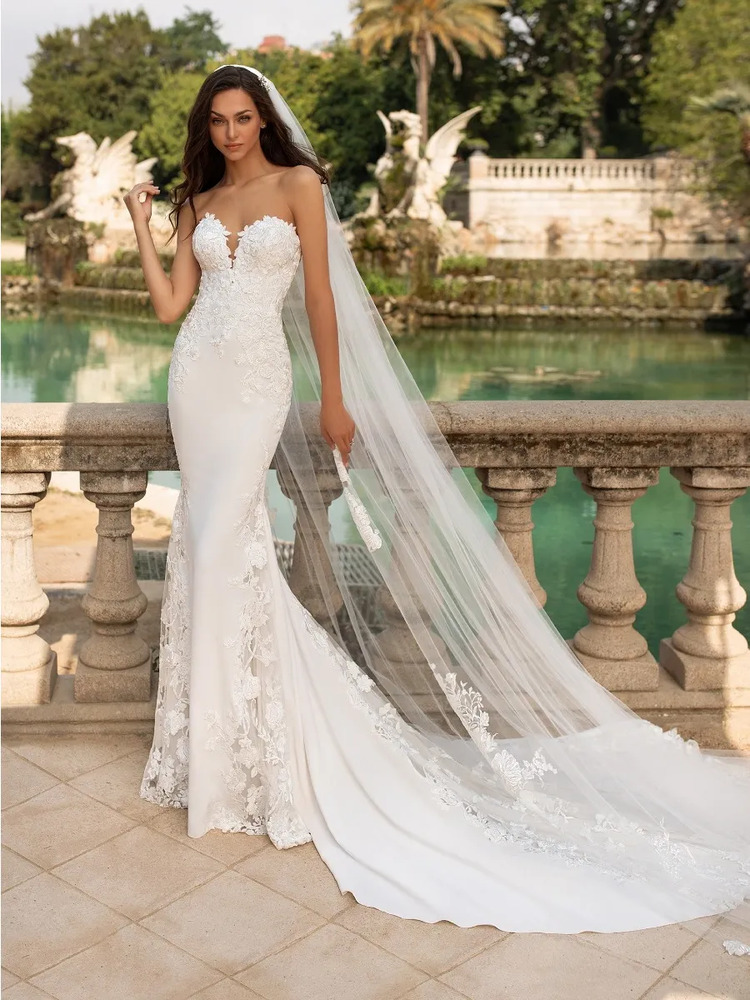 ---
Fashionably Yours Bridal and Formal Store Wahroonga is Sydney's best bridal shop for convenient, affordable, customizable and personalised wedding dress shopping. Shop for wedding dresses online Australia and Internationally from our gorgeous range of crepe wedding dresses, crepe bridal, crepe wedding dress designs, crepe wedding gowns, crepe dresses, wedding dress designers Sydney, crepe bridal store, couture wedding gowns Brisbane, by crepe bridal dresses, crepe Sydney, crepe Brisbane, crepe clothes, crepe style, bridalwear, wedding dresses Brisbane.