Remember when sneakers were just for the athletics track?
The rise of athleisure, street wear and youth culture has caused a shift over the past few years in how we view fashion and footwear. High heels are now swapped out for high tops on a night out, as comfort becomes the new cool. Huge names in the fashion industry have made waves with propping sneakers on their runways and red carpets, redefining what we classify as luxury goods.
With these trends in mind, and with the rise of small, intimate weddings and formal gatherings across the country in light of successive lock downs, Fashionably Yours is excited to announce the launch of our new luxe leather sneaker range by Ameise Fashion Concepts. We hope with this new collaboration, our customers will feel confident embracing comfort and practicality to dress down our glamorous range of cocktail dresses, formal dresses and wedding dresses.
---
There is so much love, joy and fun in this single photo, and it's probably because Hailey didn't have to worry about her feet hurting! And she's not the only one, a sneaky bridesmaid on the left can also be seen sporting converse. Recreate this classy yet comfortable look with the simple white Ribelia sheath wedding dress by Pronovias Barcelona Bridal. These Gamma Leather Lace-Up Sneakers add a subtle hint of bling with the diamante strip on the platform and a crystal star embellishment.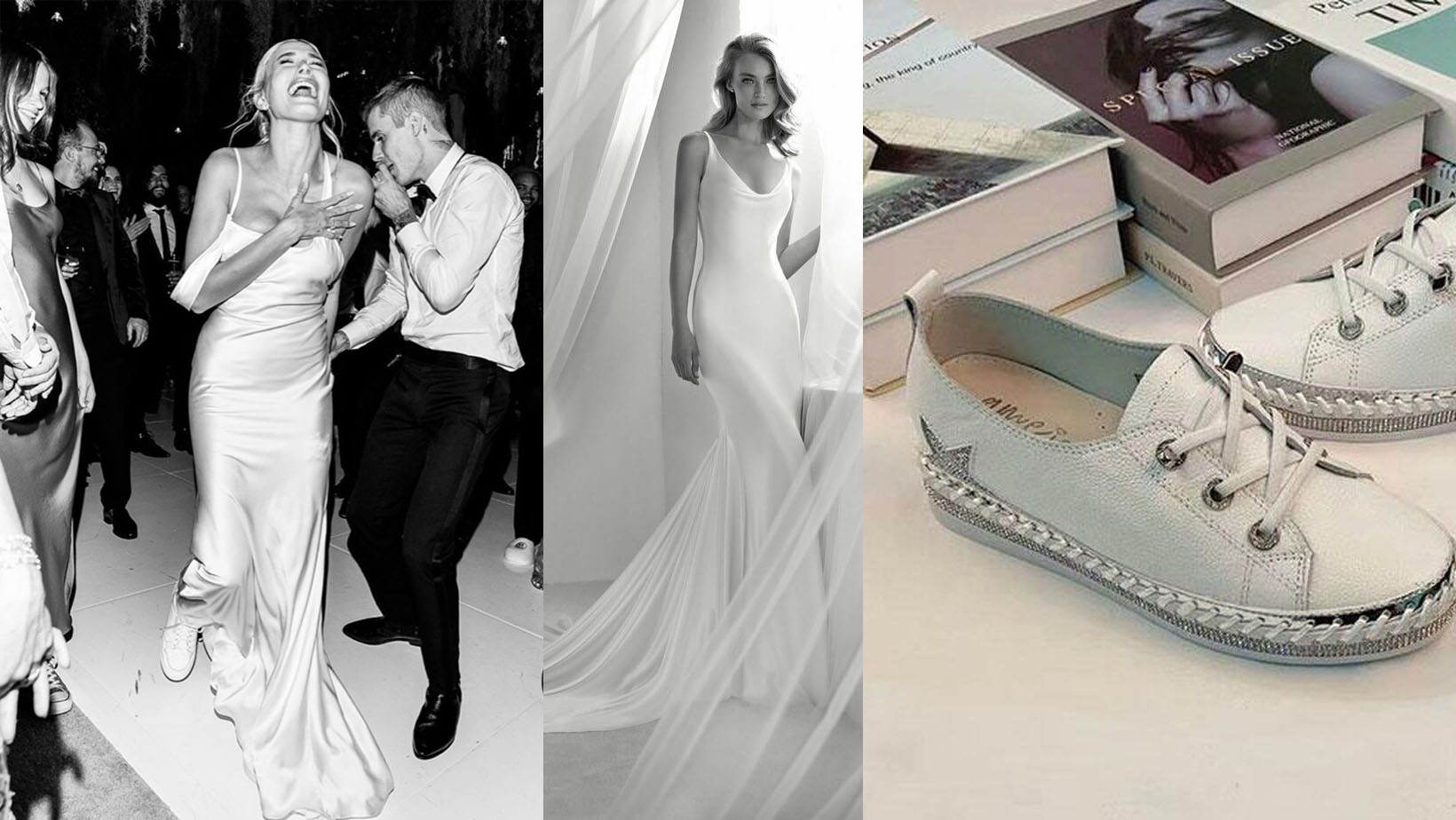 ---
"Sometimes you just have to be comfortable!" - The infamous words of Katie Holmes instagramming her look in an Alberta Ferretti evening dress panelled with different textures, sporting Adidas sneakers and clutching a black purse in her hands. Get the triple stripe sneaker look with Robin Slip-on Leather Sneakers paired with this black Nicole Lee graphic print clutch.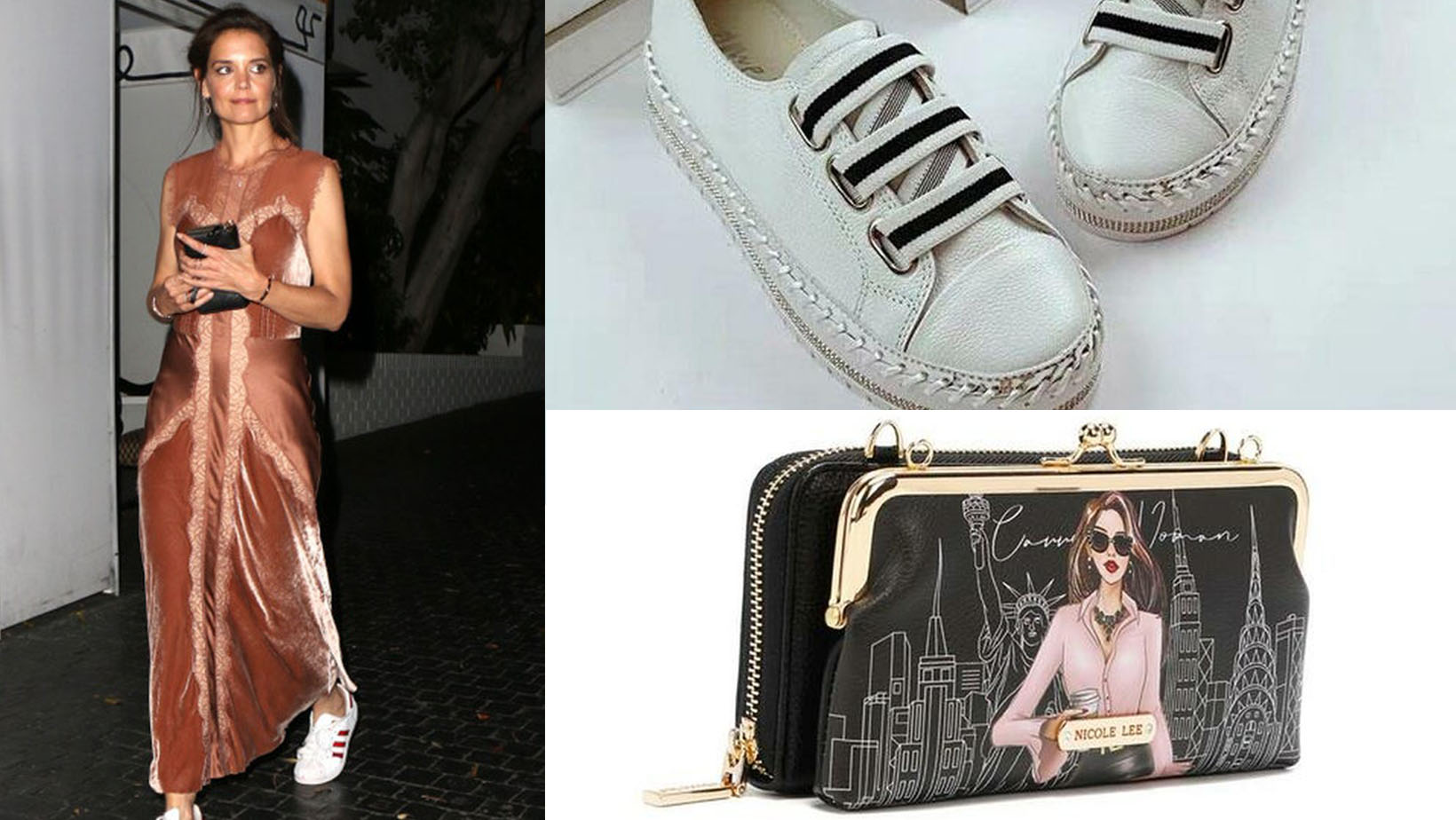 ---
Kristen Stewart is a notorious sneaker fiend, switching out heels at almost every red carpet event. And honestly, we can relate, celebrity status aside. Get Kristen's sheer black sequin tulle look with the Ganrielle JX5018 evening dress by Jadore Evening, and swap out the Nikes for Nicole Leather Lace-Up Sneakers for a fraction of the price!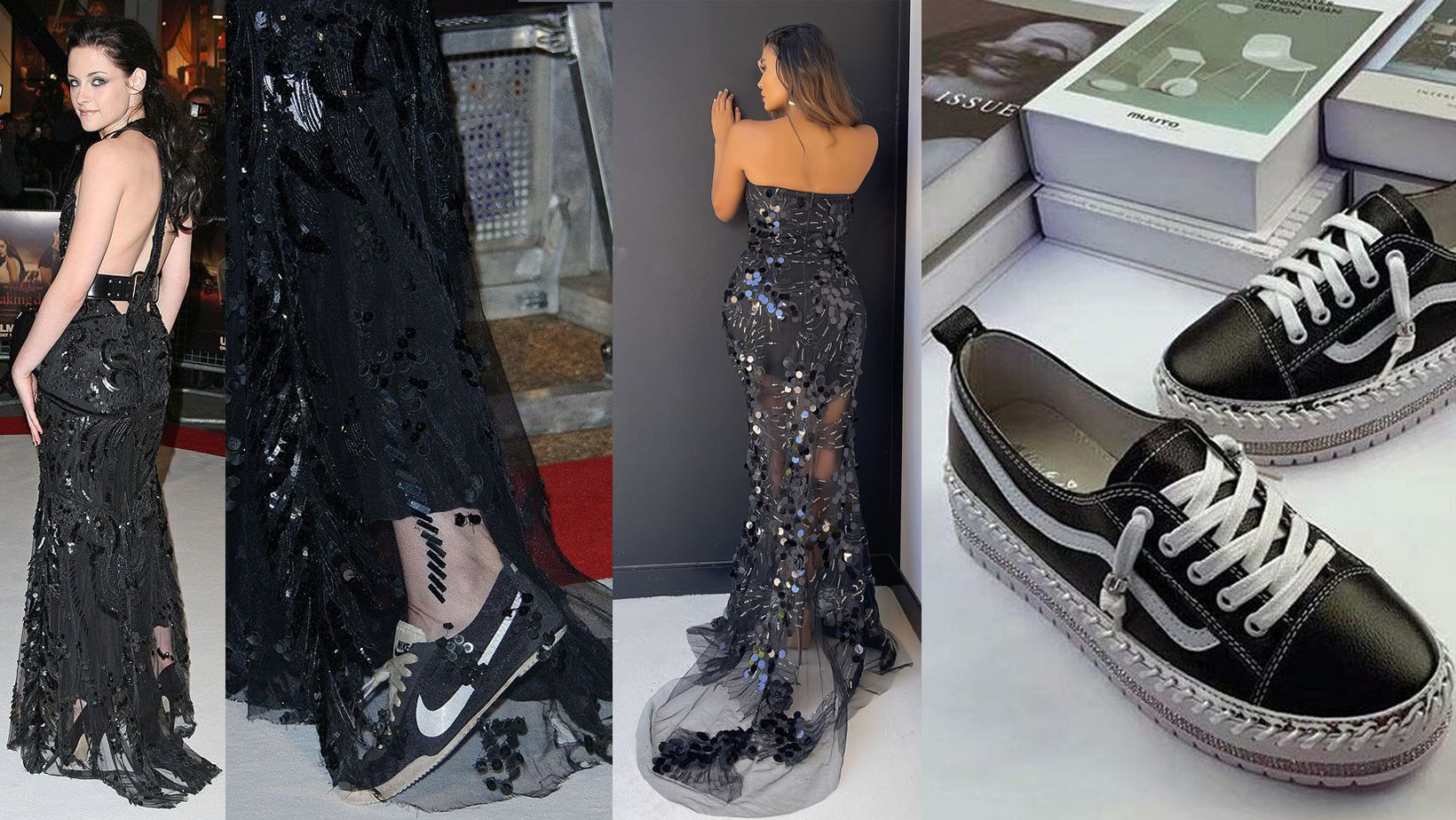 ---
Kelly Rowland ditched the high heels for high tops with her voluminous cascading tulle gown at the 2017 Wearable Art Gala, becoming a work of art herself! Recreate Kelly's look with the soft pink Gracelyn JX5039 ball gown by Jadore Evening. The diamante platform and pearl details of the Pearl Leather Mule Slides tie in perfectly with the crystal shimmer bodice, which definitely reveal more ankle than Kelly's baller high tops... But underneath those layered organza ruffles, who's going to know?
---
Sneakers take you from day to night! A great summer sneaker to wear with breezy dresses,Buy Online Luxury Platform Sneakers Australia at Fashionably Yours Bridal & Formal Wear Sydney. We stock sneakers, slides, slip on shoes, bridal shoes, luxury sneakers, designer sneakers, hypersoft sneakers, hypersoft sneakers Australia, sneakers Australia, sneakers for women, snkrs, trainers, dress and sneakers, smart casual trainers, sneaker dress shoes, womens trainers, white sneakers women, white trainers to wear with dresses, black trainers to wear with dresses, white dressy trainers, dress up sneakers, dress paired with sneakers, cute dressy sneakers, comfortable sneakers to wear with dresses, women's sneakers to wear with dresses, leather sneakers, laser cut sneakers, diamante sneakers
You can find any wedding sneakers you could ever need at Fashionably Yours Bridal & Formal Wear boutique store Wahroonga. With deliveries Australia-wide and internationally, fast shipping to Sydney, Melbourne, Perth, Darwin, Hobart, Canberra and more, and budget-friendly payment options like Zpay and Afterpay.
---