Are you after a fashion-forward, sophisticated and contemporary wedding dress? Ditch the floral doily lace, rounded sweetheart necklines and Princess Diana Puff Sleeves. Embrace the new decade with clean, angular lines, sleek silhouettes and stunningly simple and elegant fabrics. Read on to mix and match all the features of a contemporary wedding dress to plan your perfect modern bridal look!
---
Sweetheart necklines are out! Square necks, deep V plunges and angular embellishments are in. Where round shapes tend to accentuate curves, straight lines help to slim and lengthen the figure. Check out the sharp knife plunge of the straight-necked strapless Quella H1481 by Moonlight Bridal, and the square necklines of Alegria and Mira by Dovita Bridal. Mira also features a mesmerising beaded criss-crossing linear pattern across the entire dress, a super flattering compliment for the angled neckline.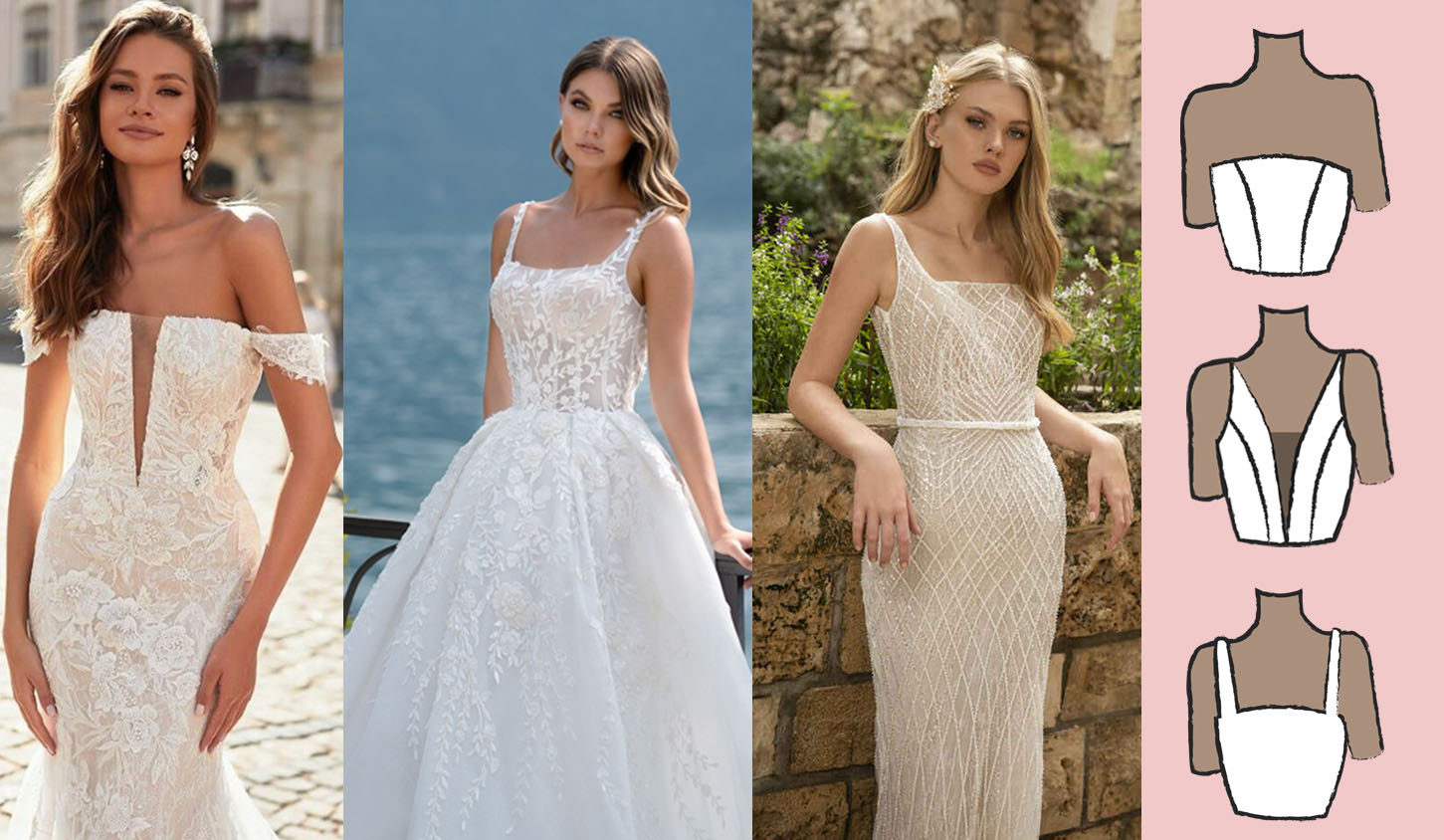 ---
Lace, beading and floral embellishment are definitely what comes to mind when you imagine a wedding dress, but brides for the past decade have been breaking the mold with gowns devoid of embellishment, celebrating elegant simplicity that highlights the lady in the dress rather than the dress itself. So if you want a dress that doesn't wear you, take a look at these elegant crepe and satin wedding dresses: The Anitra simple cap sleeve sheath wedding dress by Pronovias, the Meadow Deep V Illusion Plunge Sheath Dress by Calla Blanche Bridal, and the Samuela Mikado V Neck Princess A Line Dress by Dovita Bridal.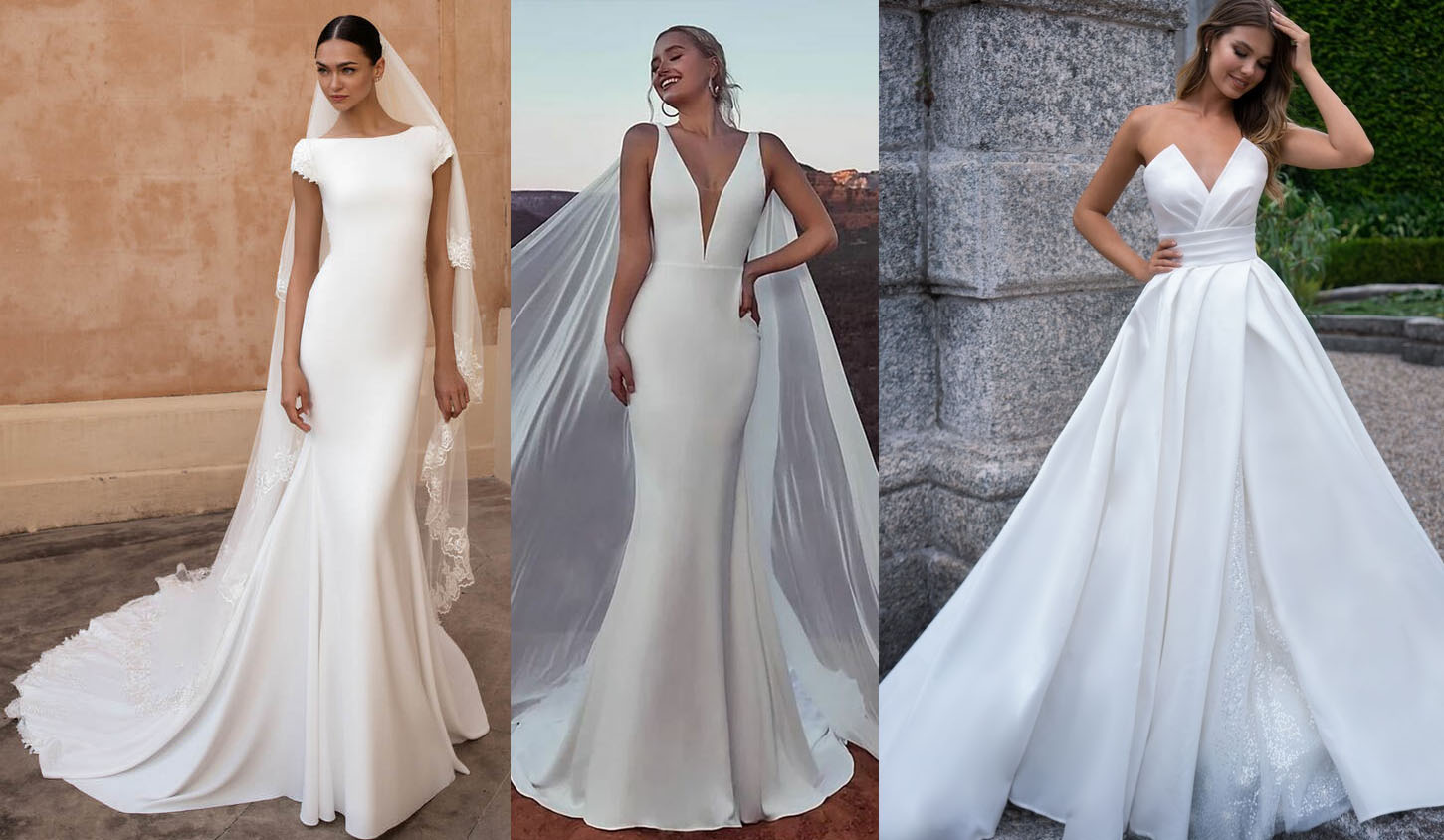 ---
Sleek and simple crepe and satin fabrics may not have the glitz of glamorous embellishment, but they still offer creative and detailed styles with draped details to add lift and interest to the design. This allows for more unique and fashion-forward styles that are more about shape and silhouettes to keep the focus on YOU. For effortlessly elegant drapework and coverage, check out Abby by Pronovias with its cape sleeves flowing in to a cowl back, and an ever-so-flattering cinched waist. For something more simple, classic and showy, shop the Dolce square cowl neck satin dress by Calla Blance Bridal, or the Antiope crepe cowl neck/back wedding gown by Pronovias Bridal Barcelona.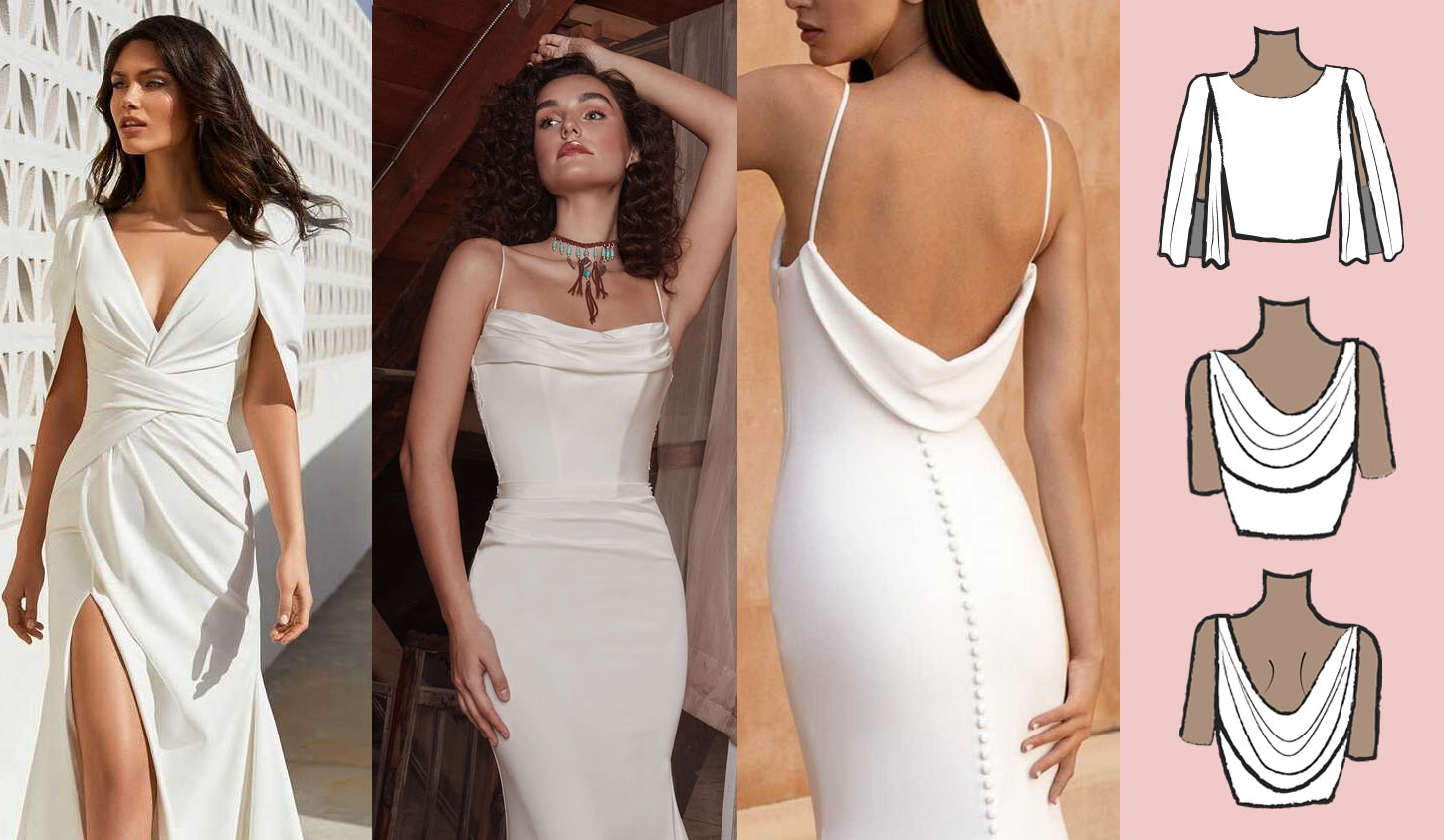 ---
Shop simple wedding dresses, crepe wedding dresses, mikado wedding dresses, satin wedding dresses, contemporary wedding gowns, elegant wedding dresses, sheath wedding dresses, sophisticated bridal looks, wedding dresses with cape sleeves, square neckline wedding dresses, straight neckline wedding dresses, deep v illusion plunge wedding gowns, A-line wedding dresses, mermaid wedding dresses, cap sleeve wedding dresses and strapless wedding dresses from Pronovias Bridal Barcelona, Calla Blanche Bridal, Moonlight Bridal and Dovita Bridal at Fashionably Yours.
Our online bridal store ships Australia-wide and internationally, with fast shipping to Sydney, Melbourne, Perth, Hobart, Adelaide, Darwin, Canberra. We cater for a large range of brides and customers with bridesmaid dresses online, wedding dresses online, mother of the bride dresses, sequin bridesmaid dresses, mother of the groom dresses, school formal dresses, evening dresses, formal dresses, prom dresses, engagement party dresses, valedictory dresses, evening gowns, wedding guest dresses, long sleeve formal dresses, sequin formal dresses, second wedding dresses, casual wedding dresses and more.