From dreamy engagement rings to alluring bridal shoes we're going to take you above and beyond to show you how to style your dream wedding dress! Featuring Australia's most up and coming wedding and bridal designers, here are a few bridal styling suggestions from our stylists to you x
REDEFINED Timeless Ballgowns
Haven't we all dreamed about our classic, Cinderella moment on our wedding day, taking center stage on the dance floor with our newly beloved. With 2020 presenting the challenges it did, it seems only right to redefine wedding gowns with a contemporary flare of unique design elements and detailed features. Complement your redefined ballgown with timeless pieces that you can wear forever, again and again.
*Other gowns you may like: Ariel, Della, Markle.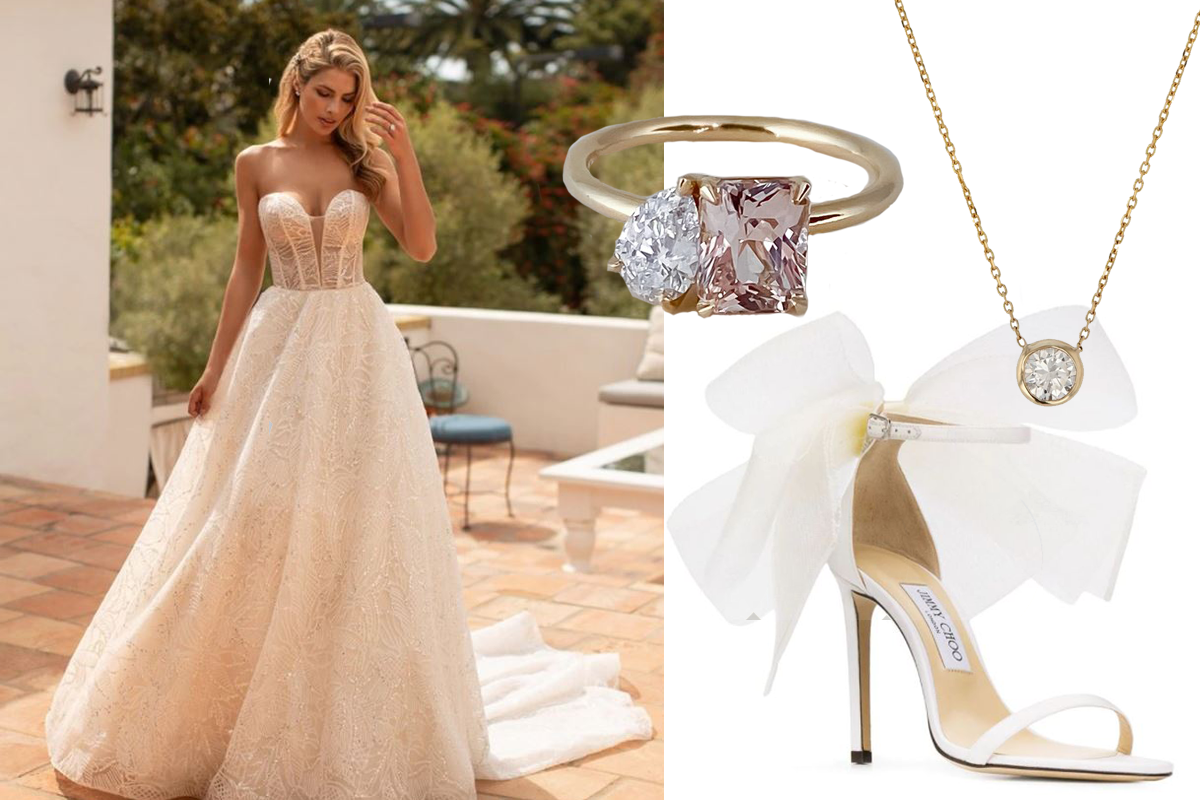 WEDDING DRESS: Camille MOONLIGHT
NECKLACE: Quarter Lunette SARAH&SEBASTIAN
HEELS: Aveline JIMMY CHOO
ENGAGEMENT RING: Banks Peach 1.87 GREW & CO.
.
.
CHIC Beaded Elegance
One of the most exciting aspects of choosing a chic wedding dress is that you can (and should) dive into the wonderful world of eccentric and fashion-forward jewelry and accessory pieces. Play around with combinations, the sky has no limits! We find styling that your wedding dress with select pieces that say something a little quirky about you, really helps to personify your bridal look and style.
*Other gowns you may like: Alina, Farrah.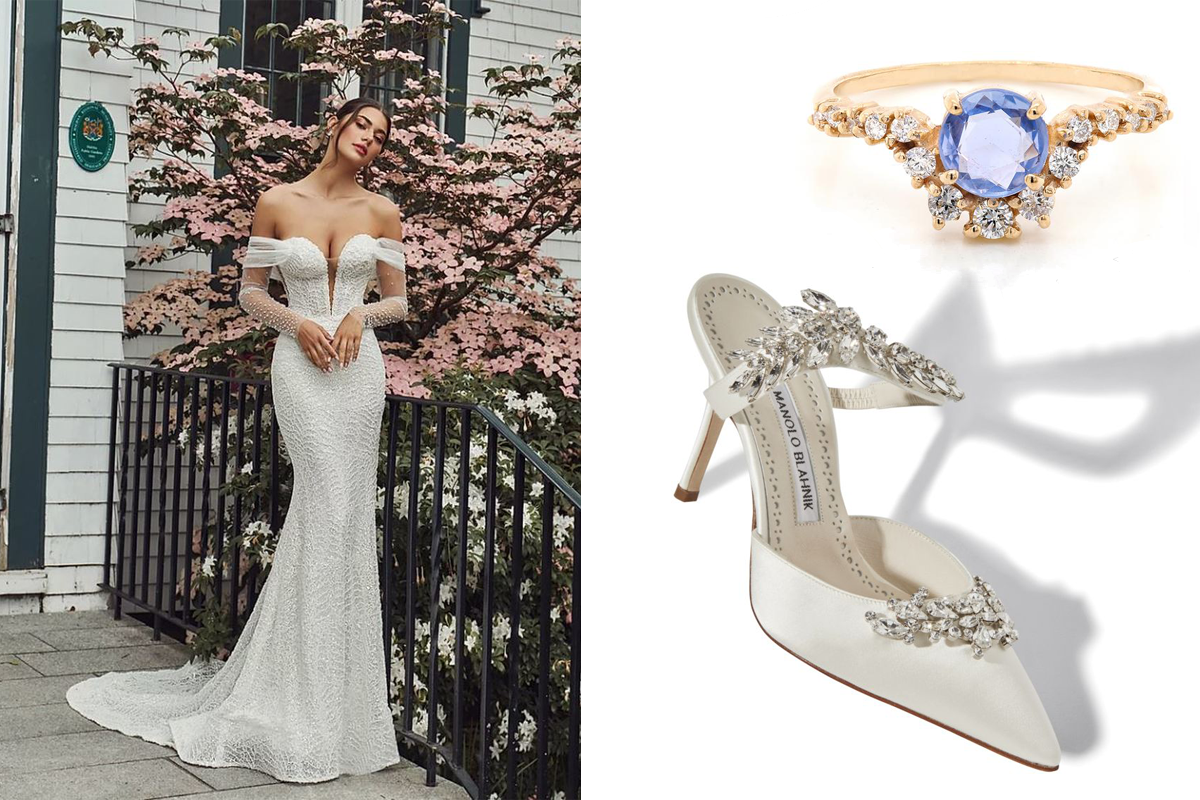 WEDDING DRESS: Henrietta CALLA BLANCHE
HEELS: Lurum MANOLO BLAHNIK
ENGAGEMENT RING: Genevieve II HLSK
.
.
Iconic Australian LACE
Effortlessly Australian, our Kayla gown represents our finest features both silhouette and nationwide flora wise. Featuring some of the most unique lace detailing in bridal, she details Eucalyptus leaves and native wattle. Our stylists have chosen to pair her with a reminder of Australia's coast with reef motifs of rustic gold and pearl.
*Other gowns you may like: Joanne, Cherry.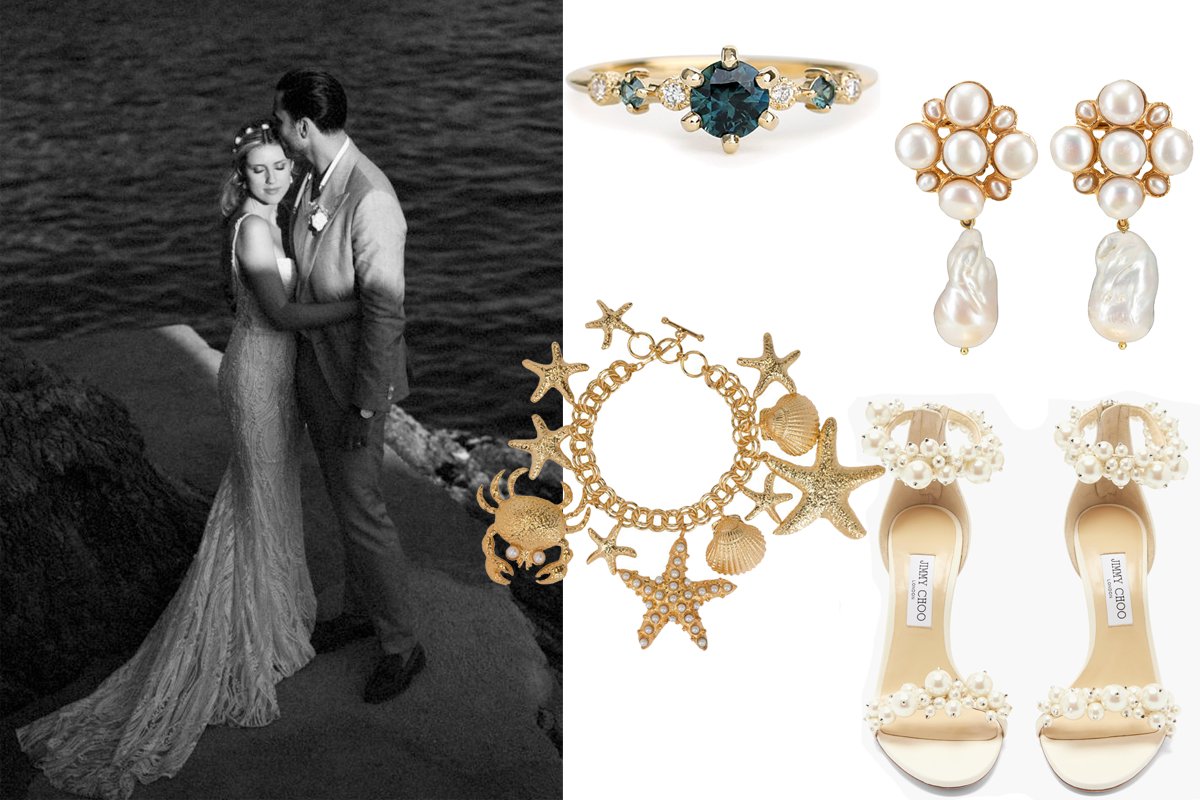 WEDDING DRESS: Kayla CALLA BLANCHE
BRACELET: Marina CHRISTIE NICOLAIDES
EARRINGS: Magot CHRISTIE NICOLAIDES
HEELS: Maisel JIMMY CHOO
ENGAGEMENT RING: Harmony Round Sapphire GREW & CO.
.
.
MINIMALISM with a twist
Minimalism is by far a timeless take that will suit every wedding venue, however, what we adore about this classic wedding theme, is how far you wish to take it. For some, you'll want to keep as crisp and minimal as possible, whilst for others, perhaps a few surprises along the way will do to enchant the theme to new heights. For statement touches, we recommend trying an unconventional bridal heel like these Amina Muaddi Crystal Heels. Don't be afraid to splash some colour into a neutral setting, as you might be surprised by how nicely they combine.
*Other gowns you may like: Zara, Paisley, Meadow.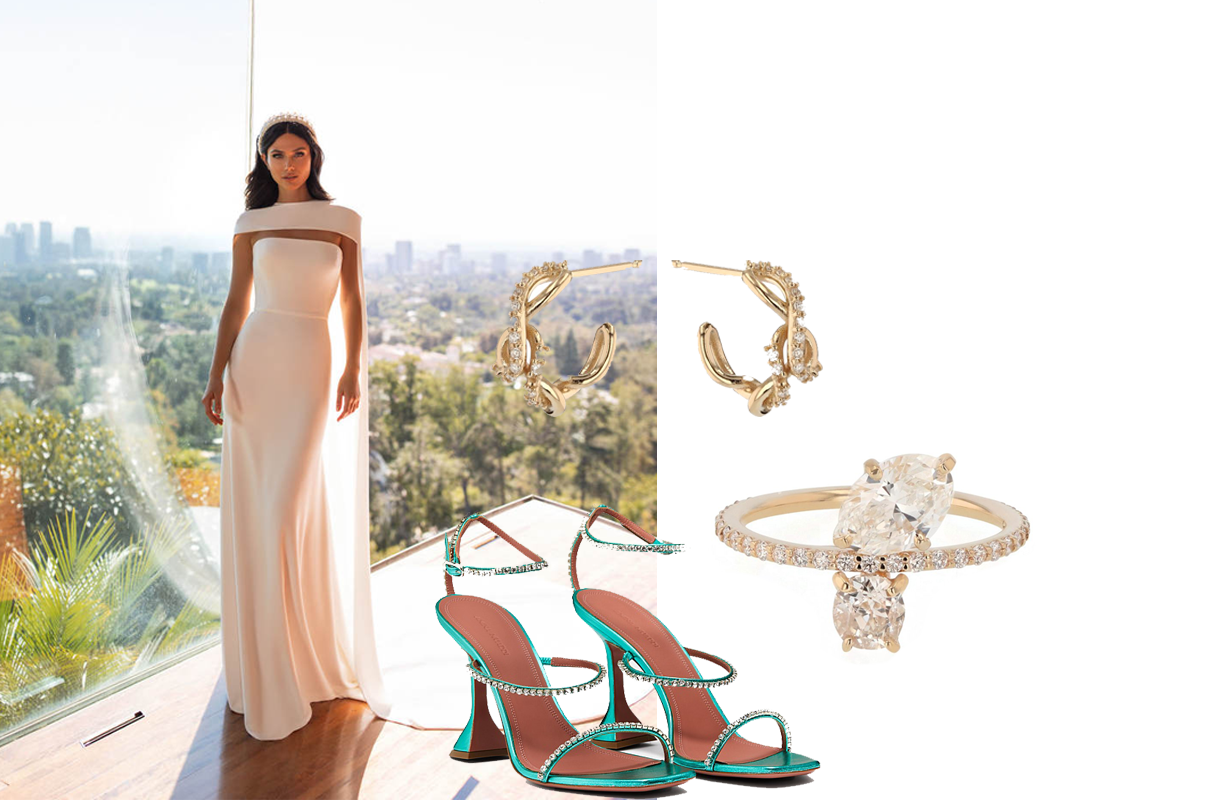 WEDDING DRESS: Williams PRONOVIAS
EARRINGS: Tendril SARAH & SEBASTIAN
ENGAGEMENT RING: Daphne SARAH & SEBASTIAN
HEELS: Gilda AMINA MUADDI
.
.
All the best for your special day!
With love,
The FY Team x