No need to wait for your own wedding to wear a ballgown dress, as these dresses have the simplicity needed in a wedding guest or formal dress whilst having the gorgeous Princess skirt. The volume of this skirt is guaranteed for a good night, as who doesn't want to dance around in a ballgown? With a stunning variety of glitter, sequins and beautiful colours you are sure to find your perfect evening wear dress from Fashionably Yours.
---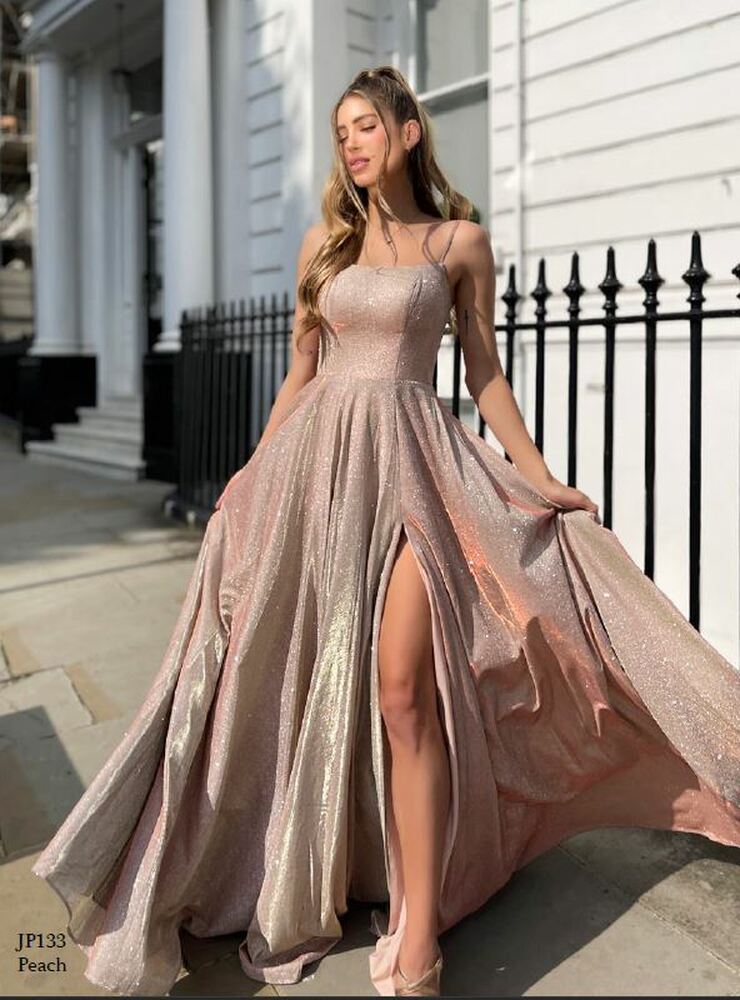 This gorgeous gold shimmery ballgown dress by Jadore evening is a stunning gown for all formal and evening wear occasions. The tight bodice in this dress is beautiful as it creates a gorgeous A-line silhouette. The thin spaghetti straps on this dress features beautiful simplicity and femininity as the sparkle fabric of this gown is so eye catching and dramatic for all viewers. The split on the side of this gown is a beautiful silhouette as it allows a sexy moment to appear, with the women wearing this gown to have the ability to show some extra skin by arching their leg out for photos. The ballgown style skirt of this dress really makes you feel like a Princess in all the various sparkly colours this dress comes in. Whether you love rose, light or dark coloured dresses this gown is perfect as it comes in peach, black, pearl and wine. The back of this princess dress has a stunning lace up back which creates a corset style dress making it the perfect fit to your body.
---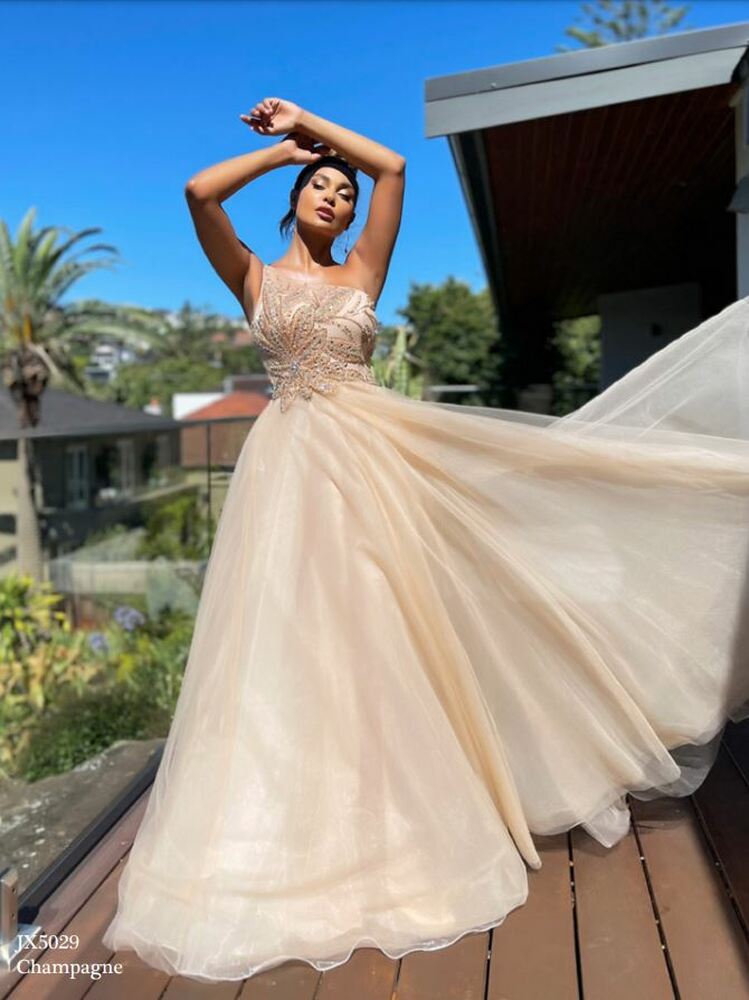 This sparkly crystal dress has a ballgown princess silhouette. The skirt of this dress is beautiful as it has multiple layers of fabric which create a seamless princess skirt. The one shoulder style of this gown is regal in the best ways possible, as the one shoulder finish creates a stunning neckline on the gown. The crystal beading is gorgeous as it flows onto the style of the gold finished champagne dress. This is one of those dresses that would be perfect for a windy photo shoot location, as the various layers of this dress would drift beautifully with the wind. There is a slight sheer moment in the bodice of this gown which is absolutely stunning as you can show a bit of skin without revealing too much through the beading details.
---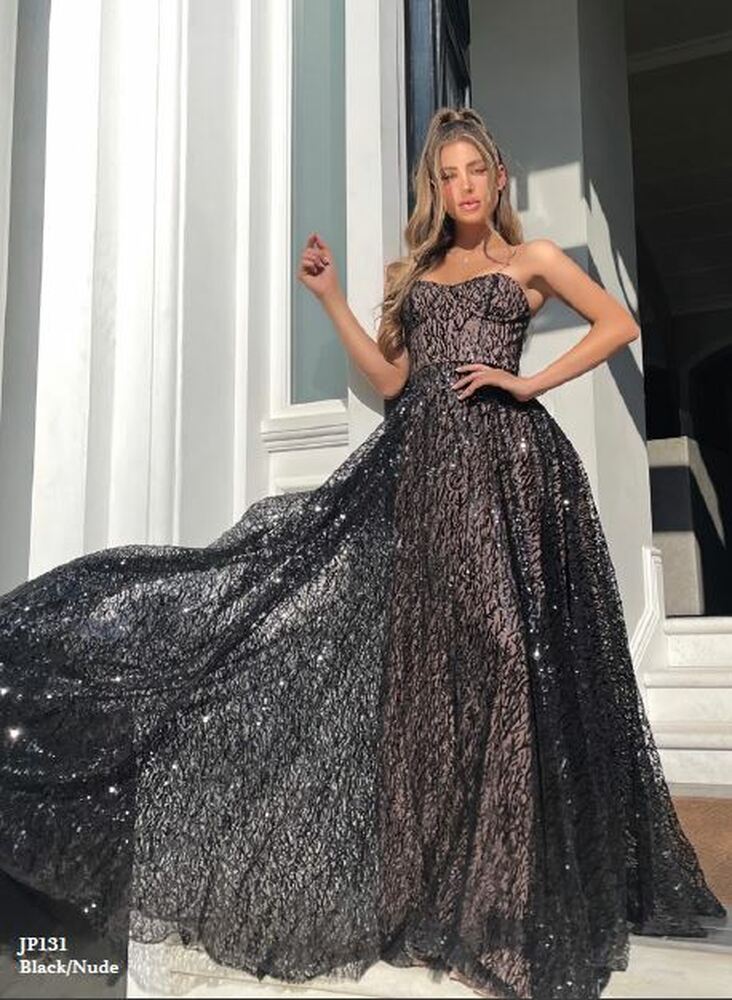 This stunning black corset styled ballgown dress is the combination of sophistication, elegance and has a touch of sexy to the dress. The black gown has a gorgeous sheer sequin top layer on this dress which flows onto the corset bodice, with the sequined sheer element showing the nude underlay. The boning on the corset of this dress is sure to hug you in tight and create the perfect waist line illusion whilst making you feel comfortable and supported for your whole formal event. The straps on this gorgeous dress are adjustable making it perfect for all body shapes and sizes, as all women know the difficulty in finding a dress that fits perfectly. The sequin gown is fully lined which makes it have comfortable material to wear for a long duration of time. So you can be the bell of the ball sparkling all night long in this glistening ballgown dress.
---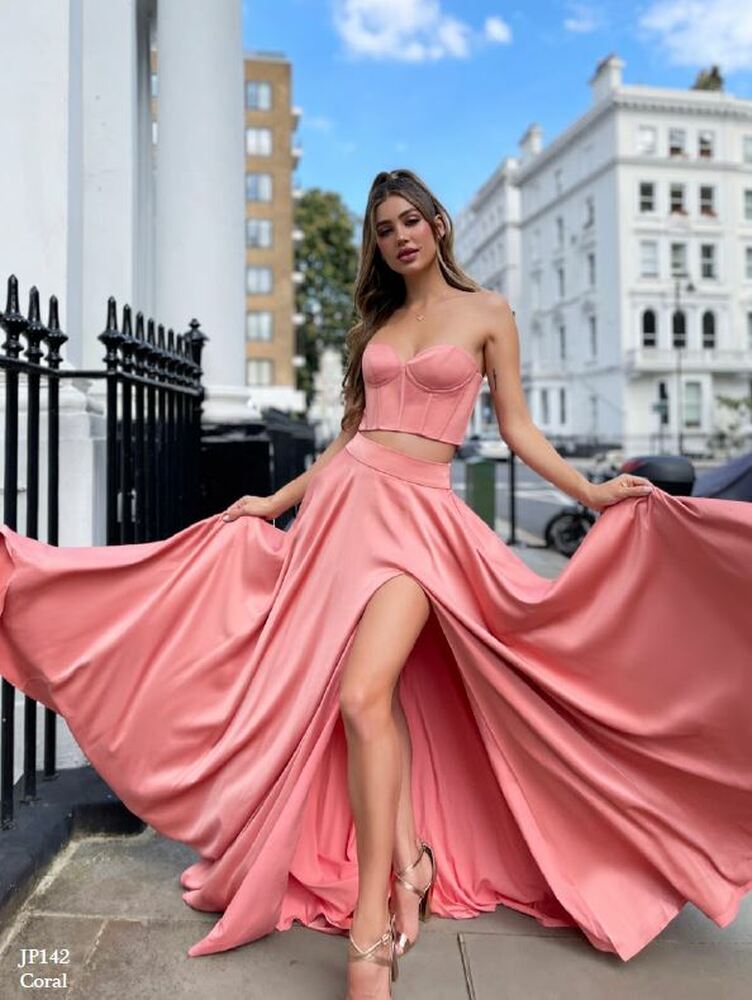 This stunning corset two-piece ballgown dress is a beautiful set for formal occasions, as you have the choice to re wear piece of this set time and time again. The skirt of this dress has a gorgeous thick waist band which cinches the waist of anyone wearing this two piece, further providing the gorgeous corset dress illusion. The strapless corset bodice top and the long ballgown skirt feature invisible zippers closures for added support and practicality in this gown. The side split in this ballgown skirt sits at a beautiful length on the high thigh and can be easily altered for personal preference. The corset style bodice has prominent boning through the bust cups and bodice feature which give you the stunning hourglass figure in this gown, as the boning accentuates your best features. The back of this corset top has a stunning lace up feature which is perfect for making the top of this dress the best fit for your body shape, as you get to decide how tight you want this corset to fit.
---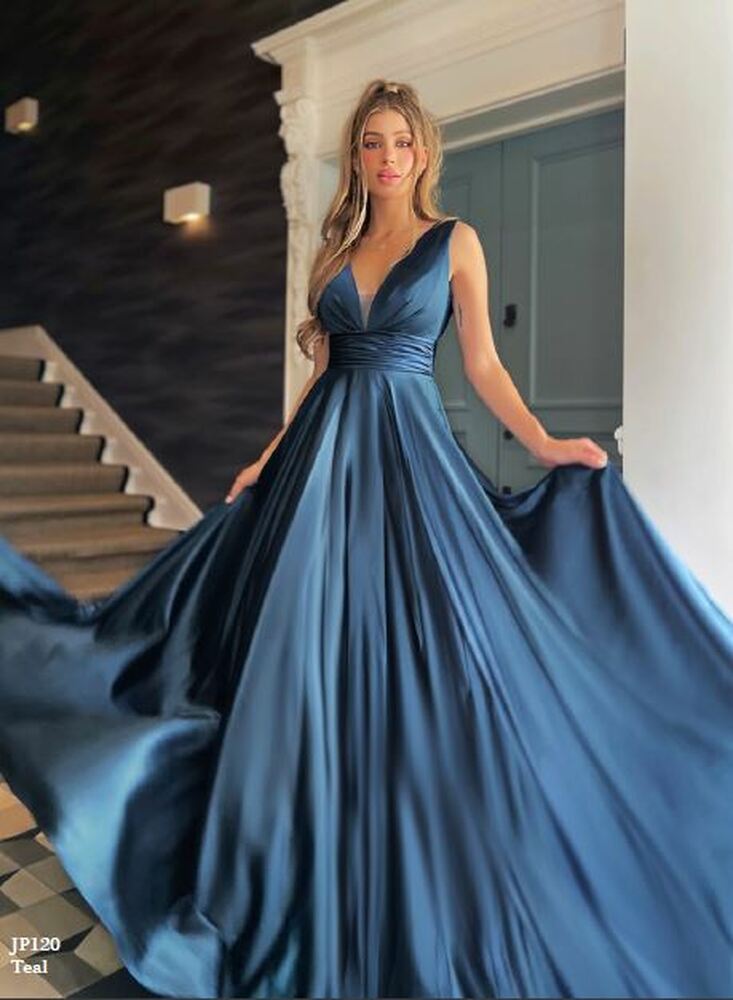 This stunning Jadore Evening ballgown is beautiful as it suits all body shapes and sizes, with the size range fitting from size 4 to size 18. There is a prominent V-neck line which is beautiful and eye catching, with the small mesh detailing being figure hugging and supportive for different shapes and sizes. The thick straps on this gown adds to the support of this formal evening wear dress, as it is comfortable to wear for a long duration. The rushing on the waistband of this dress is stunning as it creates a beautiful A-line silhouette. This feature ties in perfectly with the style of this dress as the ballgown skirt of this dress has slight pleating in the princess skirt. One of the best features of this ballgown dress is the pockets on either side of the dress which is an amazing feature on any dress, as you don't have to worry about choosing a bag to match the dress. The back of this dress features a stunning V back line which matches the front of this dress perfectly, and creates a goddess structure to the gown.
---
Find the perfect formal and evening dress, bridesmaid dress, wedding guest dress and bridal dress with Fashionably Yours' large selection of formal gowns and bridesmaid dresses to make sure you have the perfect dress for your occasion. You're sure to find the perfect formal gown from our large selection of dresses. The perfect wedding guest and bridesmaid dress is right at your fingertips with this selection of ballgown dresses, princess dresses, shimmering formal dress, sequin dress, plain bridesmaid dress, gold bridesmaid dress, simple bridesmaid dress, long bridesmaid dress, short bridesmaid gown, sparkly formal gowns, formal dresses Sydney online, long sleeve formal dress, and so many more formal dresses. Book in your in-person appointment or order online.
Our online bridal store ships Australia-wide and internationally, with fast shipping to Sydney, Melbourne, Perth, Hobart, Adelaide, Darwin, Canberra. We cater for a large range of brides and customers with formal dresses online, wedding dresses online, mother of the bride dresses, sequin bridesmaid dresses, mother of the groom dresses, school formal dresses, evening dresses, formal dresses, prom dresses, engagement party dresses, valedictory dresses, evening gowns, wedding guest dresses, long sleeve formal dresses, sequin formal dresses, fantasy wedding dresses, second wedding dresses, casual wedding dresses and more.