Dovita Bridal is the newest and most premium bridal collection at Fashionably Yours. Dovita has been at the forefront of bridal fashion, providing beautifully designed and handcrafted wedding gowns for elegant, modern, and timeless brides. Dovita Bridal creates a cohesive balance between classical couture, impeccable tailoring, and modern sophistication, mastering in bridal gowns. Dovita wedding dresses showcase pristine lines and shapes with hand-crafted chantilly lace and beading, embracing a philosophy founded on the original design, fine technique, and true luxury dresses. Dovita Wedding is now a major brand in bridal fashion dresses.
In an uncertain world, there is one thing we have always known: love shines like magic in the dark. We're thrilled to introduce you to our new Dovita Collection of wedding gowns, which exemplify the exquisite simplicity and elegance of love in these bridal dresses. This collection of wedding dresses is as magical and romantic as much as you want them to be inspired by modern bridal trends. They are stunning, combining new micro-beaded linear lace with classic flower lace with gorgeous sheer effects and macrame that bring out the most deeply feminine part of women, the bridal silhouettes' exceptional handcrafting is creating gowns to truly treasure.
Dovita Wedding Dresses are available for pre order now.

---
1\ March Off-The-Shoulder Wedding Dress by Dovita Bridal - Pre-order now
This wedding dress showcases when timeless elegance meets seductive all in a dress, with stunning crystal beading to add a hit of luxury. The sensual neckline combined with delicate fabrics and ultra-feminine bodice and train creates a magical bridal gown. This wedding dress will attract everyone's attention. The off the shoulder bodice perfectly complements the body-hugging skirt & train.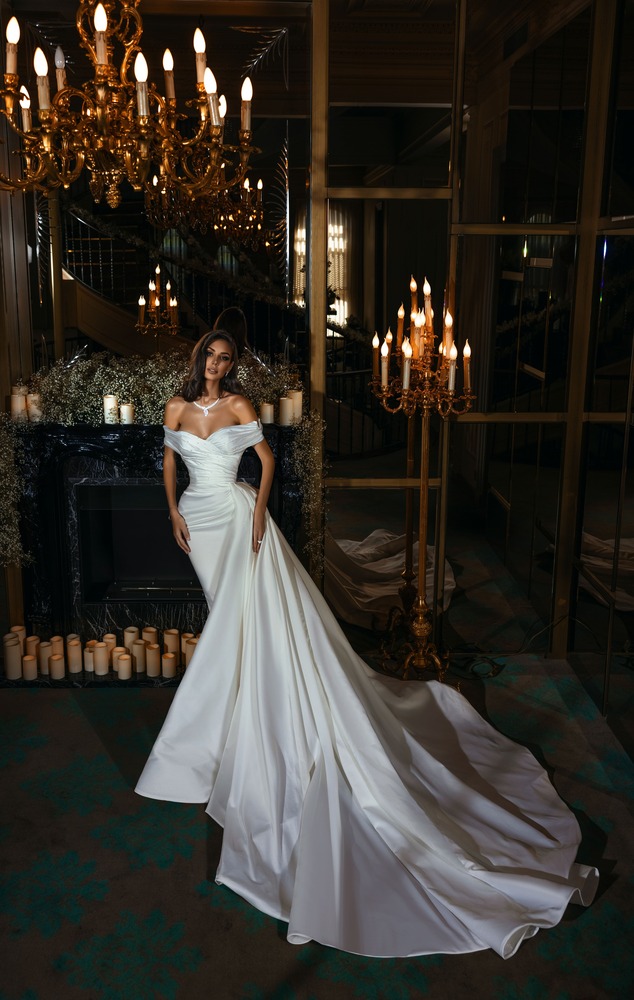 ---
Create the magic with this ballgown wedding dress, it comes with an elegant embroidered corset with, a long train & a ball gown skirt. This dress is spectacular in every way, and no detail is left out it is a sensual ballgown with an s-shaped corset and a bright sequin A-line skirt. This dress is made of silk tulle that is completely covered in sparkles and features a hand-embroidered Swarovski belt and slender shoulder straps. With show-stopping silhouette, feminine details, ornate textures, and exquisite embellishments with lashings of sparkle.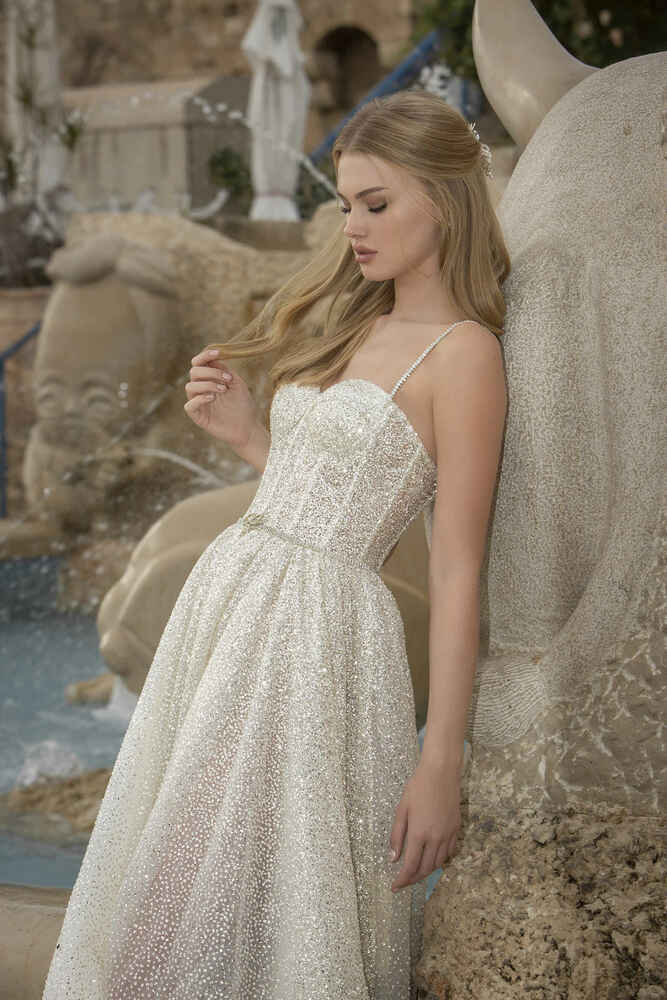 ---
This wedding gown has a classic style that oozes grandeur and elegance inspiring a regal sense for the bridal dress by using extravagant sparkles and sequin elements. The Pearl Beaded Lace Ballgown is dramatic, luxurious, and guaranteed to get a gasp as you walk down the aisle. The Pearl Beaded Lace Ballgown Wedding Dress has a handmade embroidered pattern and classical straps coupled with its ball gown shape that we adore.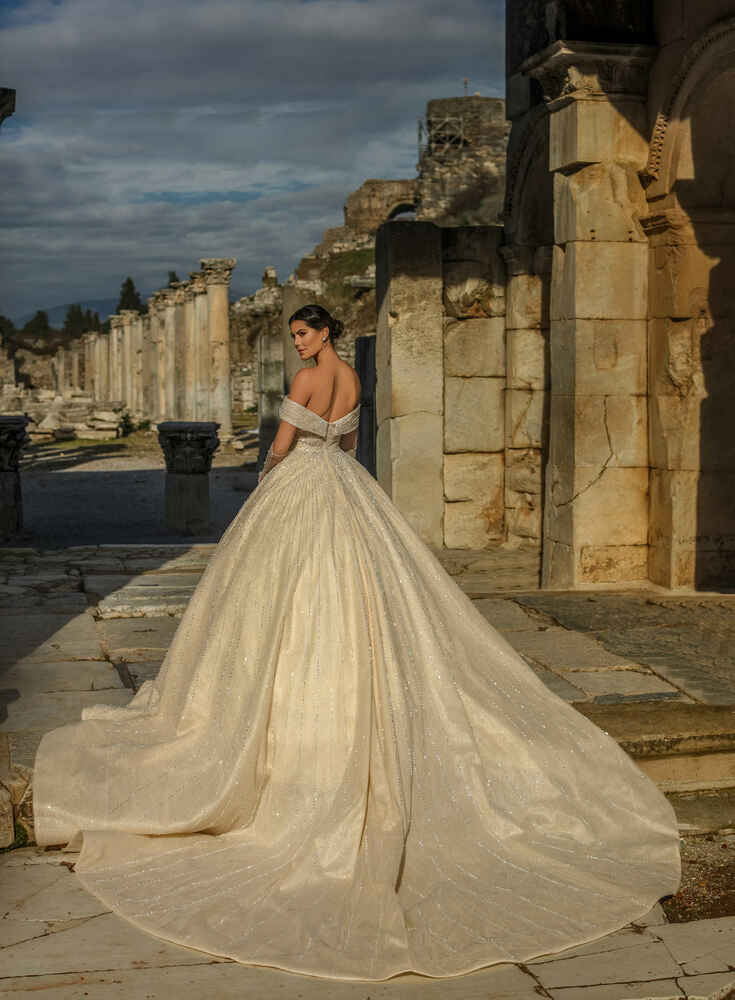 ---
This finely beaded A-line gown has a structured corset and a handmade embroidered textured skirt captures the eye as soon as you see it in the light. Brides looking for something that combines the seductiveness of an A-line wedding gown with the classic will fall hopelessly in love with our Rosella gown. This blend of delicate shimmer and sheerness reflects everything about your daring style for the adventurous bride. Intense decoration designs flash over the translucent skirt, while the off-the-shoulder neckline attractively highlights the upper body. A combination of scrolling lace patterns, delicate flower shapes, and cross-hatching accents extends throughout the gown and gathers at the hem to create a dramatic train moment for a balanced overall aesthetic.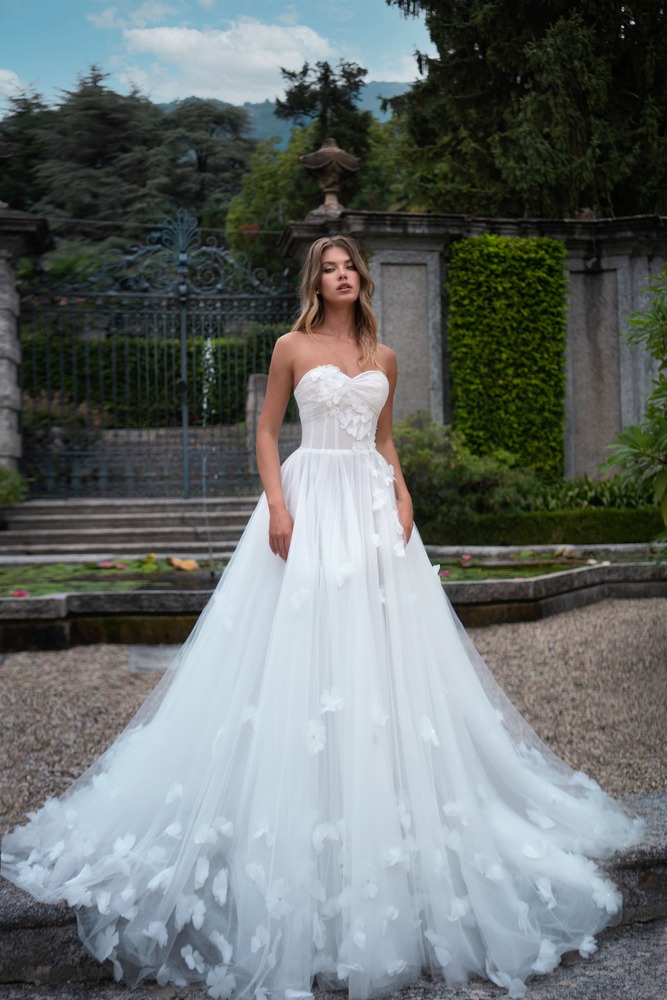 ---
5\ September Beaded Ballgown Wedding Dress by Dovita Bridal
This one-of-a-kind dress is perfect for the bride who knows this is her moment and wants all the drama and sparkle on her wedding dress. This sweetheart neckline beautifully highlights any bride and the beautiful hand-beading is creative and polished, adding a rich texture and glitter. With Ivory beaded and embroidered Art Deco-inspired sequins and beading, this ballgown showcases a natural waist for an elongated body. The September dress is a lovely gown that will win your heart. It's constructed with hand-crafted all-over sequin fabric, has a voluminous long skirt, and is perfect for the grandest of occasions.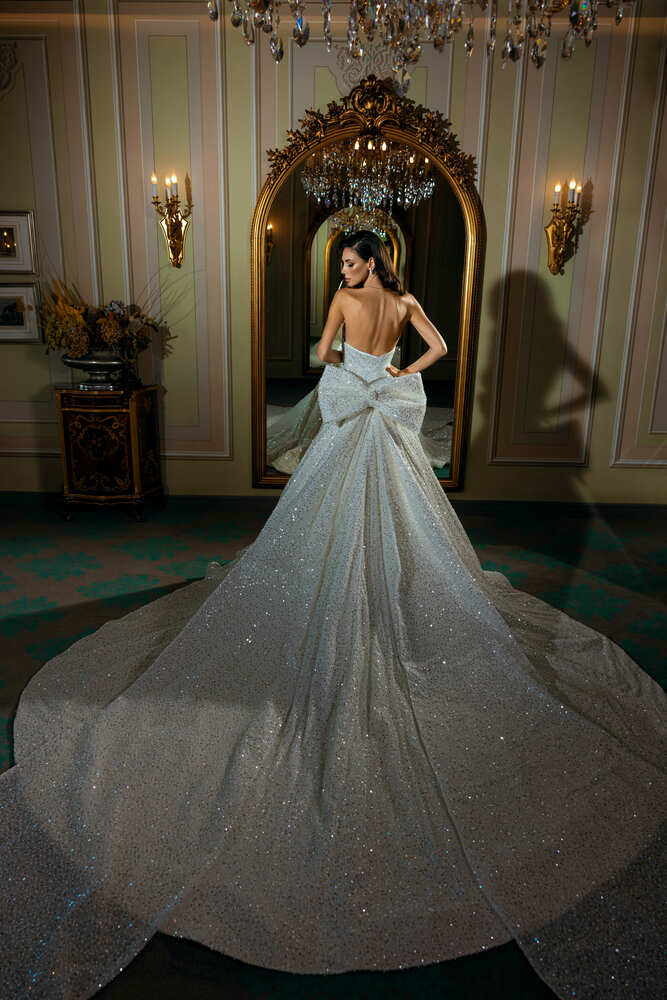 ---
Find the perfect Wedding and bridesmaid dress for any formal event with Fashionably Yours' large selection of wedding gowns and bridesmaid dresses to make sure you have the perfect dress for your occasion. You're sure to find the perfect wedding gown from our large selection of dresses. The perfect wedding dress is in our wedding dresses collection, Wedding dresses online Australia, Affordable wedding dresses, Wedding dresses Sydney, Wedding dresses Australia, bridal dresses, boho wedding dress, bridal gowns, beach wedding dresses, and so many more formal dresses. Book your in-person appointment or order online.
Our online bridal store ships Australia-wide and internationally, with fast shipping to Sydney, Melbourne, Perth, Hobart, Adelaide, Darwin, Canberra. We cater for a large range of brides and customers with bridesmaid dresses online, wedding dresses online, mother of the bride dresses, sequin bridesmaid dresses, mother of the groom dresses, school formal dresses, evening dresses, formal dresses, prom dresses, engagement party dresses, valedictory dresses, evening gowns, wedding guest dresses, long sleeve formal dresses, sequin formal dresses, fantasy wedding dresses, second wedding dresses, casual wedding dresses and more.