Your dress has its own personality. Does it match yours?
You're sitting in class, scrolling through the Fashionably Yours instagram, overwhelmed with our large range of glamorous gowns for your Year 10 or Year 12 Formal. You don't just want to look good; at the end of the school year, you want to FEEL good too. You want to celebrate making it through six years of education, all those exams, surrounded by all your friends, in a formal dress that speaks your truth.
Fashionably Yours stocks an immaculate range of styles and colours of petite to plus size school formal dresses and evening dresses that you can buy online Australia and worldwide. To make your choice easier, we've compiled this handy guide that will help match your unique personality to the school formal dress of your dreams. Read on to find out which formal dress style will bring out who you really are.
---
You're confident in your own skin, and not afraid to show it. You'll look effortlessly refined, elegant and classy in these Tania Olsen Designs.
The Carlisle PO903 cowl neckline sparkle stretch velvet open back fitted formal dress gives you the options of an emerald formal dress, navy formal dress, dark red formal dress, royal blue formal dress and baby blue formal dress. The Milton low open back lace-up tie back mermaid school formal & evening dress a whopping 13 colour options, including the more unique bright rose pink formal dress, teal, sage and burnt orange.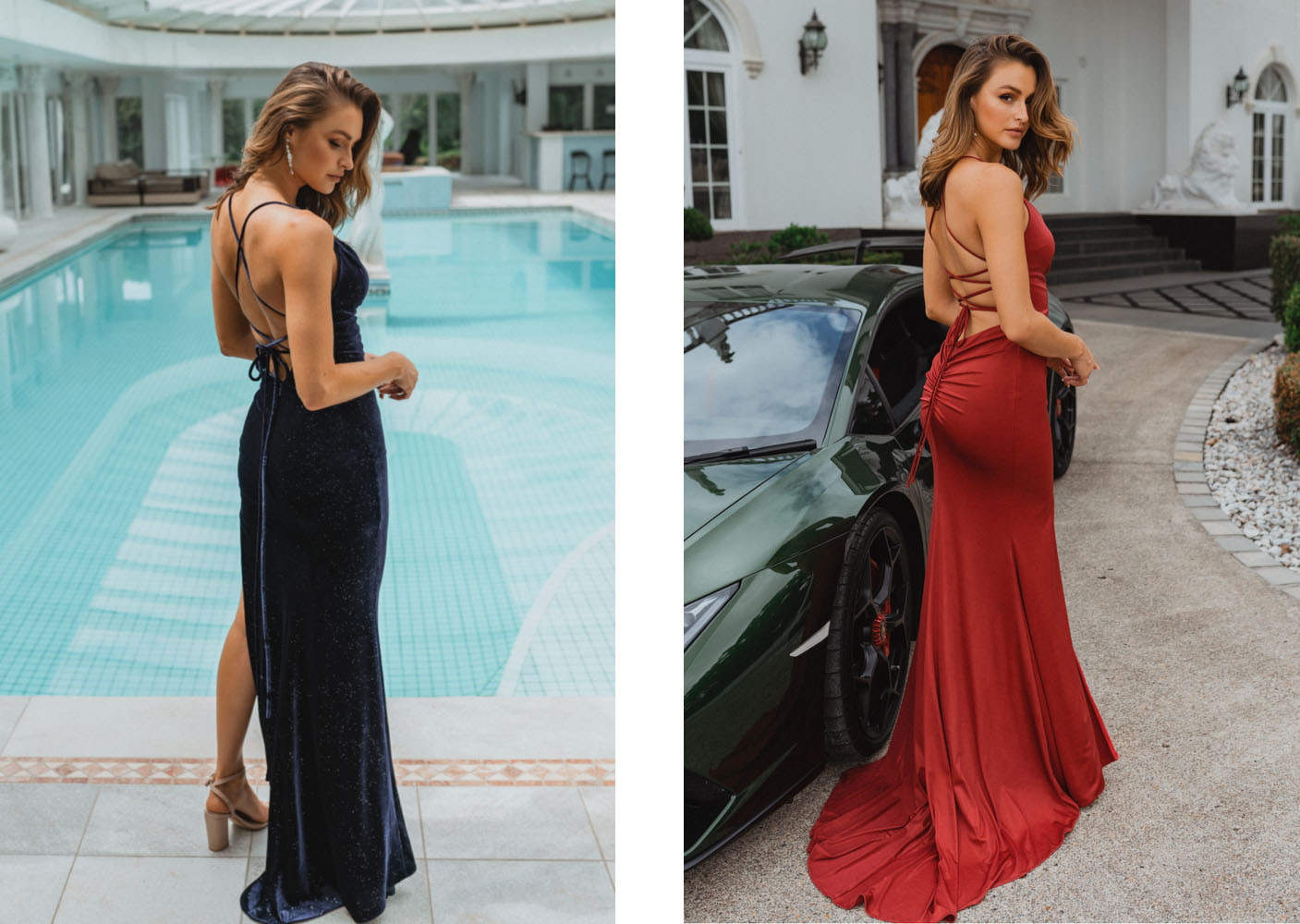 ---
You're carefree, adventurous, and ready to move. You'll be catching everyone's eyes as these formal dresses catch a breeze! Tania Olsen once again brings a wide selection of colours to add drama to your every step as an emerald formal dress, champagne formal dress, wine formal dress, sage formal dress and more! The Lagos TO873 off-the-shoulder satin formal dress at Fashionably Yours is a sumptuously soft evening dress with an ever-dreamy flowing skirt and soft off the shoulder sleeves, while the Denver satin spaghetti strap wrap skirt formal dress, still with that ultra silky satin features a high leg split at the front and a soft cowl neck. The most graceful and elegant school formal dresses out there!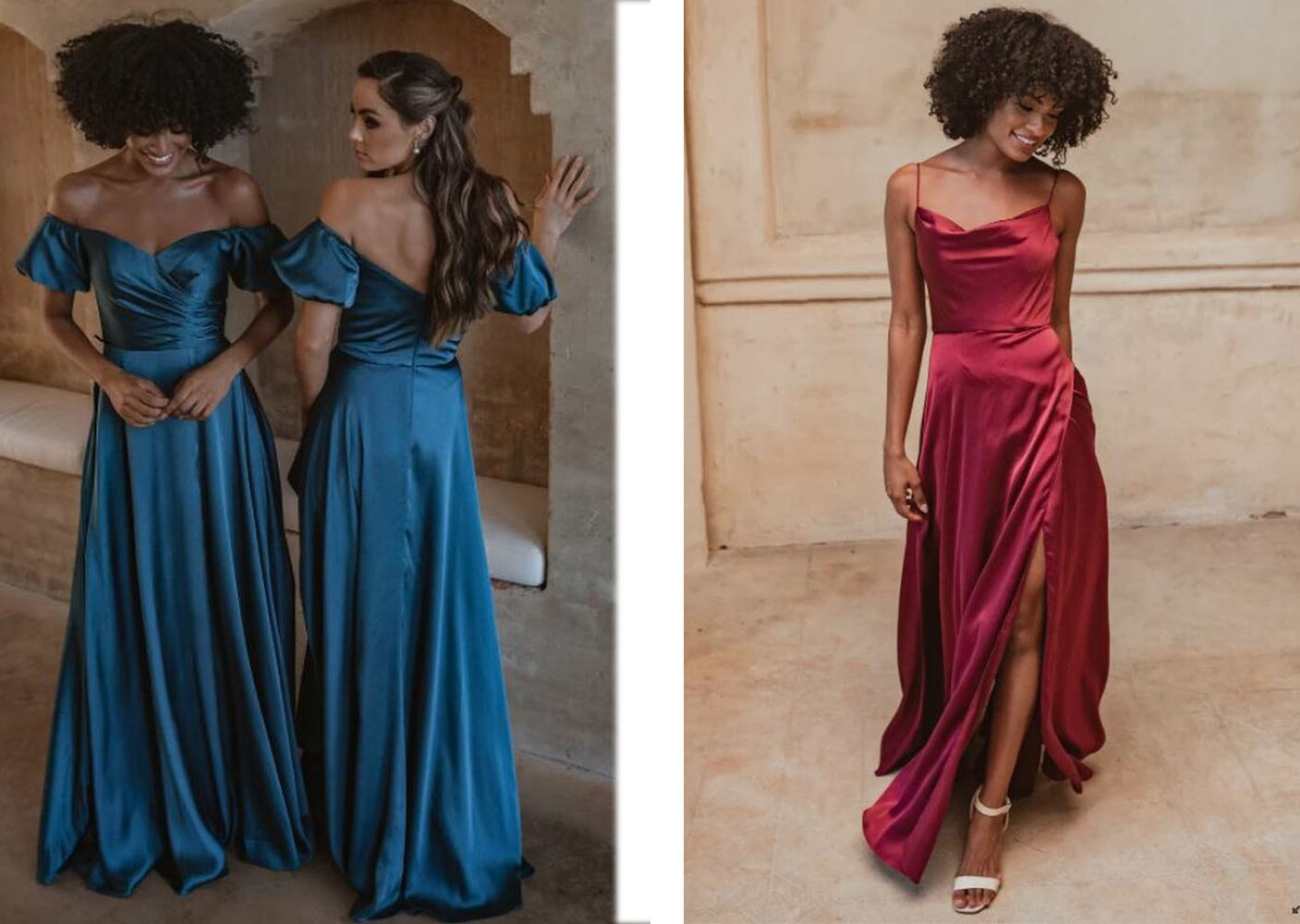 ---
It's less about the dress, and more about rocking what you were born with. Don't be afraid to show off your curves with these super sexy bodycon formal and evening dresses from Jadore Evening.
The one shoulder Nyla JX5058 two-piece shimmer formal dress with a one shoulder bodice and split mermaid skirt sparkles and dazzles in the sun, with ever-so-flattering princess panels up and down this two-piece outfit to highlight your figure. Shop Nyla as a shimmery black formal dress, light pink formal dress, baby blue evening dress or lilac. The Delaney JX5017 spaghetti strap column formal dress with a draped square neckline is made from a sturdy stretch crepe, ruched in all the right places. Delaney is available as an emerald green formal dress, bright red formal dress or dusty rose pink formal dress.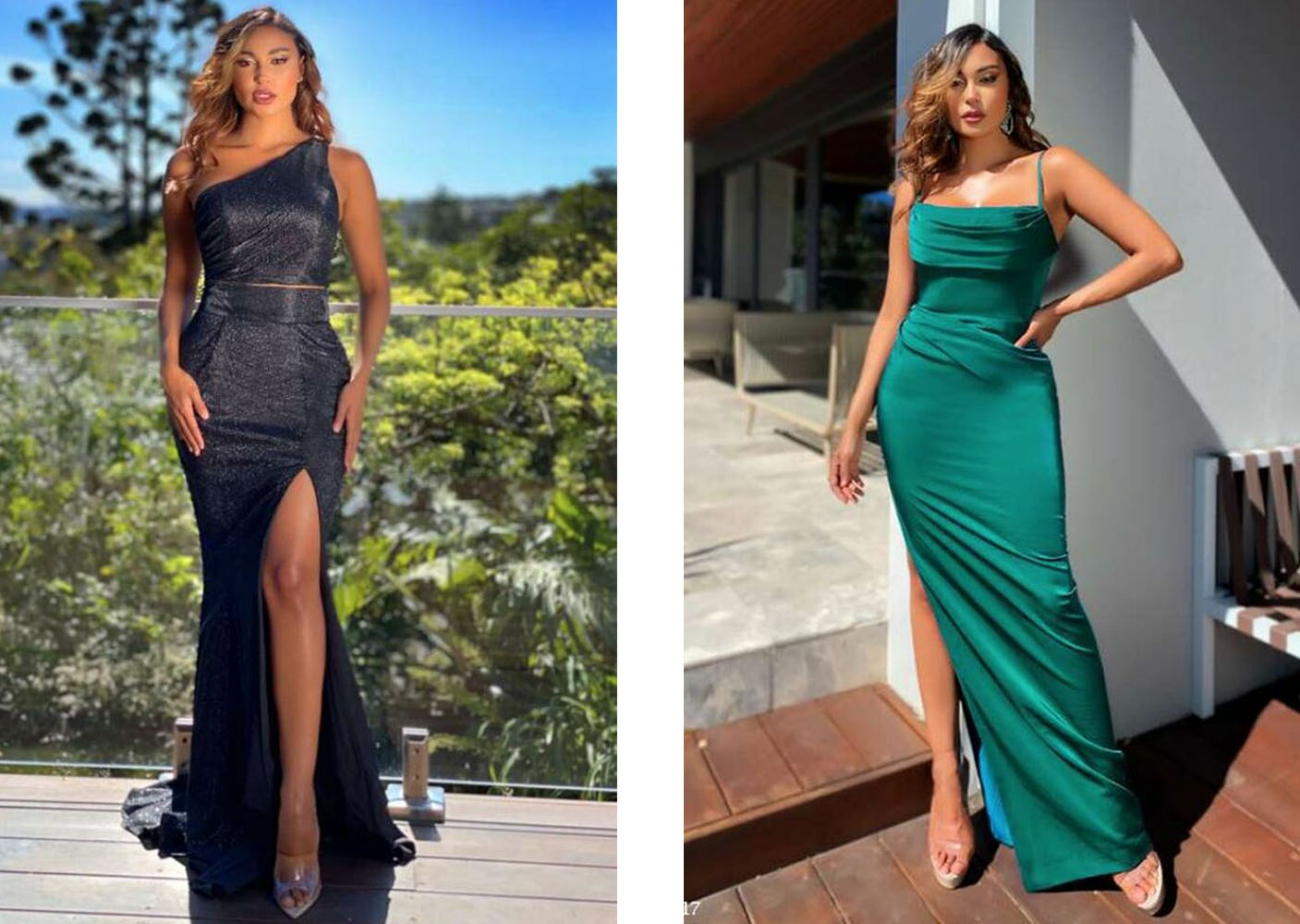 ---
You're quirky, fun-loving, and you don't need to conform to feel like you belong. Get fancy with Jadore Evening's embellishments, beading, sequins, appliques and embroideries on your unique school formal dress.
Break away from the norm with the high-low effect of Ganrielle JX5018 strapless mini bodycon dress with a split floor length embellished overlay, available as a shiny black formal dress or a dual toned champagne formal dress. The Jocelyn V-neck sequin mermaid dress features a mesmerising abstract floral vine pattern from shoulder to floor, making you stand out from the crowd in the ice smoke dusty lilac formal dress, rose gold formal dress or mint green and gold formal dress.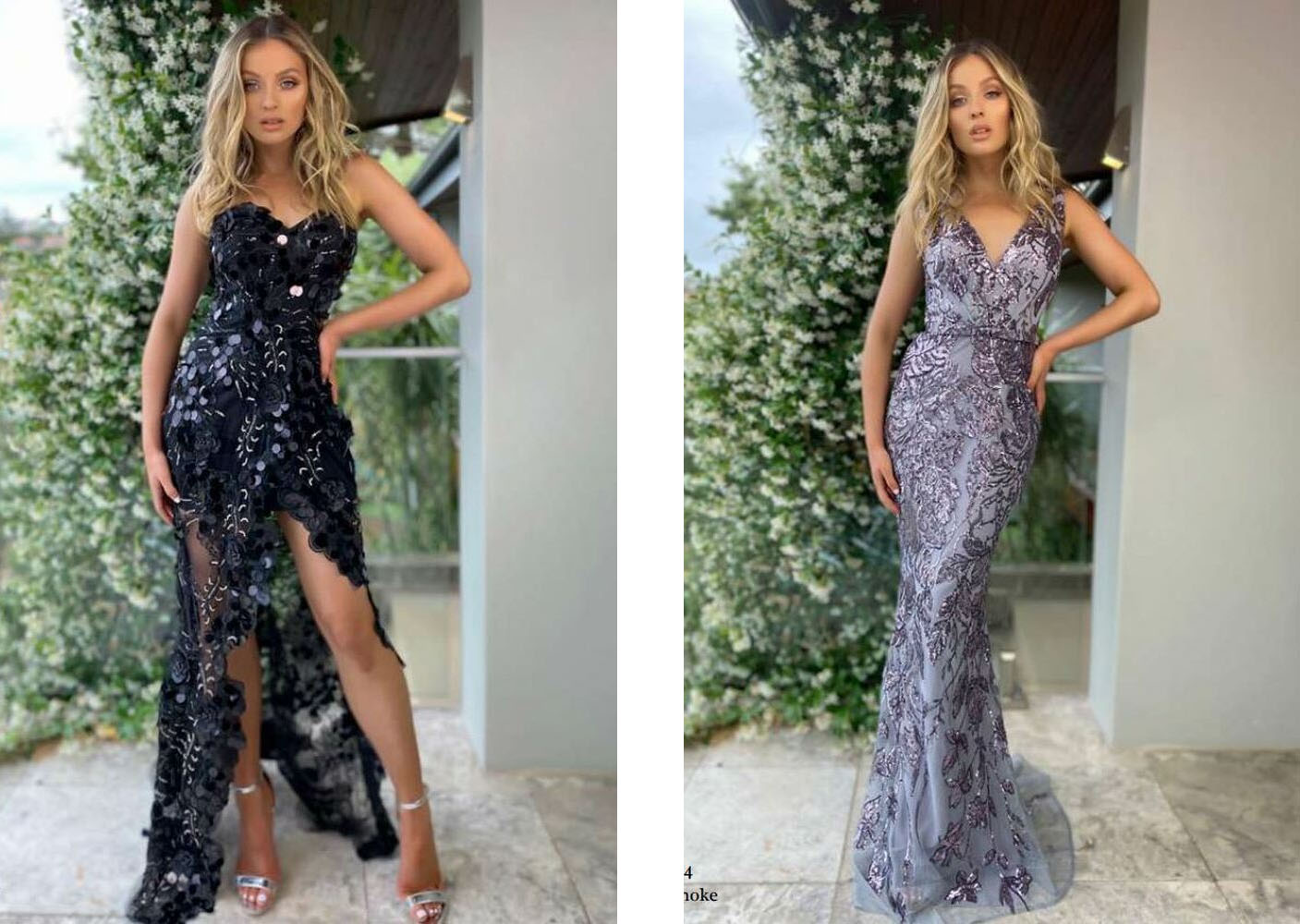 ---
Tonight is all about YOU. You aren't afraid to make heads turn, to be the center of attention, to be a princess for a night.
Look sexy and confident in the Oriana JX5010 one shoulder glitter shimmer mermaid dress. This red formal dress, silver formal dress or peach pink formal dress is ruched across the torso to accentuate your hourglass figure. An absolute stunner, the dazzling Clara JX5007 spaghetti strap sweetheart shimmer ball dress covers you in molten gemstones as a sapphire blue formal dress, silver formal dress, light blue formal dress or navy formal dress.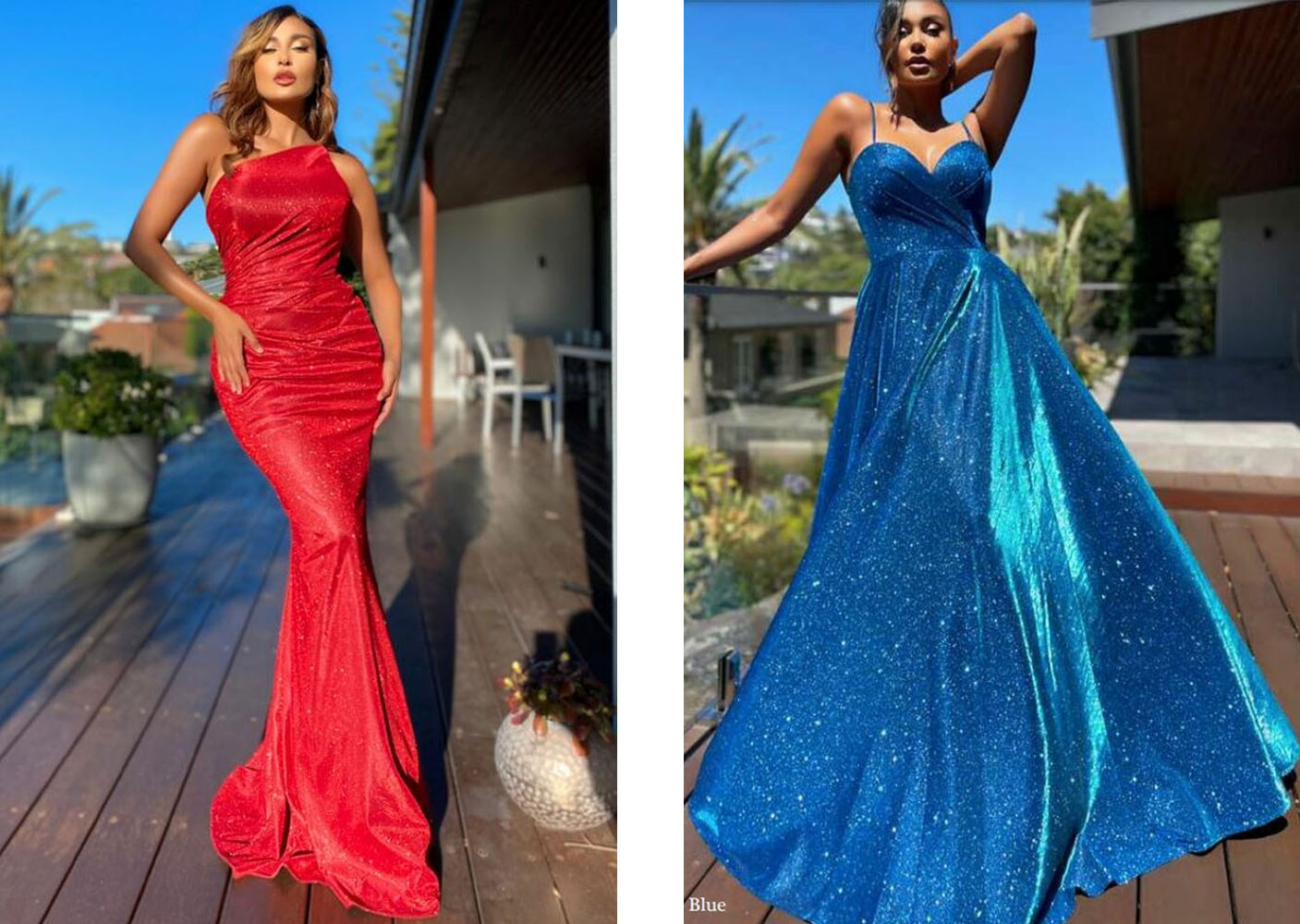 ---
A Bridal and Formal Wear store in Wahroonga, Fashionably Yours is Sydney's leading school formal dress boutique store. Customers have easily found their dream dress from a broad selection of fitted bodycon formal dresses, ball gowns and ball dresses, strapless dresses, one shoulder formal dresses, plus size formal dresses, cocktail dresses and mermaid dresses Australia and worldwide. Between Tania Olsen Designs and Jadore Evening, you can find a designer school formal dress of any colour, whether you're looking for a black formal dress, green formal dress, red formal dress, navy formal dresses, pink formal dress, emerald green formal dress and much more!
Our online store ships Australia-wide and internationally, with fast shipping to Sydney, Melbourne, Perth, Hobart, Adelaide, Darwin, Canberra. We cater for a large range of brides and customers with bridesmaid dresses online, wedding dresses online, mother of the bride dresses, mother of the groom dresses, school formal dresses, evening dresses, formal dresses, prom dresses, engagement party dresses, valedictory dresses, evening gowns, wedding guest dresses, long sleeve formal dresses, sequin formal dresses, second wedding dresses, casual wedding dresses and more.
We have Afterpay and ZipPay payment options at checkout for convenient and hassle-free online bridal and school formal shopping.