We love wrap bridesmaids dresses. They are extremely versatile and can create the illusion of different styles, especially if all of your bridesmaids have their own signature look! Everyone will feel comfortable in these modern bridesmaids dresses, and able to express their individuality!
Shop all Bridesmaids Dresses HERE
Les Demoiselle LD1088 Net Wrap Dress is a stunning option if you want the look of mix and match bridesmaids dresses, with some consistency in colour and skirt style! Multi wrap bridesmaids dresses have become a fan favourite!
Shop Multi Way Tulle Wrap Dress (1088) by Les Desmoiselle HERE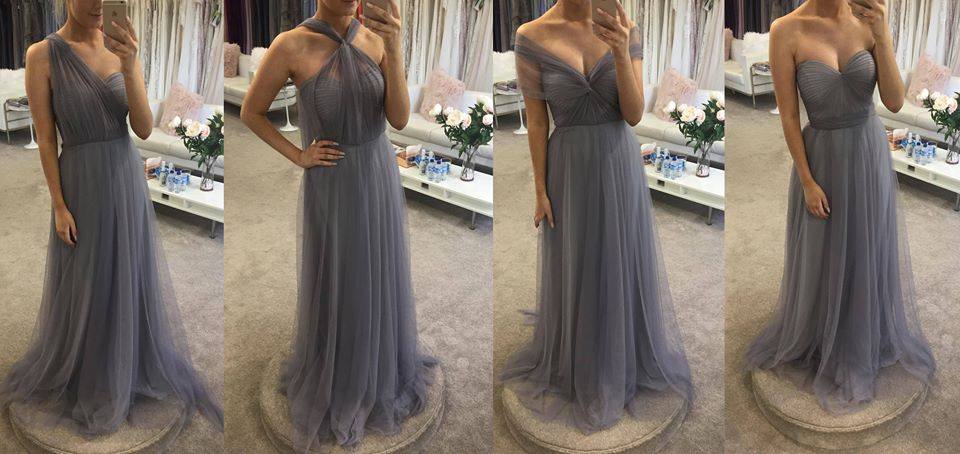 The Naomi Multi-wear Wrap Dress By Les Demoiselle LD1092 is an ideal gown for weddings, bridesmaids, formals and evening functions. This dress has multiple different wrap variations, and is picture in this gorgeous burgundy/plum colour. THis dress is available in a variety of colour options, giving you endless choice for your modern bridesmaids dresses!
Shop Naomi Multi Wrap Dress By Les Demoiselle LD1092 HERE
The mix and match Les Demoiselle bridemaids dresses, Jadore Bridesmaids dresses and Dessy bridesmaid dresses ranges is perfect for dressing your bridal party! Perfect for burgundy bridesmaid dresses, wine bridesmaid dresses, navy bridesmaid dresses, black bridesmaid dresses, champagne bridesmaid dresses, blue bridesmaid dresses, white bridesmaid dresses, nude bridesmaid dresses, green bridesmaid dresses and more.
Our range of bridesmaid dresses online includes Jadore dresses, Elle Zeitoune, Portia and Scarlett (Dollhouse bridesmaids) , Shona Joy, Les Demoiselle, Tania Olsen, Pia Gladys Perey, Dessy bridesmaid dresses, After Six, Alfred Sung, Social Bridesmaids, Lela Rose and Lilly Luxe the Label.
We also stock a wide range of bridal gowns and wedding dresses from brands like Calla Blanche Bridal, French Collection, Mori Lee, Wendy Makin, Wtoo, Willoughby, Watters, Goddess by Nature and more.
We also stock a wide range of engagement party dresses, second wedding dresses, formal dresses, school formal dresses, valedictory dresses, debutante dresses, ball gown dresses, evening dresses, cocktail dresses, long formal dresses, wedding dresses online, flower girl dresses, junior bridesmaid dresses, mother of the bride dresses, mother of the groom dresses and more.