Brides always ask us during their wedding dress try-on appointments- what jewellery would work? What kind of veil would go with this?
We've rounded up 3 different styles of wedding gowns to try and cover a broad range of wedding styling do's and don'ts, using our fabulous range of bridal earrings, necklaces, tiaras, hair vines, bridal combs, bridal hair pins, headpieces, and wedding veils.
Before we get in to the full breakdown, here's the cheat sheet run-down of bridal styling tips:
Compliment, don't compete! Make sure you choose bridal accessories that highlight the details of the wedding dress without overpowering them.
Veil Length: Consider where your veil ends in relation to the details on the dress and your own body shape. If your wedding dress has a fairly detailed section, opt for a veil that extends past the detail of the dress so it doesn't interrupt the design.
Hair up or down? It depends on the back details/neckline. If the back of your wedding dress is screaming for attention, propping your hair up in a bridal up-do ensures it will be seen! If it's a plain back or you'd prefer to fill in a plunging low back wedding gown, leave your hair out in loose curls. Whatever style you choose, this will influence what bridal hair accessories you add- e.g hair up = bridal comb/pins, hair down = bridal hair vine/clips.
Necklaces: Sometimes wedding dresses will have enough detail around the neckline that a necklace can be a distraction. However for more sleek and simple wedding dress necklines, or something particularly low-cut, the perfect bridal necklace is one that will follow the contours of the neckline shape.
Now the basics are out of the way, let's have a look at the bridal accessories and styling options for a few different types of wedding dresses.
---
There's something eternally regal about a continuous stream of heavenly ivory crepe, silky satin, and crisp mikado in a wedding dress. Simple wedding dresses are classic and timeless, and what better way to accentuate that than with pearls? The smooth off-white surface of pearl bridal accessories perfectly mimics the look of uninterrupted fabric flowing from head to train in your simple & elegant wedding dress.
Take a look at how we have accessorised the Antiope A-line cowl neck crepe wedding dress by Pronovias! A statement pearl bridal headband serves up unquestionable wedding vibes and this gorgeous spiral pearl necklace & earring bridal jewellery set compliment the spaghetti straps and soft V neckline. Top it all off with a gorgeous pearl-embellished cathedral wedding veil to tie it all together.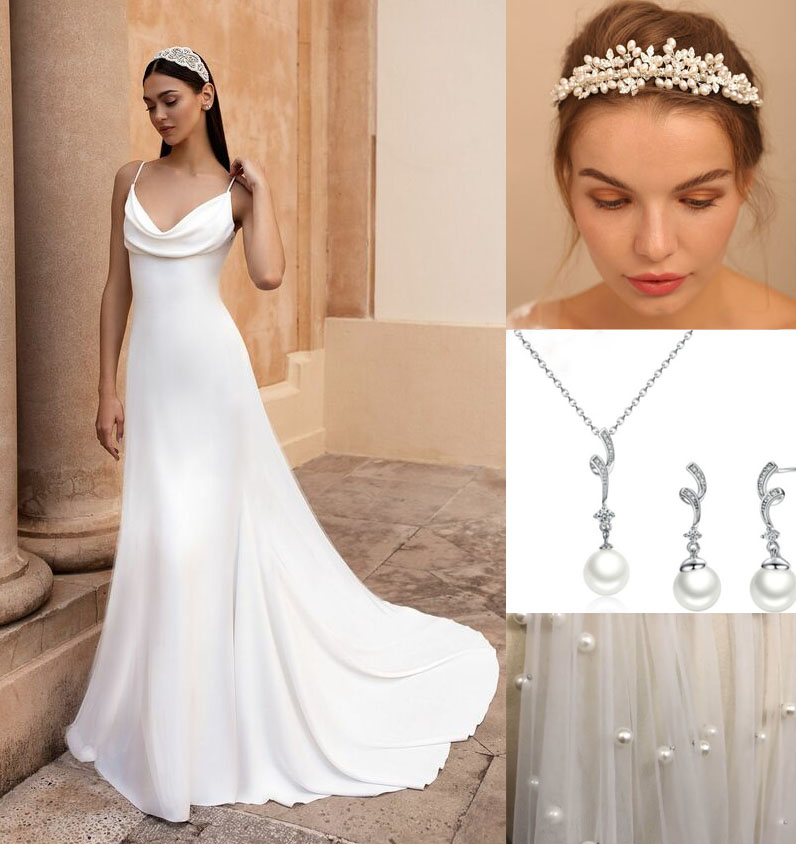 ---
Lace has centuries of history rooted in weddings, therefore gorgeously intricate lace wedding dresses are often what first comes to mind when we envision our big day. Keeping your bridal jewellery and headpieces simple and paired-back is the easiest way to accessorise lace, however we know some of you like to be a bit more extra and make a statement! If that's the case, it doesn't matter how out-there you go with the wedding veil and accessories, as long as the patterns and shapes match the lace of the bridal gown.
Let's look at the Hati sheath lace wedding dress by Pronovias for example: The defining feature of the lace is the leaf shapes that crawl organically from the illusion neckline all the way down to the train. This lace cathedral veil flows straight past the train, leaving the details of the dress uninterrupted while providing a gorgeous lace border that extends the dress even further. Forgo a necklace for this dress, but add a little bling with the leaf drop crystal earrings and top it off with a lead hair vine.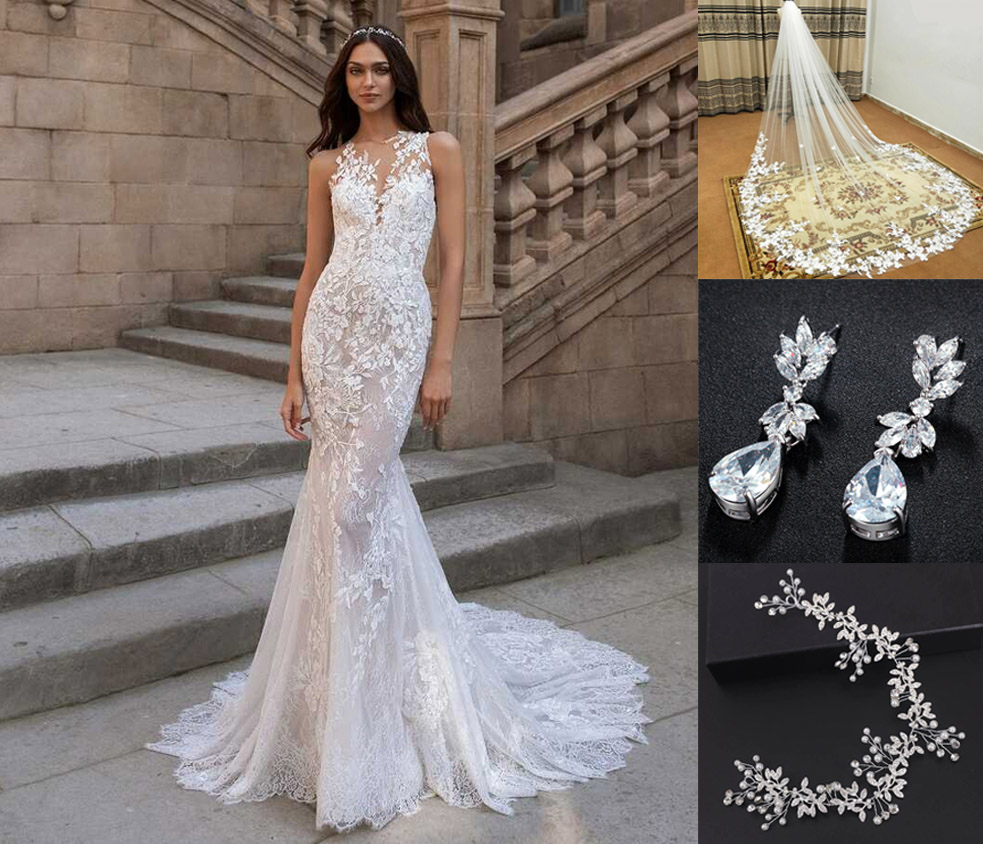 ---
If you've got some glitz and glam going on in your wedding gown, let the dress do the talking. You can get away with simple barely-there bridal jewellery styles to let the wedding dress shine! If you wanted to make more of a statement all-over when you walk down the aisle however, pay attention to the shapes and styles of the beads/crystals/shimmer of the wedding dress and try and match that to your selection of bridal accessories.
Take the Alina sheath wedding dress by Calla Blanche Bridal for example- it features very distinct Art Deco detailing throughout the body of the dress, created through the swooping repetitions of beaded strings and crystals, which can be a bit intimidating to try and jazz up even more without creating a glittering mess! Take advantage of these rounded shapes through a these crystal teardrop bridal earrings, and this silver pearl bridal headpiece.The pattern already looks like a million necklaces draped dazzlingly over the dress- so why not add one more to fill in the illusion sweetheart neckline? For the veil, continue the headband details with this crystal border wedding veil that sits just above where the train flairs out.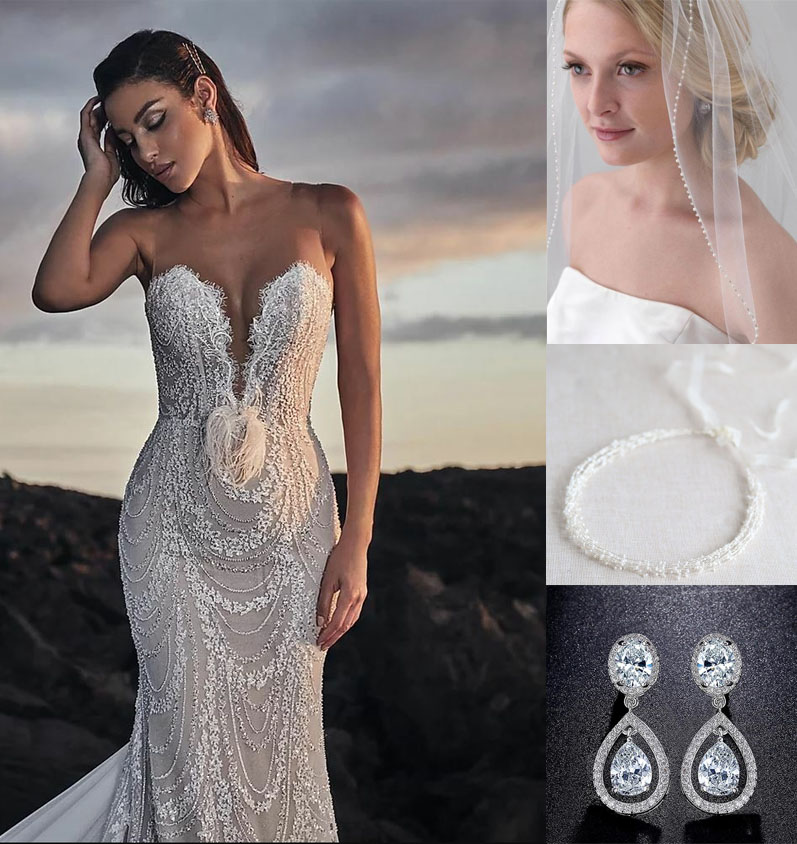 ---
We hope we were able to make your bridal accessory hunt a little easier! Fashionably Yours Bridal & Formal Wahroonga are your experts in styling simple wedding dresses, bohemian styled wedding dresses, off the shoulder wedding dresses, long sleeved wedding dresses, ivory wedding dresses, satin wedding dresses, white wedding dresses, elegant wedding dress, crepe wedding dresses, Mikado wedding dresses, sequin wedding gown, sparkly wedding dress, satin wedding dresses, chiffon wedding dresses, lace wedding dresses, tulle wedding dresses, mermaid wedding dresses, contemporary wedding gowns, elegant wedding dresses, sheath wedding dresses, sophisticated bridal looks, wedding dresses with cape sleeves, square neckline wedding dresses, straight neckline wedding dresses, deep v illusion plunge wedding gowns, A-line wedding dresses, mermaid wedding dresses, cap sleeve wedding dresses and strapless wedding dresses from Dessy Bridal, Pronovias Bridal Barcelona, Calla Blanche Bridal, Moonlight Bridal and Dovita Bridal at Fashionably Yours.
Choose from our wide range of crystal, pearl, florals and lace in our bridal veils, bridal jewellery, wedding hairpieces, bridal hair vines, bridal combs & pins, and earrings for your wedding, or even use our range to accessorise your school formal dress, bridesmaid dress, mother of the bride dress, valedictorian dinner dress, graduation dress, pageant contest dress and fun flirty party dresses from Jadore Evening and Tania Olsen Designs for your next event. Fashionably Yours delivers Australia-wide and internationally, with fast shipping to brides and party-goers in Sydney, Melbourne, Perth, Adelaide, Darwin, Hobart, Canberra, Brisbane and more.