When it comes to getting what you're looking for in a relationship, the first date really sets the tone. You want your outfit to reflect what kind of person you are, and what kind of person you want to attract. And who knows, if the first of many dates go well, you may even find yourself soon shopping our collection of wedding dresses!
Whether you're a frivolous and flirty girl, or if you mean business, these selection of party outfits, summer dresses and resort wear from Ivory & Chain and Runaway the Label are guaranteed to define your dating life. Paired with our Secret Weapons tips and tricks for a flawless look, your date will be none the wiser.
---
When you've got work til 5 and dinner & drinks at 5:30, the Yasmin Pantsuit is your best friend for going from professional and career-driven to chic and sexy. Pair this suit with a white cami for work, then swap it out with a lace crop top or bandeau to blow your date away! Or for an extra sexy and risqué look, take full advantage of the jacket's V neck and side cut out with wearing nothing at all underneath. Either way, the structured shoulders of the single-breasted jacket and the tuxedo-esque satin detailing on the singular button, matched with the piping on the flared pants, ensure that your date knows that you mean business.
If you are opting for the au-natural look, enhance your god-given assets with Secret Weapons Boob Lift Tape, a clear and discreet medical grade tape that you can use to shape, lift and support the girls all night long. Secure the edges of the V neck down with Stick It! Rescue Fashion Tape. Your date won't know where to look!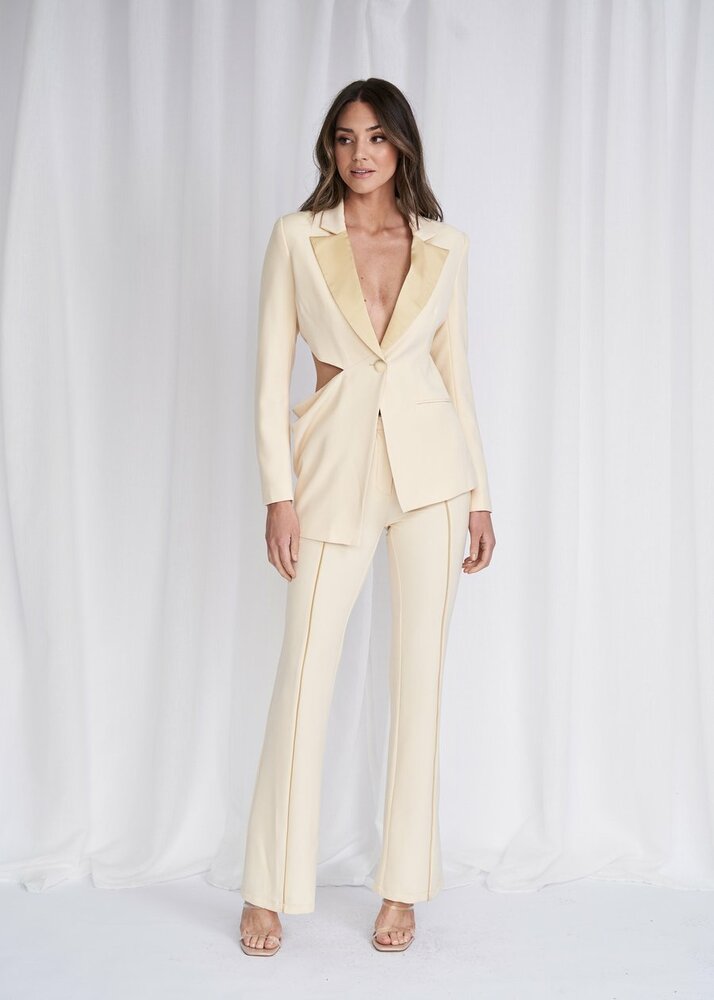 ---
You're loud, charismatic and confident, and you're not afraid to let that come through in what you wear. The Charis Slip Dress in the bright & bold Orchid pink screams self-assurance, and lets everyone know that you are doing THEM a favour by just showing up for the date. This bright pink cowl neck slip dress with the criss-cross lace up back sets the tone for an endlessly adventurous relationship. Pair with strappy sandals and a clutch for the perfect summer beach picnic date look.
To navigate the strappy open back, avoid any awkward bra straps with the reusable Lace-Up Stick-On Bra, available up to an E cup. As a front stick-on bra with spectacular sticking power, your sides and back are free to show through the cut outs.
---
An ideal date for you is as simple as sitting on the couch watching your favourite movie together, as long as there is deep chats and good snacks. The Azara Chain Top exhibits a relaxed silhouette perfect for those lazy days, while the bold chain detailing and deep V plunge takes it from day to night. Pair it with leggings or jeans for a chilled time together, or leather pants for an effortlessly glam going out look.
The magic of Azara lies in its versatility. The deep V plunge can offer a stunning cleavage moment at the front, or turn it around to the back to show off those shoulder blades. These Secret Weapons Go Lo - Low Back Bra Converter will help keep that bra band out of sight when you wear Azara with the open back. For more coverage, layer up with a contrasting tank top underneath.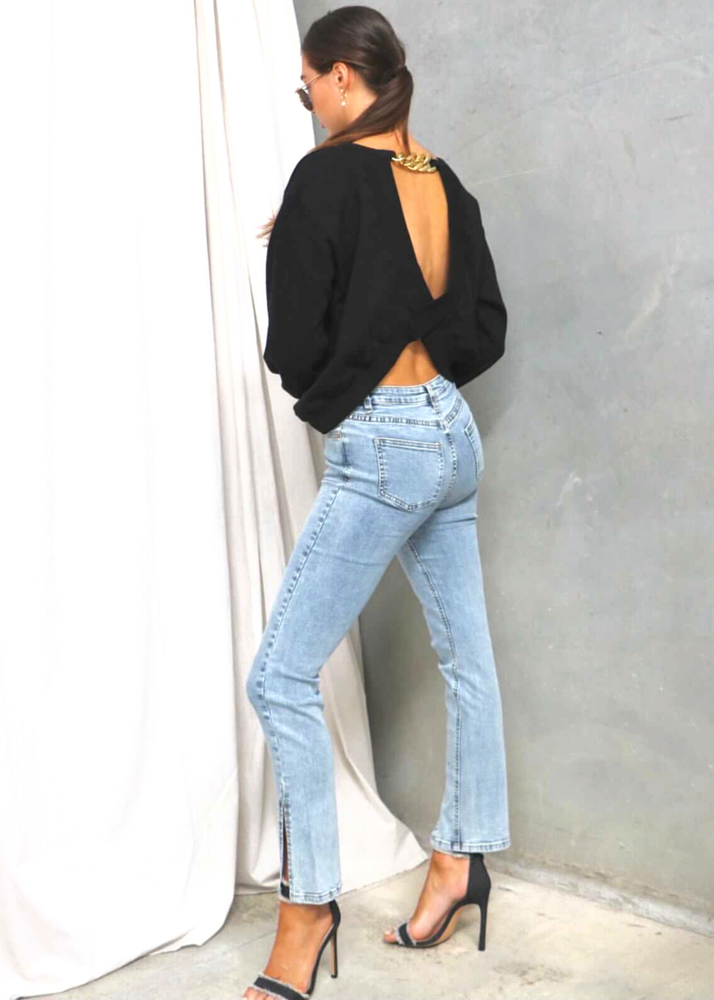 ---
You are a cheery, optimistic person and a guaranteed good time no matter where you are or who you're with. Show that off in this delicate mini dress with spaghetti straps and a softly draped cowl neckline to have your date head over heels in an instant! The bright Fleur floral print is vibrant, vivid and youthful, just like you! Wear with sneakers for a casual brunch outfit.
Go braless in the Sierra dress for a sleek and breezy look but keep those headlights in check with Secret Weapons Headlight Dimmers.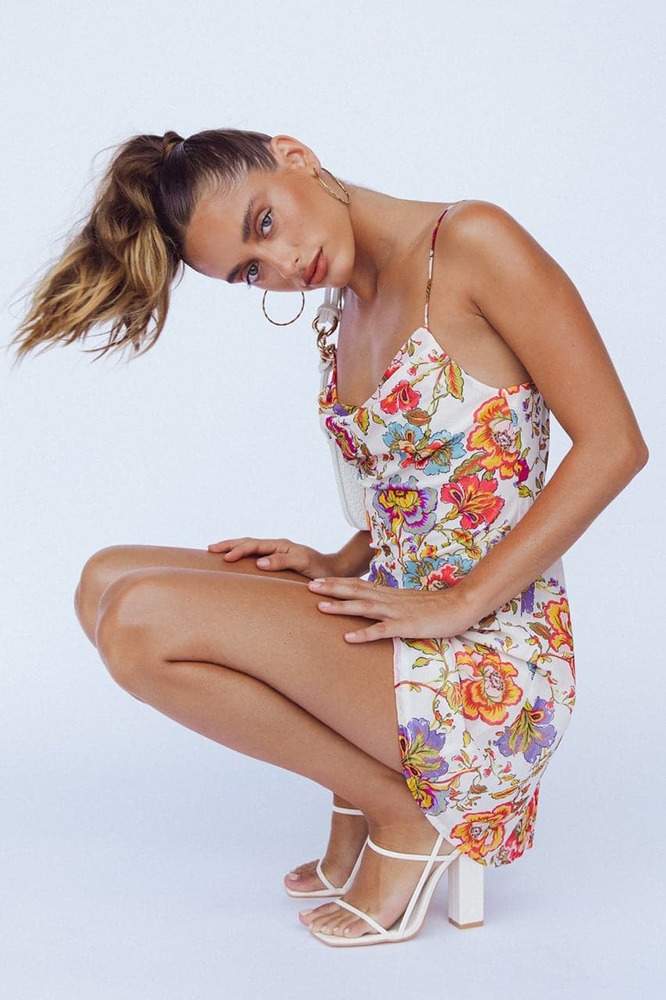 ---
You're classy and you know your worth. The perfect date for you is roof top bar cocktails with a gorgeous view of the city lights. In the Mecca strappy backless draped midi dress, they'll beg to pay for your drinks all night long! The gorgeous blush pink softens the sexiness of the open back and side cutout for a more toned-down elegant look, with the asymmetrical draping and spaghetti strap creating a contemporary silhouette. Grab a clutch for those lipstick touch ups and some strappy kitten heels. Don't worry about a jacket... if you get cold, they'll lend you theirs!
If you're a bustier gal and going braless isn't an option for you, stick on a Secret Weapons Nudi Bra up to a D cup, or a Lace-Up Stick-On Bra, available up to an E cup. Secure those edges around the cut out with Stick It! Rescue Fashion Tape to keep everything where it should be.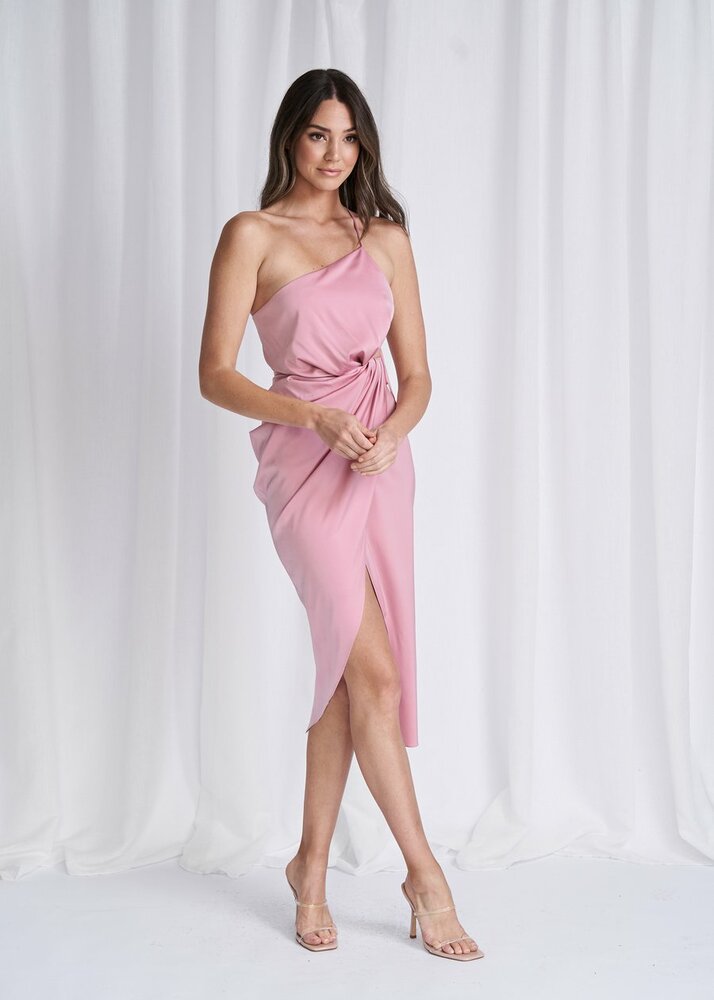 ---
They won't be able to take their eyes off of you with the glitz and glam of this dazzling mini dress. If a night out partying is your ideal way to get to know someone, hit the clubs in this sequined number. The side cutout offers a two-piece look exposing a little midrif, and the one-shoulder long bishop sleeve adds a unique and sophisticated edge to this outfit. Complete the look with statement hoops and nude heels, or glam sneakers to keep you dancing all night long!
The bust and back coverage on this sequin mini dress means it can conceal a strapless bra. With Secret Weapons Bust Ups bra fillers, you can add in a little extra lift and volume for a little confidence boost.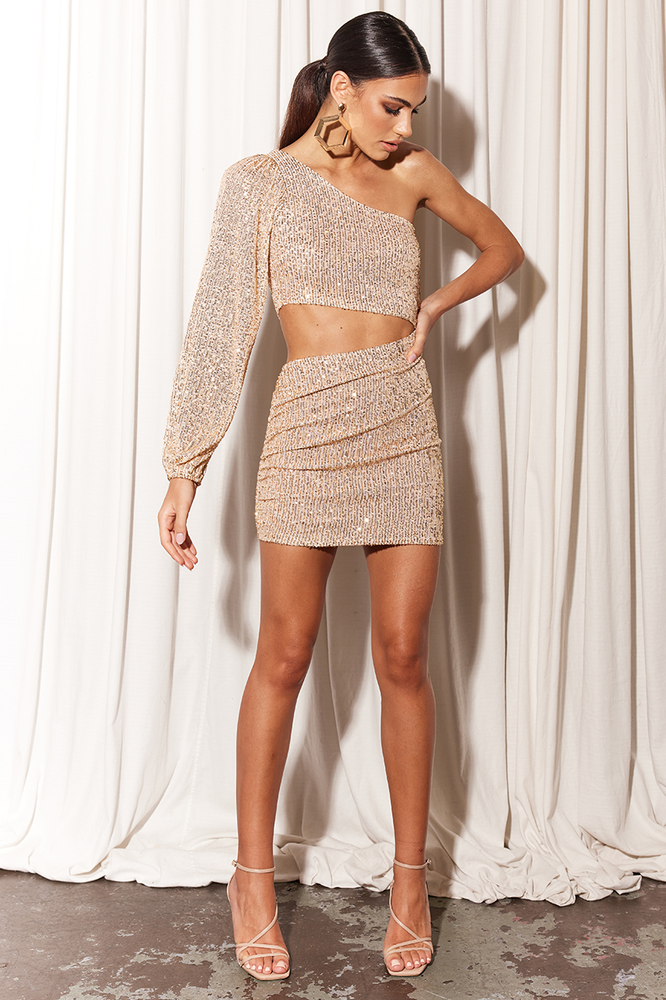 ---
Shop date night outfits in time for Valentine's Day at Fashionably Yours Bridal & Formal Store Wahroonga! We stock a wide range of cocktail and party dresses from Jadore Evening, Runaway the Label and Ivory & Chain. Shop party dresses, corset dresses, party jumpsuits, halter neck dresses, backless dresses, petite size dresses, designer party dress, party gowns, party clothes, designer cocktail dress, fitted party dress, bodycon dresses, pink party dresses and more.
Our online bridal store ships Australia-wide and internationally, with fast shipping to Sydney, Melbourne, Perth, Hobart, Adelaide, Darwin, Canberra. We cater for a large range of brides and customers with bridesmaid dresses online, wedding dresses online, mother of the bride dresses, sequin bridesmaid dresses, mother of the groom dresses, school formal dresses, evening dresses, formal dresses, prom dresses, engagement party dresses, valedictory dresses, evening gowns, wedding guest dresses, long sleeve formal dresses, sequin formal dresses, second wedding dresses, casual wedding dresses and more.