These gorgeous resort wear outfits are perfect to get you into the travel mindset, because who doesn't want to travel at the moment? With fun and bold patterns and tight and flirty silhouettes you are sure to look amazing in these holiday looks. Whether you are around the pool sipping a Margarita or out for a formal dinner these would all be perfect!
The Runaway The Label dresses we offer are the perfect combination of flirty and fun, which is amazing for a travel or summer wardrobe. Look through these gorgeous outfits when packing your perfect suitcase for your next summer holiday.
---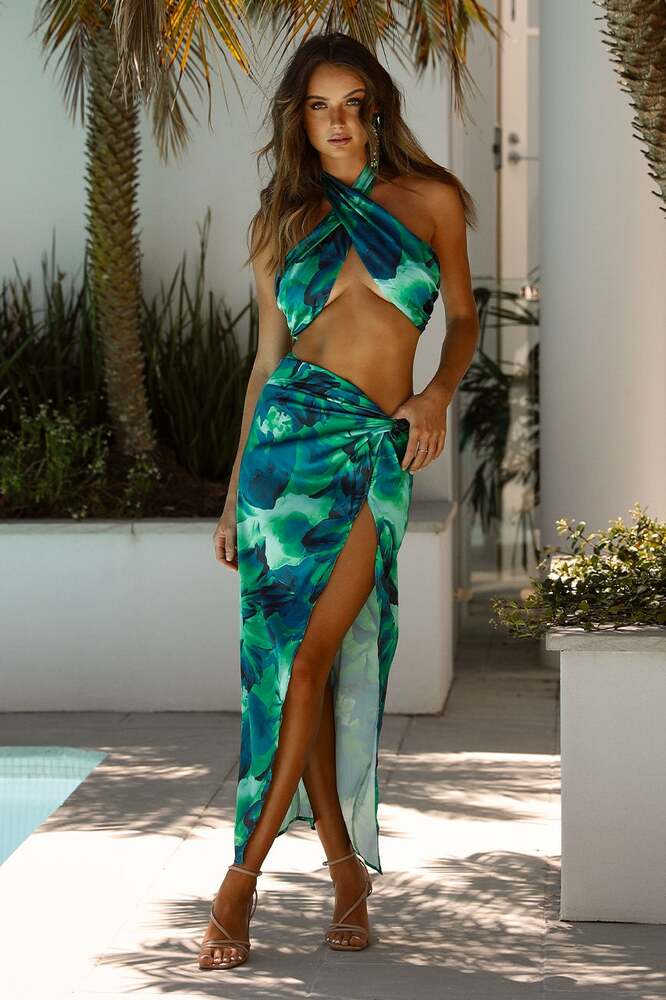 This gorgeous two-piece Scarlett set has everything you need in a resort wear outfit. The cross over tie top offers the perfect combination of sexy and flirty as you are able to tie it in multiple ways for different amounts of coverage. The skirt is the perfect length to match this stunning top, as the slit in this skirt would be gorgeous as a beach or pool coverup, as you get to decide how much skin to show. The skirt has an invisible zipper so you will feel supported as you wear this beautiful piece. The pattern of this stunning set screams a tropical resort holiday, as the blue and green tones match an island getaway perfectly.
---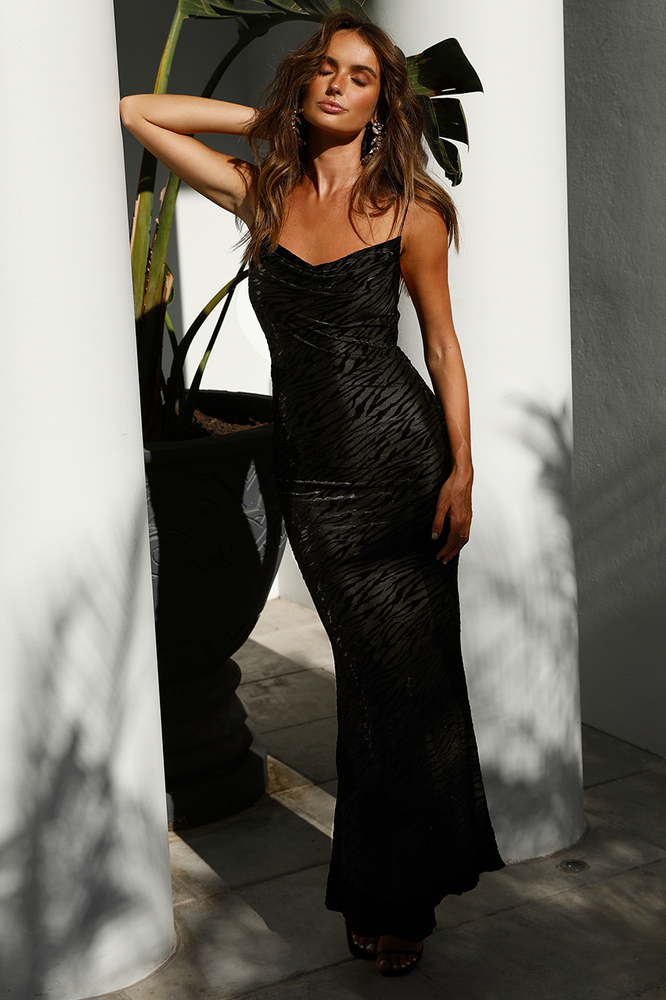 This stunning cowl neck tight dress is gorgeous for all things formal. The tight fitting silhouette of this dress is so elegant as it is made out of a luxe devore fabric which is silky and smooth for ultimate comfort. The back of this dress makes it a perfect piece to bring away on a resort, holiday destination as it features a low simple back that is great for the warm weather. The spaghetti straps of this piece allow you to feel secure and comfortable whilst wearing this elegant piece, as the straps sit at the perfect spot in the middle of the back. If black is not your colour then the emerald green this dress comes in would be a beautiful option for you. With that bright colour showing off all the small details of this stunning gown.
---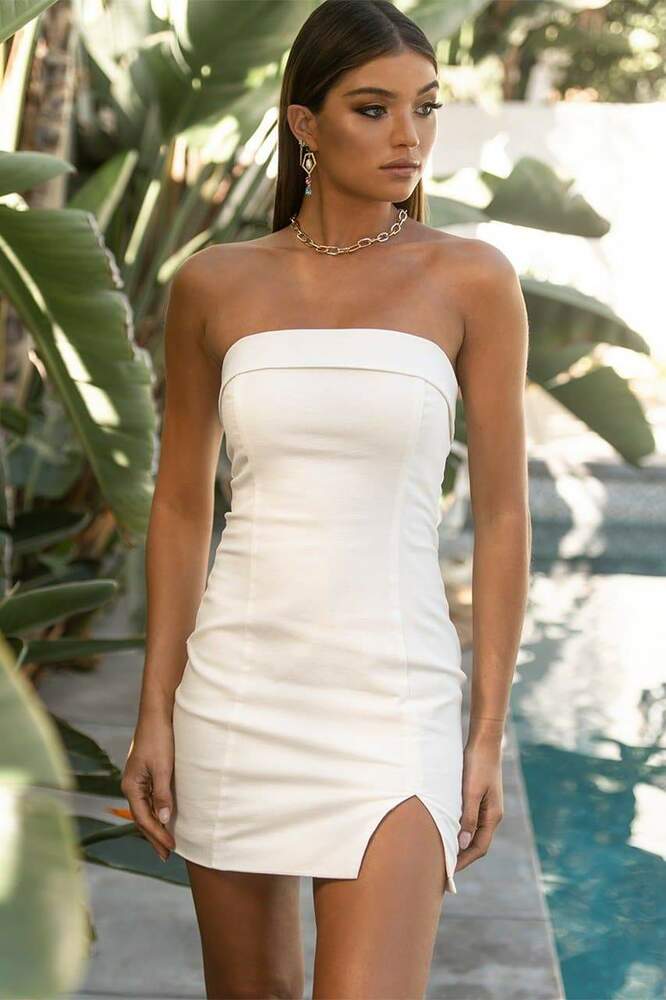 This strapless white mini dress is gorgeous for a summer dress. The boning in this dress provides support and comfort especially through the bodice of this mini dress. The style of this dress is popular as it is simple elegance through the small slit in the front of the dress and the folded fabric over the straight neckline in the bodice. This beautiful dress can easily be dressed up or down with the right accessories, shoes and hairstyle. The stunning beauty of this mini dress is that it can be worn casually around the beach or dressed up for a formal cocktail event. The versatility this dress provides makes it such a wardrobe essential that needs to be packed for your next holiday!
---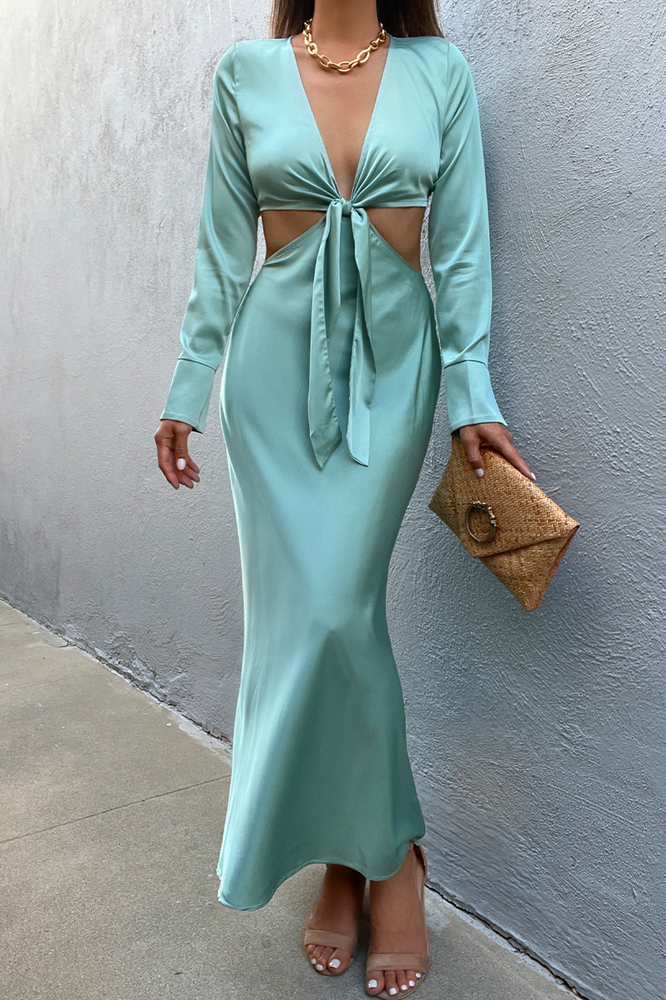 This midi front tie dress is a perfect dress to pack on a summer holiday. The front tie details creates a beautiful feature that can be worn a few different ways for comfort and support. If you plan on dressing this gorgeous gown down then you could wear it to the beach or lounging by the pool with a bikini underneath, as the material is silky and breathable. This sky blue colour is absolutely perfect for a resort trip as it matches the ocean and beach colour tone, making it stunning for someone who loves a good photo opportunity. The cut out detailing in the middle of the dress is a beautiful addition to this gown as it ties in perfectly with the cuffed sleeves and bust tie details.
---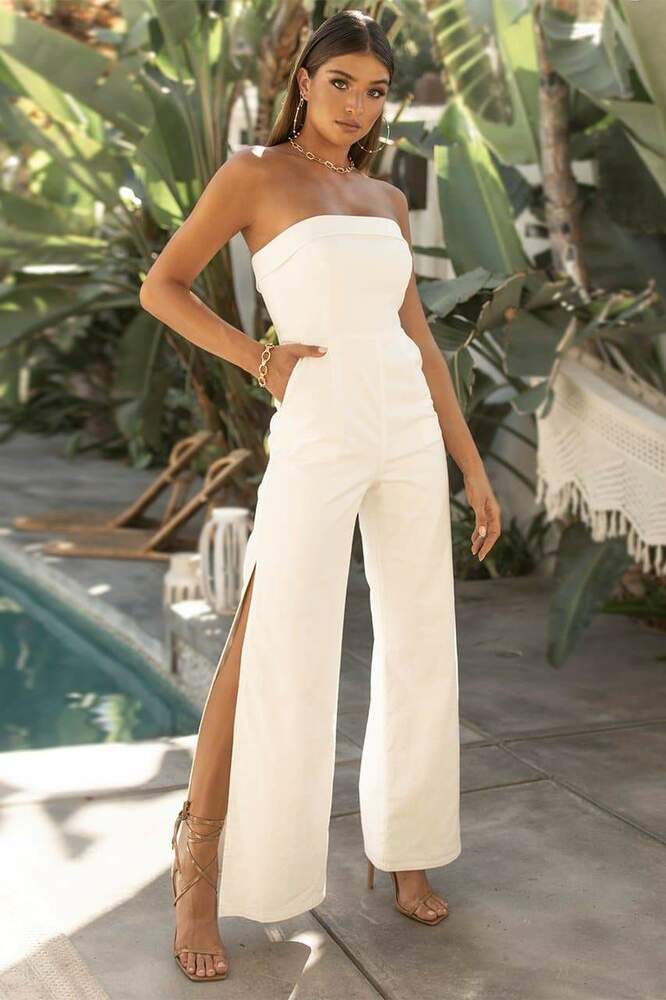 This gorgeous white strapless jumpsuit has simple elegant features, with the gorgeous straight neckline, side pockets and side split in the legs of the jumpsuit. If you need extra height then this piece is perfect for you as the side split accentuates your legs making them seem longer. The timeless neckline is a gorgeous alternative for the crystal mini dress by runaway the label for people wanting that extra comfort with a jumpsuit. The white colour of this jumpsuit is stunning, as it is such a refreshing piece for a summer holiday. One of the best things about this dress is the versatility that it provides, with the simplicity allowing you to style the outfit however you like. Whether you are a gold or silver accessory kind of girl you have the choice with this stunning jumpsuit.
---
Find the perfect resort wear, formal or party dress for any formal event or holiday with Fashionably Yours' large selection of wedding gowns and bridesmaid dresses to make sure you have the perfect dress for your occasion. You're sure to find the perfect formal gown from our large selection of dresses. The perfect party dress is in our new runaway the label dresses collection, shimmering formal dress, sequin dress, simple bridesmaid dress, long bridesmaid dress, short bridesmaid gown, sparkly formal gowns, formal dresses Sydney online, long sleeve formal dress, and so many more formal dresses. Book in your in-person appointment or order online.
Our online bridal store ships Australia-wide and internationally, with fast shipping to Sydney, Melbourne, Perth, Hobart, Adelaide, Darwin, Canberra. We cater for a large range of brides and customers with formal dresses online, wedding dresses online, mother of the bride dresses, sequin bridesmaid dresses, mother of the groom dresses, school formal dresses, evening dresses, formal dresses, prom dresses, engagement party dresses, valedictory dresses, evening gowns, wedding guest dresses, long sleeve formal dresses, sequin formal dresses, fantasy wedding dresses, second wedding dresses, casual wedding dresses and more.