These sparkly dresses are stunning for all formal occasions, they provide the perfect amount of eye-catching attention and will be sure to look amazing in photos. The glimmer in these dresses is breathtaking for day and night events, as sparkles truly are a girls best friend. We have the perfect range for you and you are sure to say yes to the dress.
---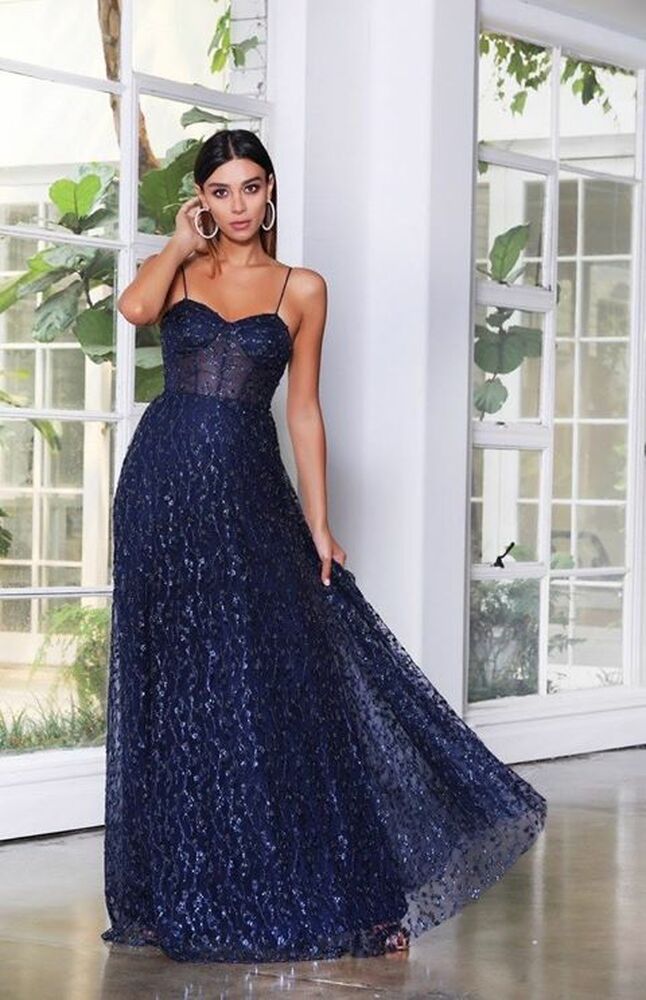 This navy sparkly dress is stunning as it features sequin beaded detailing all through the fabric of the formal gown. The corset styled bodice is beautiful as it shows off a woman's elegance and femininity when you first glance at the dress. The boning and the padding in the bodice provides structure for the evening dress and makes the gown fit everyone perfectly in their size. One of the best features of this dress, however is the full skirt, as it has beaded tulle fabric which is full length. This feature is sure to make anyone wearing it feel like the princess they always envisioned in themselves.
---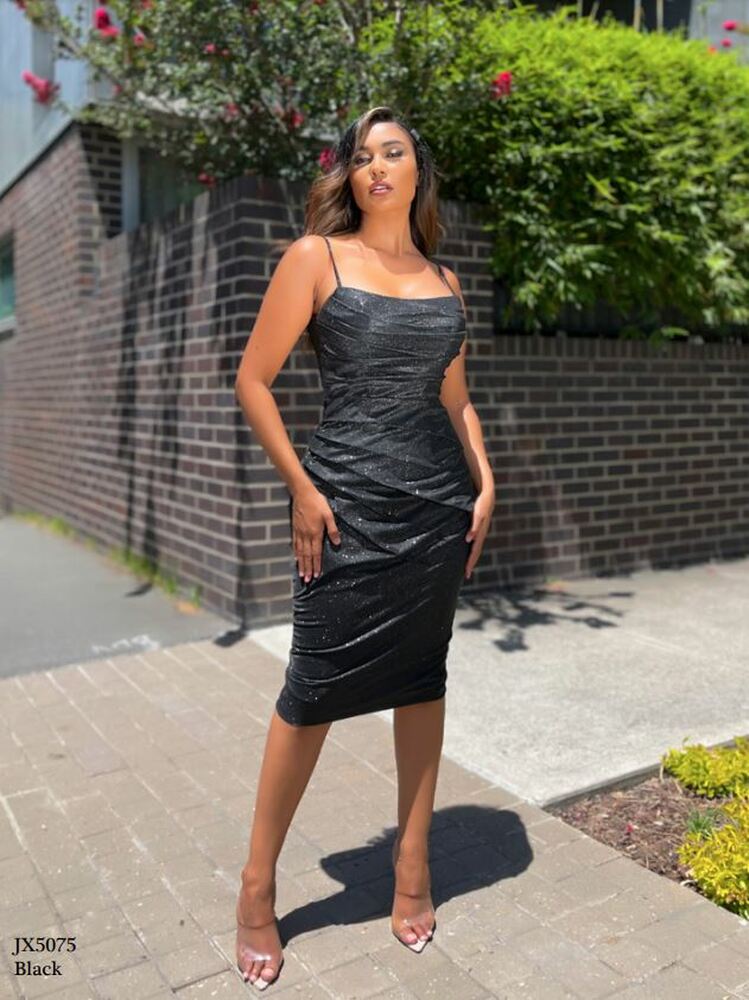 This black midi-length dress screams sophistication and elegance.The length of the dress is suitable to be worn countless times again, perfect for cocktail events. The ruched details of the dress is such a flattering addition and adds a bit of extra glamour to the cocktail dress. The hidden element of this dress is the small slit featured on the back of the formal dress, which provides you with the perfect photo opportunity. If you have fallen in love with this dress but black is not your colour, it also comes in a silver glitter colour.
---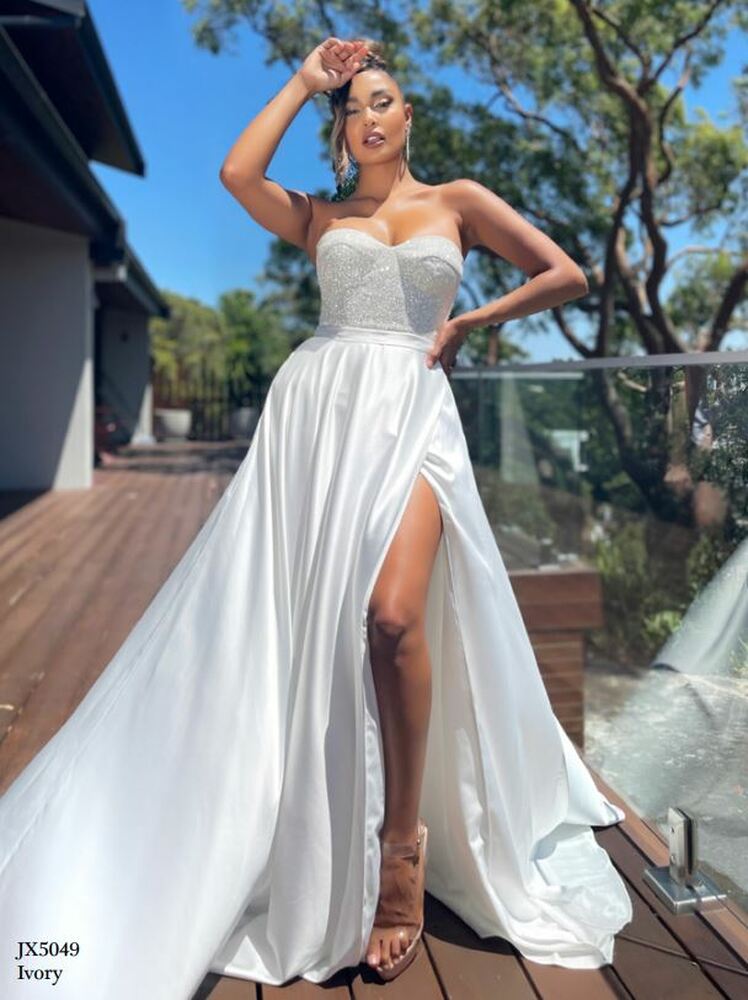 This ivory sequined dress has all the perfect details for a formal occasion. The white shimmer bustier provides the right amount of support for any event, as it features a beaded bodice and a padded cup bust. There is a waist band that is sown on in the perfect position for highlighting your body shape. The split in the side of the dress is the perfect height for being comfortable all day or night long. The size of the ballgown skirt is absolutely stunning in person and for photos.
---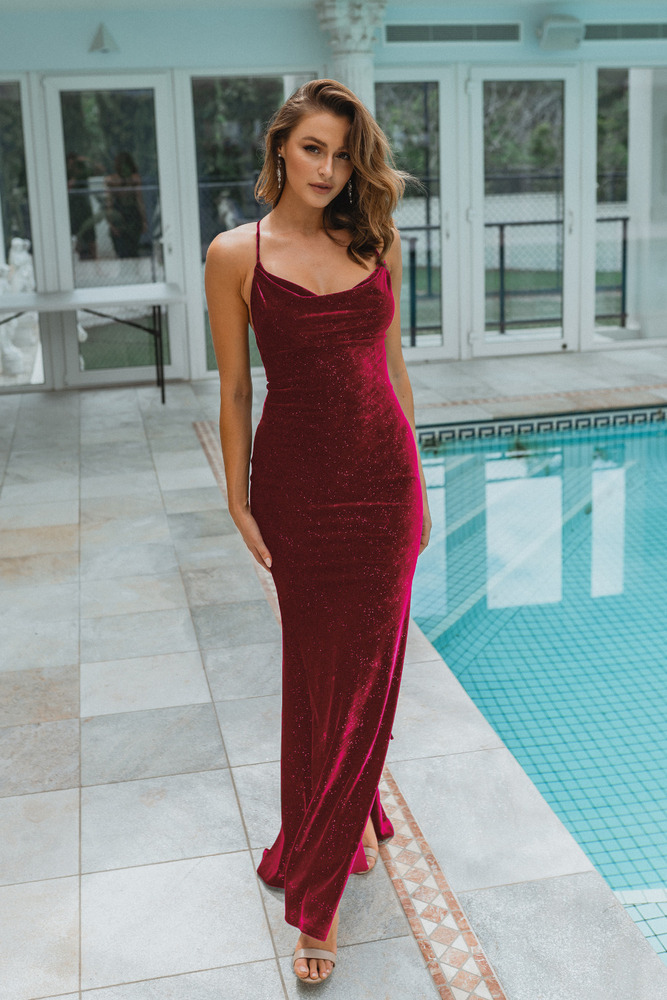 This vibrant red dress is absolutely gorgeous for all formal occasions and events. The formal gown features spaghetti straps, a cowl neckline and a leg split down the side of the dress. The back of this dress is stunning, as it will perfectly fit to your body through the lace up detailing. The small glamour of glitter throughout the dress is beautiful for all occasions, as it embodies elegance in all movements. The velvet material of this formal gown will ensure you feel comfortable for the whole night.
---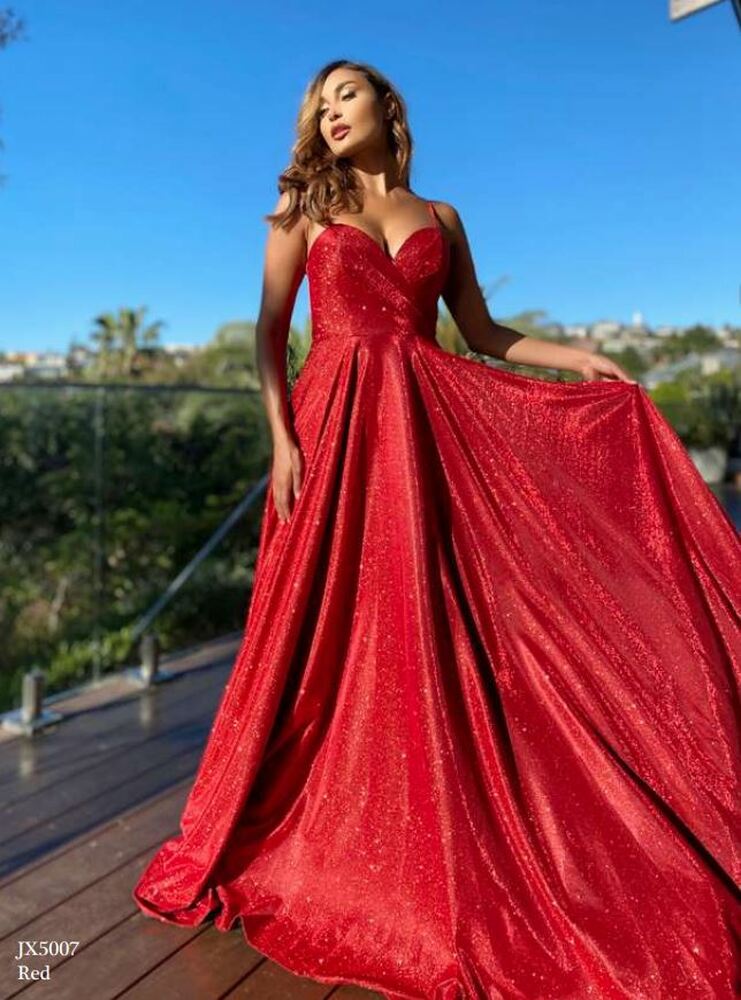 The Clara Dress JX5007 by Jadore Evening is a ballgown dress with head to toe in iridescent shimmer with a classic faux wrap sweetheart bodice & held up with dainty spaghetti straps and flows to a full length voluminous ball gown skirt that will sweep you off your feet! The Clara dress comes in a range of colours including a beautiful gunmetal silver, bright red or light, bright or navy blue evening dress for your next school formal or special occasion.
---
Create the perfect formal night with Fashionably Yours' large selection of fantasy formal gowns from our formal collection to make sure you have the perfect dress for your night. You're sure to find the perfect glitzy formal gown from our selection of beaded ball gown formal dress, shimmering formal dress, sequin dress, sparkly formal gowns, formal dresses Sydney online, magic sparkly formal dress, beaded formal dress, long sleeve formal dress, prom glitter dress, sequin ball gown dresses and so many more formal dresses. Book in your in-person appointment or order online.
Our online bridal store ships Australia-wide and internationally, with fast shipping to Sydney, Melbourne, Perth, Hobart, Adelaide, Darwin, Canberra. We cater for a large range of brides and customers with bridesmaid dresses online, wedding dresses online, mother of the bride dresses, sequin bridesmaid dresses, mother of the groom dresses, school formal dresses, evening dresses, formal dresses, prom dresses, engagement party dresses, valedictory dresses, evening gowns, wedding guest dresses, long sleeve formal dresses, sequin formal dresses, fantasy wedding dresses, second wedding dresses, casual wedding dresses and more.