Cupid is here to help with these stunning formal and party dresses. The month of love is just about to start, and what better way to celebrate than to start planning your Valentine or Galentine look. These dresses are the perfect mix of romantic and sexy which range from a romantic dinner to a casual night in.
Impress your Valentine with these gorgeous looks this year. The most romantic colours are on show for you to choose from, with the fun, flirty and bold colour choices of red, pink and black. What other colours could you possibly want to wear for Valentines this year?
---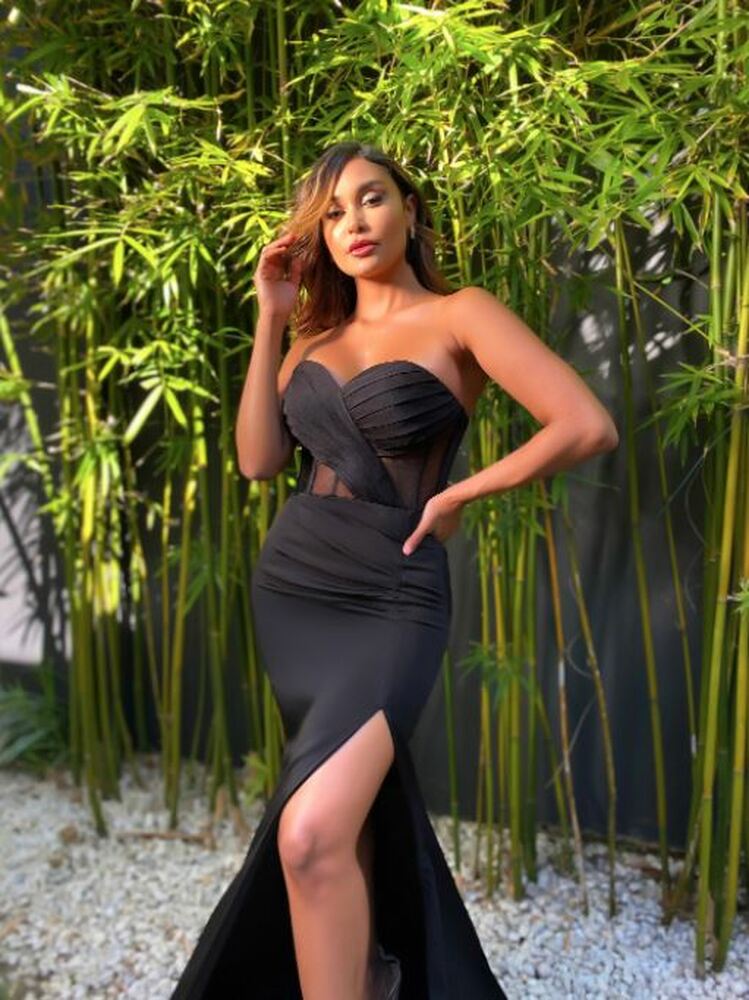 This stunning black formal dress is sexy and elegant. The formal dress features a corset inspired bodice with sheer detailing which outlines the boned structure of the gown. The dress is a strapless style with a slight sweetheart neckline, this gown can easily be paired with spaghetti straps for extra comfort and support. There is beautiful pleating on the padded bust cups on the bodice which adds extra dimension to the dress. The slight ruched waist of this dress is so flattering, as it sits just underneath the waist and guides the dress seamlessly to the bottom of the tight fitted gown. There is a slit on the high thigh of this dress which adds a sexy element to this gown, as you can show a bit more skin and add another sultry feminine touch to the gown. The bottom of this tight fitted gown slightly flares to the bottom, creating an illusion of a longer train. If black is not fun and flirty enough for you for Valentines this year, this stunning gown also comes in a beautiful bold magenta colour.
---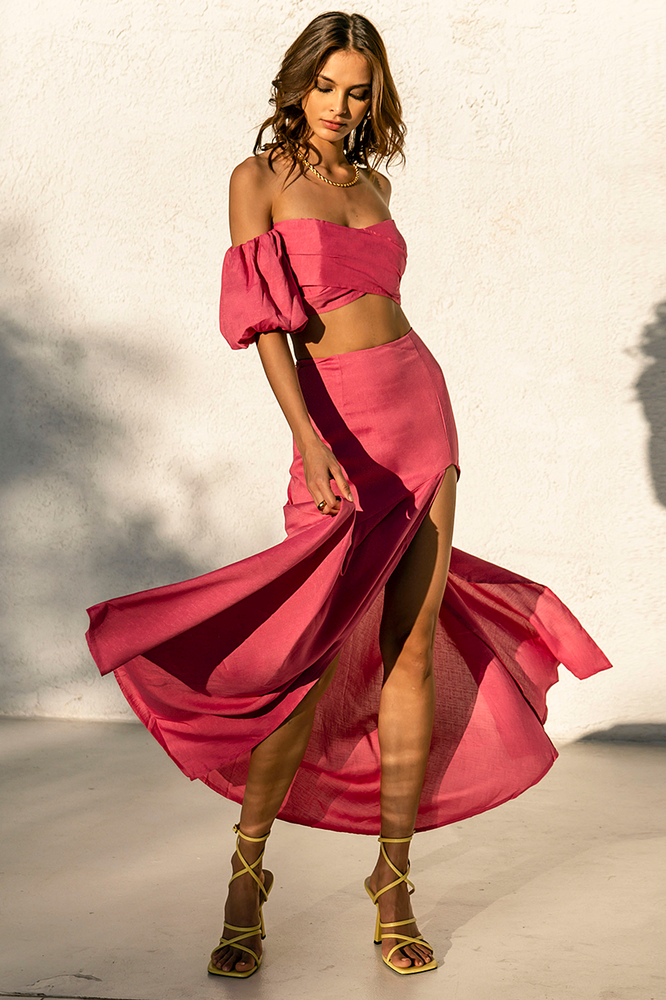 The fuchsia latel set is the perfect combination of flirty, fun and sexy for valentines day. This set provides you with the convenience to wear this outfit for multiple occasions and different events, as you could wear this beautiful set out to brunch, a formal dinner, a romantic walk along the beach and a spontaneous date night. Because of the fun colours that this set comes in you have many options on how you would like to style this gorgeous piece, with bright heels and accessories or simple and plain coloured accessories the choice is all yours. The cropped top of this set is stunning for a date, as there are cute puffed off the shoulder sleeves which add simple femininity to the set. The top is tight fitted with slight pleating across the center of the top which is super flattering. The skirt is the perfect match to this piece as it has a really fun and flirty element with the split on the high thigh of the skirt. There is built in gel tape on the bust of this top which provides that extra support needed for all day or night wear. The set has a double layer of lined fabric which ensures comfort and high quality for multiple wears.
---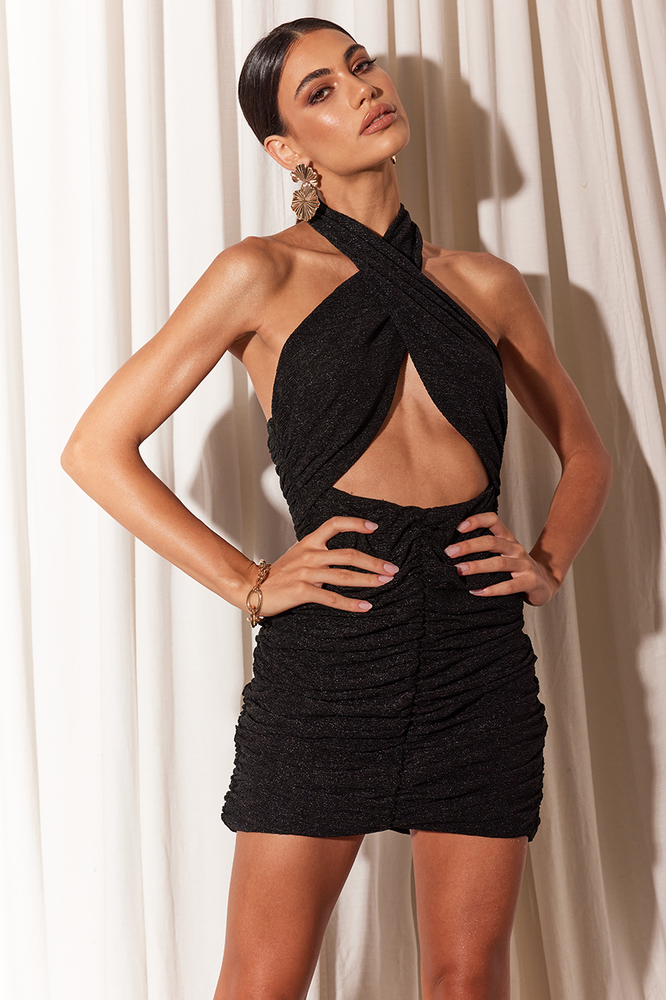 This mini crossover dress is sexy and elegant. This black mini dress has speckles of glitter throughout the fabric which is a gorgeous addition to the dress. The stunning neckline of this mini dress makes the attention go towards the center of this mini dress. There is a beautiful cut out feature in this dress which makes this a perfect dress to wear for summer dates. There is rushing along the entire dress, however it is very form fitting and flattering on the bottom of the dress as it creates a beautiful silhouette. The party is all in the front of this dress as it transcends to a different look when you see this mini dress from the back, with a straight mini dress style. This is gorgeous as it creates a surprise element to this gown. The options are endless to accessorize and style this dress, as what doesn't go with black? This dress truly is a showstopper so why not make your Valentine's jaw drop this year with this flirty mini dress.
---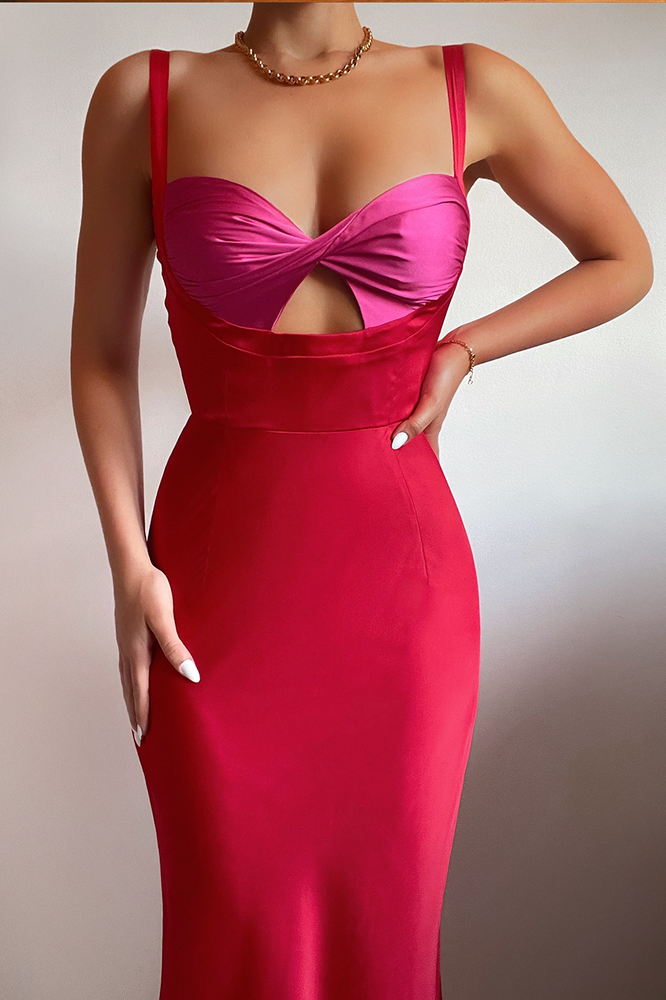 This gorgeous red and pink formal slip dress just screams romance. The cross over bust style paired with the tight fitted silhouette of the dress accentuates your best features in this daring bold valentines day dress. The mixed colour choice of pink and red is the definition of romance, who doesn't want to wear this dress on valentines day, or any day of the year to impress that special someone? The curved seam lines of this dress sit just under the bodice and help create that cinched hourglass waist illusion. The length of this midi gown is perfect as it can be worn through day or night, time and time again. The thick straps on this dress are adjustable which is just perfect, so you can make it fit to your exact size. There is a zip which runs along the back of this dress and hides through the seam line of this dress, as the zipper is the same shade of hot red as the fabric. If you are a romantic like us, then this dress is just the perfect outfit to wear this Valentines day, no matter what you end up doing you can dress this outfit up or down with the right accessories and hair style.
---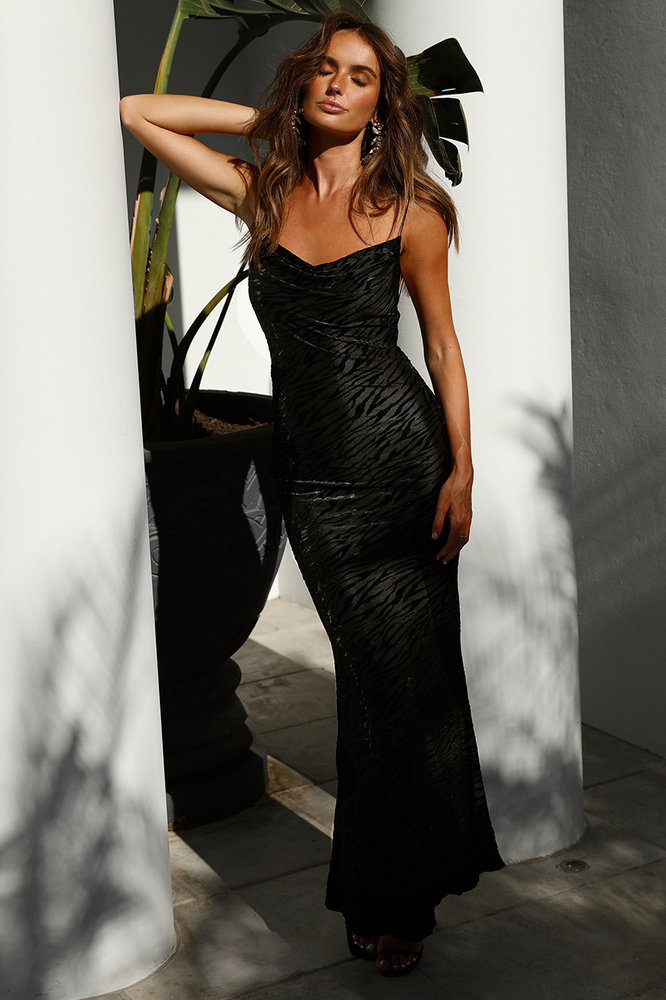 This sleek tight fitting formal dress is perfect to wear when you want to impress somebody. The tight silhouette of this dress is perfect for a date night as it is easy to style this dress in various ways due to the simplicity of the piece. The zebra print on the gown is beautiful as it adds extra detailing and elegance to the gown which is eye catching to the gorgeous gown. The cowl neckline of this dress is so beautiful as it is sophisticated and elegant all in one, with the simple feature adding so much more depth to the formal dress. The back of this dress has a sexy element, with a low back which is stunning paired with the thin spaghetti straps. The straps of this dress sit at the perfect spot as it does not draw away from the gorgeous open back statement. The zebra print of this dress is the perfect combination with the black coloring of the gown as it shows off the pattern enough without being too obvious.
---
Find the perfect formal and evening dress, bridesmaid dress, wedding guest dress and bridal dress with Fashionably Yours' large selection of formal gowns and bridesmaid dresses to make sure you have the perfect dress for your occasion. You're sure to find the perfect formal gown from our large selection of dresses. The perfect formal dress is right at your fingertips with this selection of party dresses, black dresses, romantic dresses, red dresses, pink dresses, fun and flirty dresses, princess dresses, shimmering formal dress, sequin dress, plain bridesmaid dress, gold bridesmaid dress, simple bridesmaid dress, long bridesmaid dress, short bridesmaid gown, sparkly formal gowns, formal dresses Sydney online, long sleeve formal dress, and so many more formal dresses. Book in your in-person appointment or order online.
Our online bridal store ships Australia-wide and internationally, with fast shipping to Sydney, Melbourne, Perth, Hobart, Adelaide, Darwin, Canberra. We cater for a large range of brides and customers with formal dresses online, wedding dresses online, mother of the bride dresses, sequin bridesmaid dresses, mother of the groom dresses, school formal dresses, evening dresses, formal dresses, prom dresses, engagement party dresses, valedictory dresses, evening gowns, wedding guest dresses, long sleeve formal dresses, sequin formal dresses, fantasy wedding dresses, second wedding dresses, casual wedding dresses and more.