It's all about the brides this season! With the recent increase in couples getting engaged over the holiday period- we have a flood of brides coming in trying to find their perfect dress for their special day! Whether you like a simple and classic gown, or want something more modern and fun, our
wide range of wedding gowns and specialised staff can help you find your perfect dress for the big day. Our new range from Calla Blanche is slowly starting to arrive in store, and we could not be more excited!
If you've never seen Calla Blanche gowns before, think Berta, but a fraction of the cost! The collection is all about lace, and is perfect for the modern bride. Their collection features all styles and cuts, with lots of gorgeous lace with the occasional sparkle in the finer details. So whether you want the ballgown dress or the mermaid silhouette there is definitely something in the collection for you! As well as this, the gowns are very affordable for their quality and design. The full collection is slowly making our way into store but for now we have some best selling pieces, which are available to try on.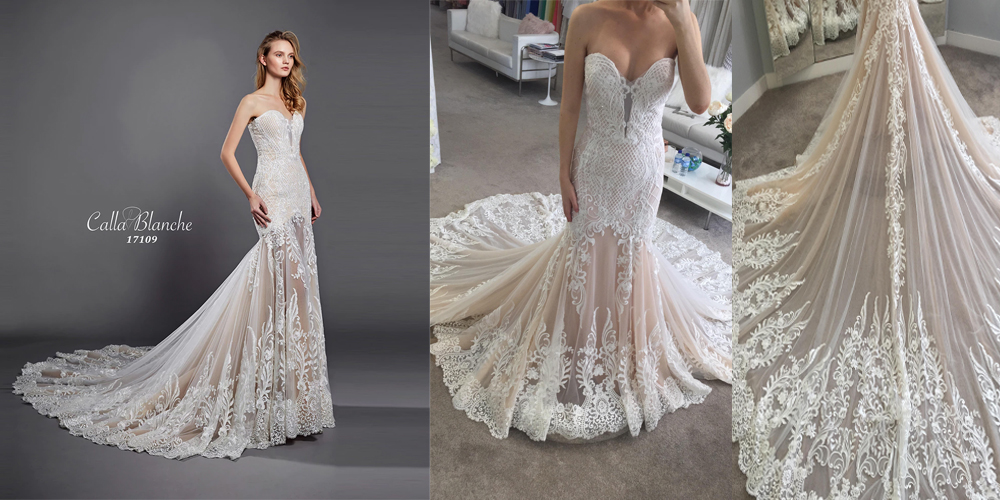 The Yasmine is one of my favourites! The bodice is fitted and covered in a gorgeous lace, while the train is long and elegant. The nude lining underneath highlights the gorgeous lace detail on the dress, however, if you aren't a fan of the nude lining, the dress can be custom made to have ivory lining instead. Our store sample has been custom and had an extra layer of lining added to the skirt so it isn't see through like the catalogue image.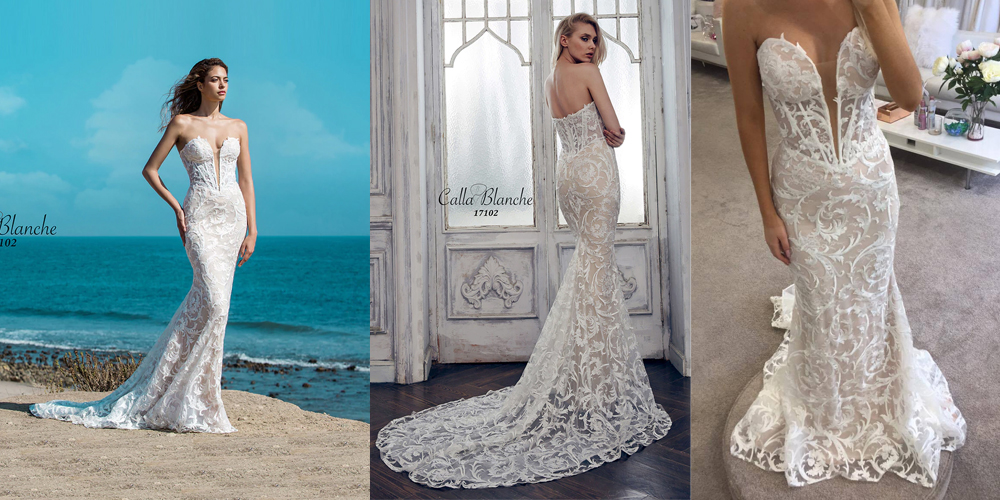 The Arielle is another one of our gorgeous gowns available to try on in store now! The fit of this dress is absolutely gorgeous, and a detachable tulle skirt is available if you want something a bit more traditional for the ceremony. Take it off- and it's a second dress! The lace detail on this dress is exquisite and again, the lining can be custom made into ivory if you prefer. The bust has a deep split, which is perfect if you are a little bit more daring, but if not, this can be easily be sewn together!
To shop the full Calla Blanche collection, head on over to our website! If you have any questions or enquiries please feel free to give us a call on 02 9487 4888 or email us at [email protected]
We have several gowns in store from the Calla Blanche collection and have more arriving every week! To keep updated with our most recent arrivals head on over to our Facebook for the latest releases.
Shop the full Calla Blanche Bridal Collection