It is formal season and we could not be more excited! School formal season means its time to start planning what dress you'll be wearing for your end of school celebrations. You've made it this far, so you deserve to find a dress that you look sensational in, and of course, feel like a million bucks!
Our range of school formal dresses covers every budget and style, from the girls who wanna go all out, and the girls who prefer to keep it plain and simple. You have to make sure you feel comfortable, you don't want to be pulling your dress up or down all night and constantly worrying about your dress.
Now as someone who wore a short cocktail dress to formal, I am all for the OTT dresses. If I could go back and have my time again, I would definitely be wearing something with sequins, glitter, a train, you name it. There are definitely not many opportunities where you'll get the chance to wear a sequin formal dress again in my experience!
Sequin formal dresses are a bit of a trend this formal season, but its definitely up to you what level of extra you go! We have a lot of sequin formal dress options, so guaranteed we'll have something you love.
Option 1: The Glitter Sequin
Although it doesn't sound possible, we do have a few sequin formal dresses which are a little more subtle than the others. Our glitter sequin dress range gives you a touch of sparkle to the dress, without being covered head to toe in sequins. Our Marina (JX1124) from Jadore Evening is already a best seller, and we can understand why! Available in a few different colours, the champagne colour is beautiful, especially once you add a gorgeous tan and some bronzey make up and highlighter!
Shop Marina JX1124 Jadore Sequin Formal Dresses Online Australia HERE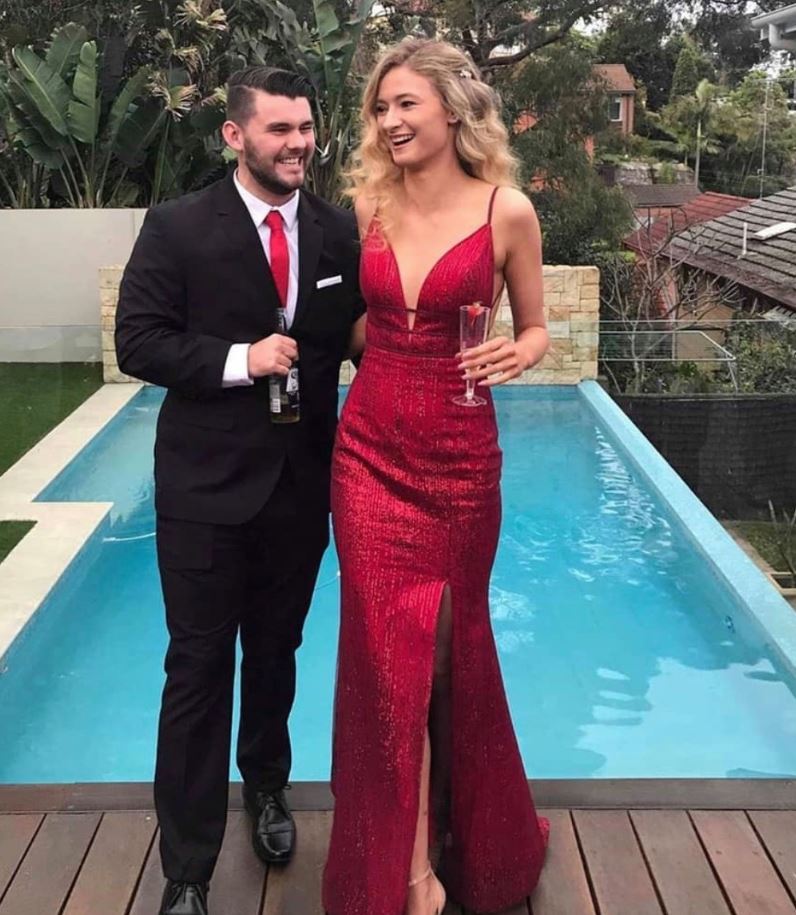 Option 2: The Eye Catcher
If you're looking to turn heads then one our sequin dresses from our Lilly Luxe range is right up your alley. The sequin formal dress range is available in a few different styles and a huge range of colours, as well as all being under $300- so if you're on a budget this is ideal. These dresses are definitely a little sexier and mature with lots of low backs, cut outs and side splits. If you want to go as extra as possible, opt for a bold colour like red or emerald. Otherwise we have black, navy and colours which will draw a little less attention!
Shop The Luxe Range Sequin Formal Dresses Online HERE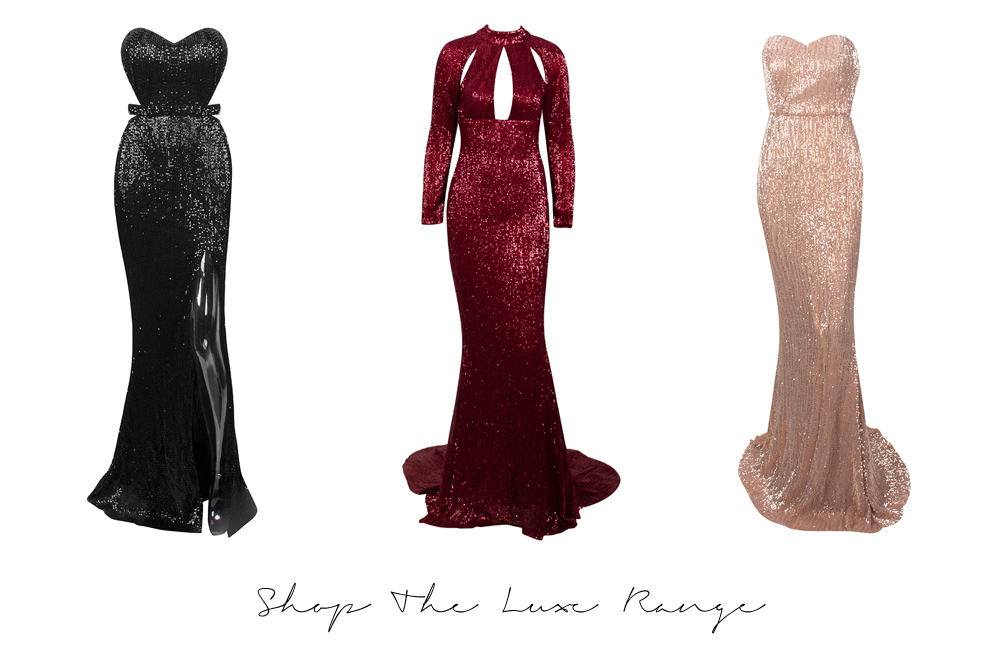 Option 3: The Statement Dress
I love a statement dress, and this Leona (JX1116) dress from Jadore Evening is no exception. It combines the dramatic flare of a ballgown dress and the eye catching sequins to make this the ultimate in statement dresses. Available in emerald, champagne and navy, this dress is seriously amazing. The long sleeves provides a light coverage if your formal is earlier in the year, but you can easily alter the sleeves to have the dress sit as a a sweetheart neckline. I love the emerald colour, which is very popular this upcoming season! It suits most skin tones and really makes your eyes pop if you have green or hazel eyes, which is always a bonus.
Shop Leona JX1116 Jadore Sequin Ball Gown Formal Dress Online Australia HERE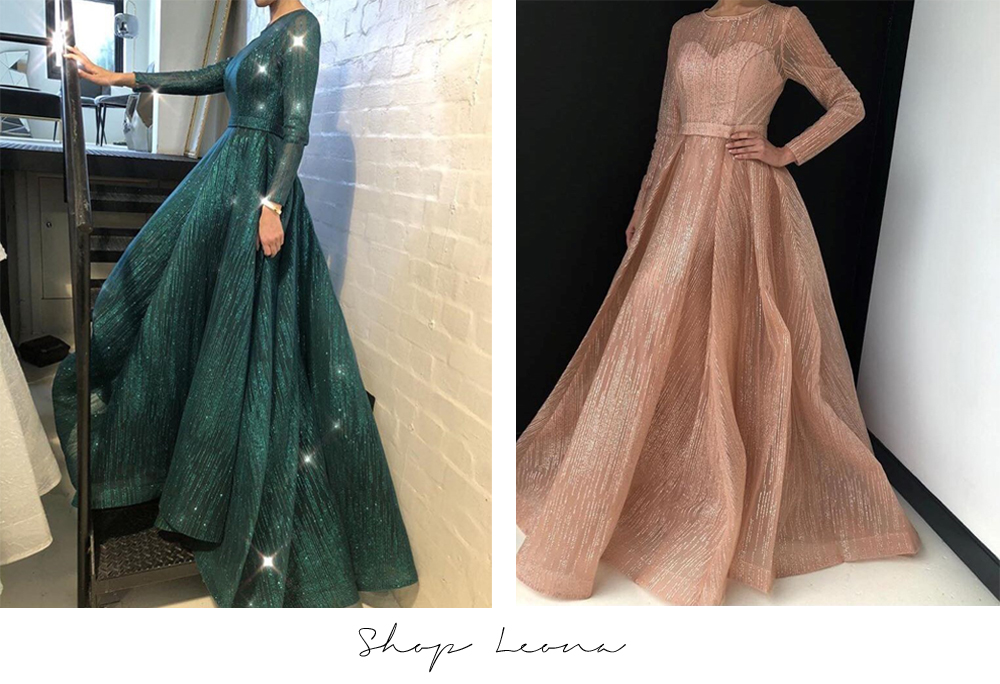 Option 4: The Subtle Sequin
Although it sounds impossible, you can add a touch of sequins to your dress, to give you a more subtle look, whilst still being a little glam. Our LD1093 from Les Demoiselle adds a little sparkle to your formal dress, without feeling overloaded if you prefer to keep it simple. This gorgeous dress is an A line style and has a gorgeous flowy skirt, if you don't want to feel restricted all night in something tight. What's amazing about this dress, is that it's available to custom in up to 30 different colours, for both the chiffon and the bodice. This means you can opt for a two tone look, as well as just having the option to pick your favourite colour!
Shop LD1093 Sequin Formal A Line Dress Les Demoiselle Online HERE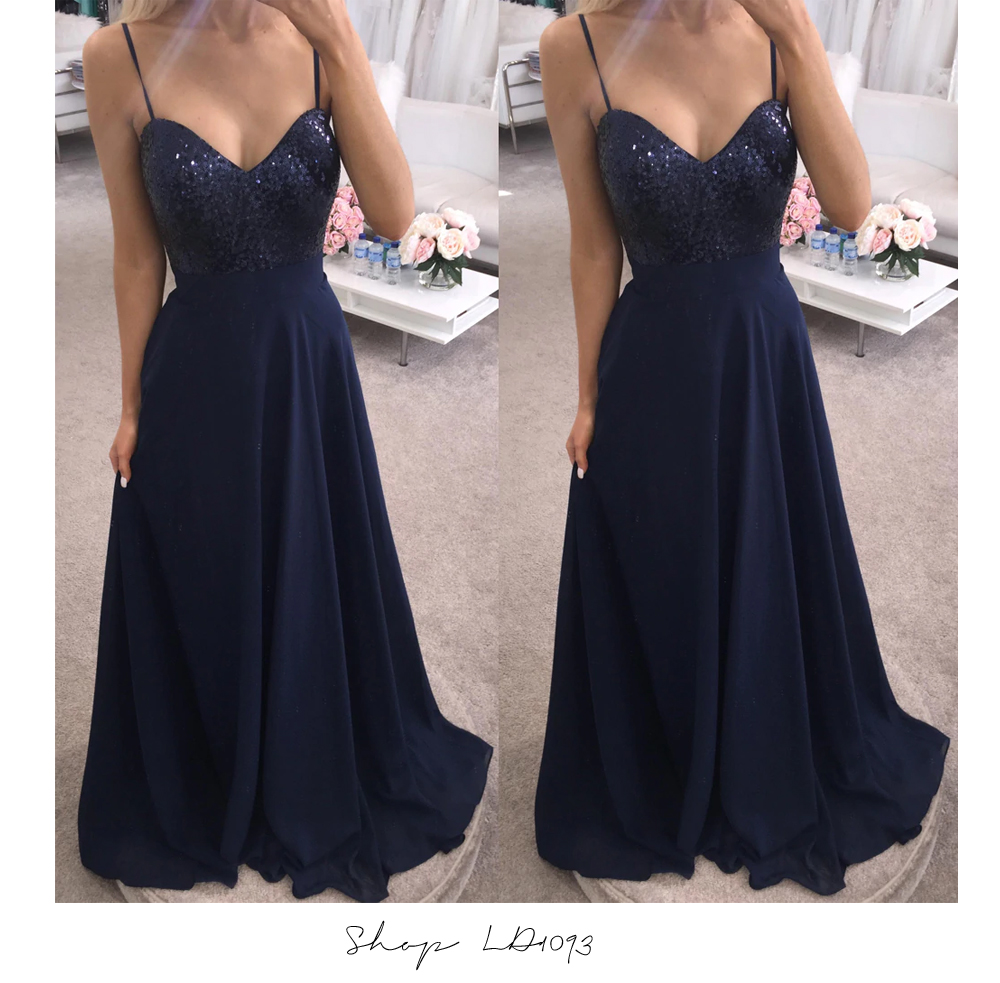 Remember, the number one rule is to always make sure you feel comfortable in what you're wearing! It always shows when someone doesn't feel confident in what they're wearing. Make sure you do you, if you feel fabulous, then no one else's opinion matters!
Shop All Sequin Formal Dresses Online Australia HERE
Our range of evening dresses are perfect for evening dresses, school formal dresses, engagement party dresses, valedictory dresses, cocktail dresses, bridesmaid dresses online, bridal gowns, wedding guest dresses, mother of the bride dresses, mother of the groom dresses and more.
Our brands include Jadore dresses, Les Demoiselle, Pia Gladys Perey, Tania Olsen, Shona Joy, Elle Zeitoune, Portia and Scarlett (Dollhouse Bridesmaids), Lilly Luxe the Label, Mori Lee, Watters, Wtoo, Willoughby, French Collection, Wendy Makin, Goddess by Nature, Calla Blanche Bridal, Social Bridesmaids, Dessy Bridesmaids Dresses, Lela Rose, After Six, Alfred Sung and more.
Shop online with fast shipping to Sydney, Melbourne, Brisbane, Adelaide, Canberra, Perth, with Afterpay and ZipPay. Otherwise visit our formal wear store Sydney in Wahroonga.