The Met Gala is THE fashion focal point of the year, delivering elegant, glamorous, extravagant, crazy, meme-worthy and downright fabulous designs. Met Gala 2021 did not disappoint with its fresh new wave of daring designs, which may or may not have adhered to the In America: A Lexicon of Fashion theme. Who can say really.
Inspired by the boldness, creativity and pure artisanal talent of the most esteemed design houses, Fashionably Yours have put together a little Met Gala Moodboard to get you those coveted red carpet looks from Pronovias Barcelona Bridal, Calla Blanche Bridal, Jadore Evening and Tania Olsen Designs.
---
Chloe absolutely ROCKED IT on the red carpet wearing this glamorous white satin V-neck gown with a full cape flowing behind her. A relatively understated look for the met gala, but no means boring as she serves up confidence and drama. The Abby casual wedding gown by Pronovias offers the same daring leg slit, wrapped V-neck front and a caped sleeves draping around to form a cowl back. We don't all have a body like Chloe Bailey, but the strategic draping across the front of Abby will sure as hell make you look like you do!
While we'd love to see you strut Abby down the aisle, you truly don't need a wedding to rock this stripped-down bridal gown.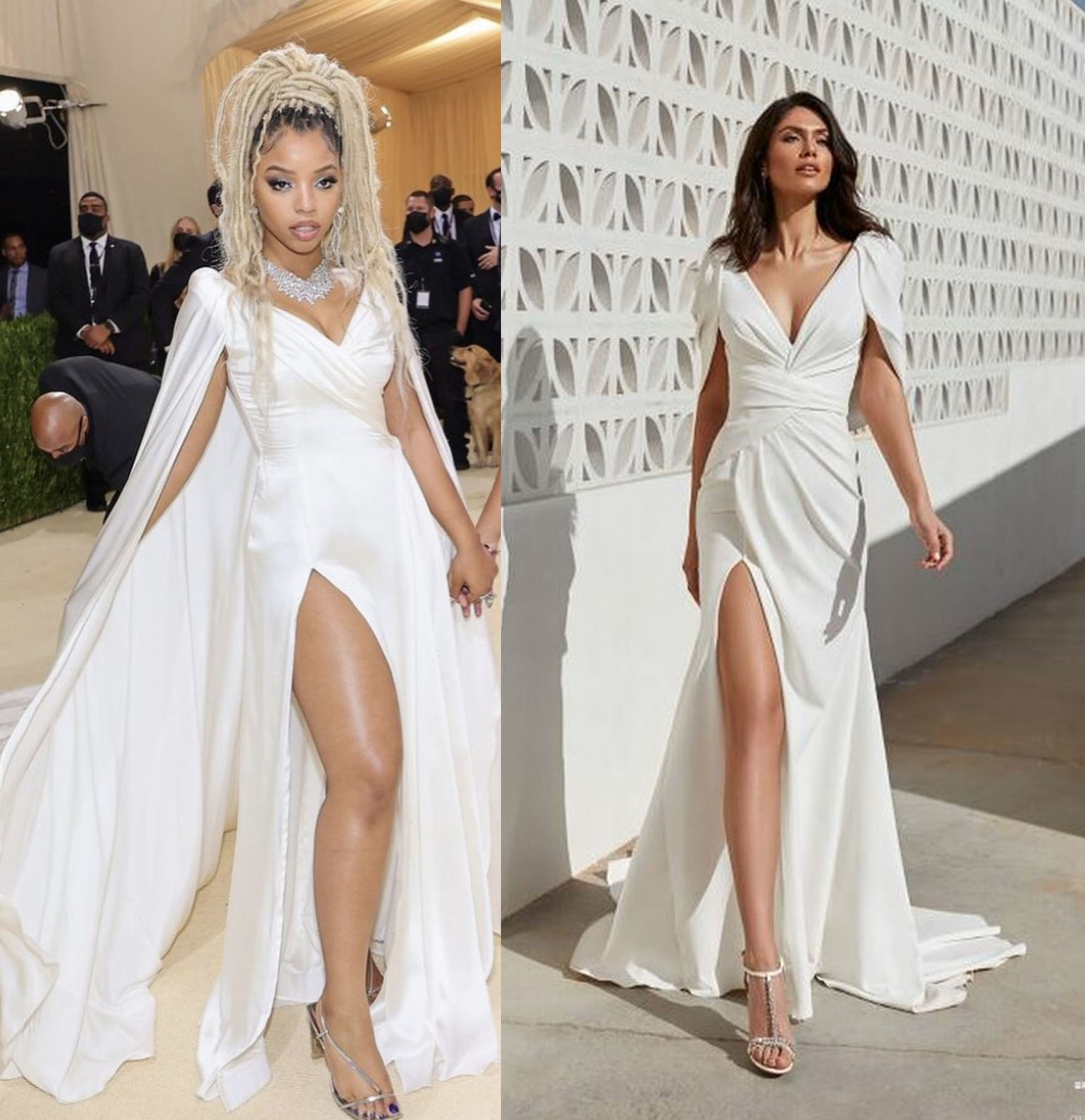 ---
How fantastic is this asymmetrical panelled denim gown from Atelier Versace? The navy diamonte underlay peaking out and the contrast stitching elevate the denim from every day street wear to Red Carpet Glam. Nia JX5009 once again makes it in to a Fashionably Yours red carpet round up, this time in Navy, reflecting the asymmetry, the spliced layering between contrasting fabric textures and a micro peplum detail flaring out on one hip. Any occasion instantly becomes a red carpet occasion with Nia.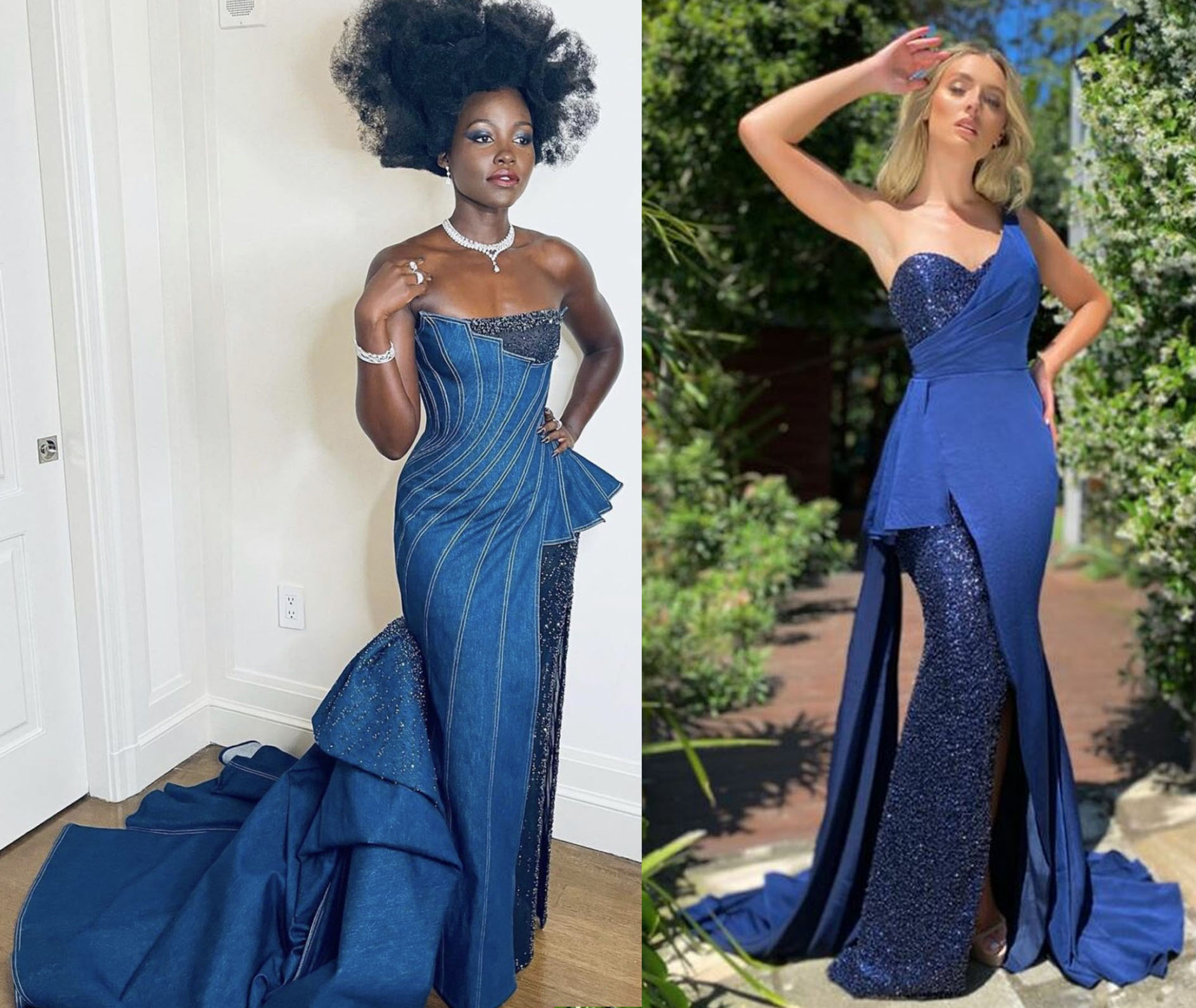 ---
While Joan Smalls looks absolutely fantastic in this crossed front keyhole neck white sheath gown, the big question is, is it really Met Gala worthy? Nevertheless we cannot deny it is a superbly elegant look. Paisley by Calla Blanche Bridal channels this elegance with the form-fitting silhouette free of embellishment, a high halter neck and an open back in place of the waist cut-outs on the Ralph Lauren gown.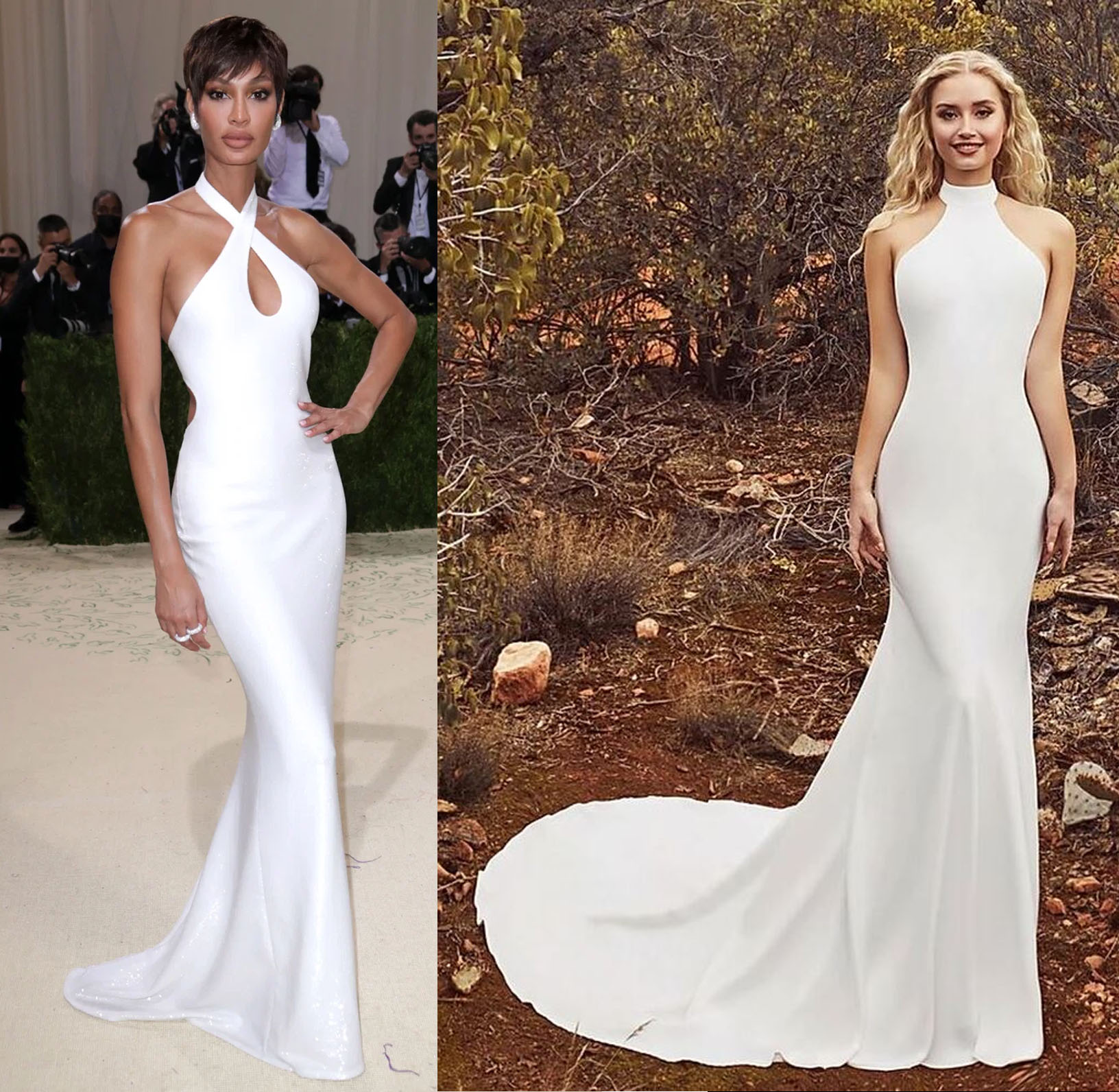 ---
Wow. Just, WOW. Yara rocks an embellished satin sheath gown with an organza hooded cape fastened to the back. (Can we please bring capes back in to fashion?) The sparkle, silhouette and plays on opacity are mirrored in Tania Olsen's Houston gown. The strapless sequin sheath dress features an alluring high leg slit, and while it sadly does not have a cape, we still get an ethereal trail with the gathered tulle train sitting on the back waist.
Bring the red carpet to your school formal, black tie event or debutante ball with Houston!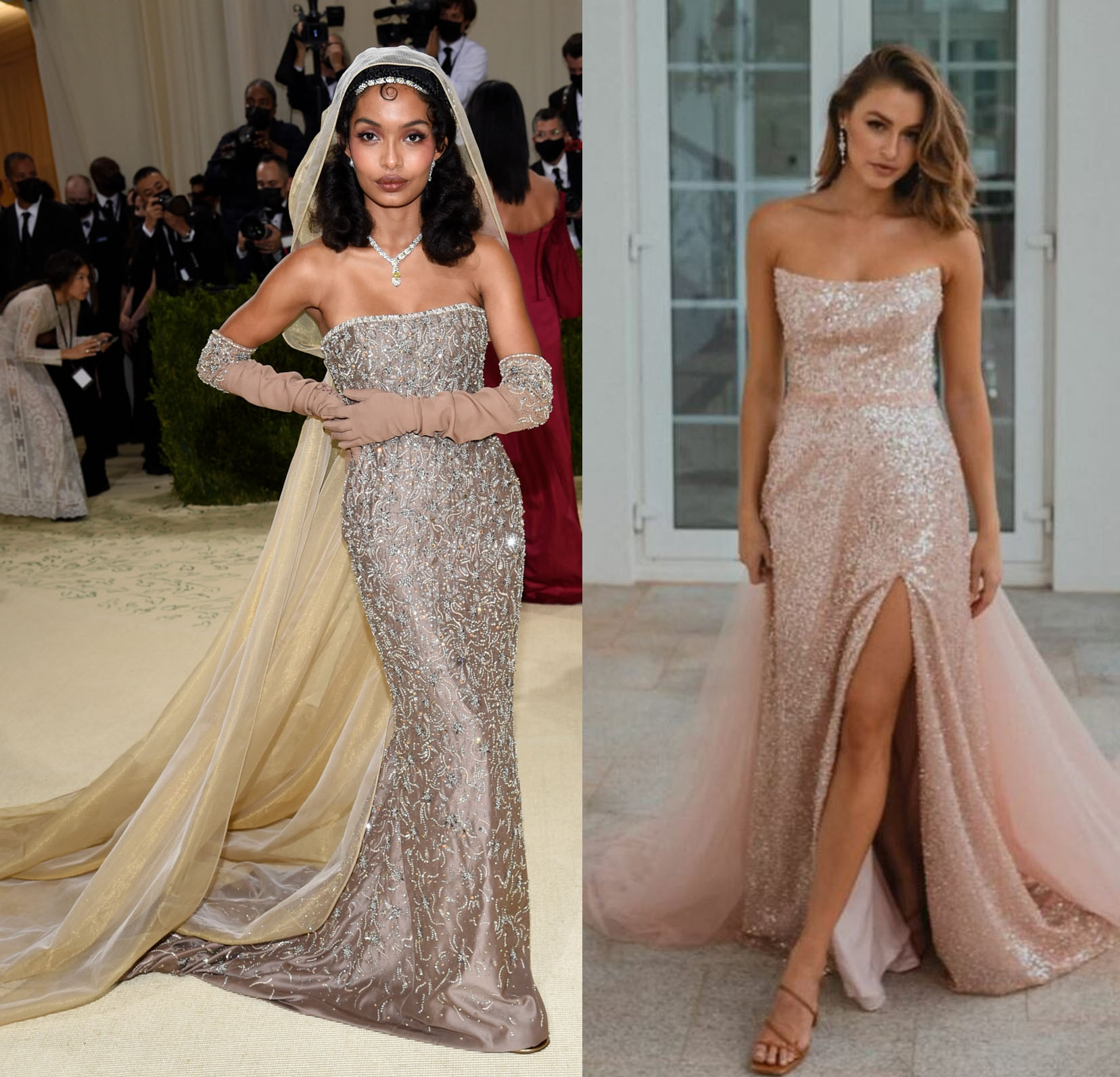 ---
Gigi Hadid is giving us serious Jessica Rabbit vibes in this white satin strapless corset sheath dress by Prada. It must be the hairdo and the black gloves, which transform this simple dress in to fashion-forward look that definitely belongs at the Met. (Joan Smalls, I love you, but take note.) Recreate this look with the Williams Pronovias wedding gown, swapping the lustrous satin with a matte crepe for a more versatile gown. In the absence of a corset, this design relies on an immaculately fitted bodice to create the same shape. The perfect bridal look for casual weddings, or dress it up like Gigi for a glamorous high fashion evening event.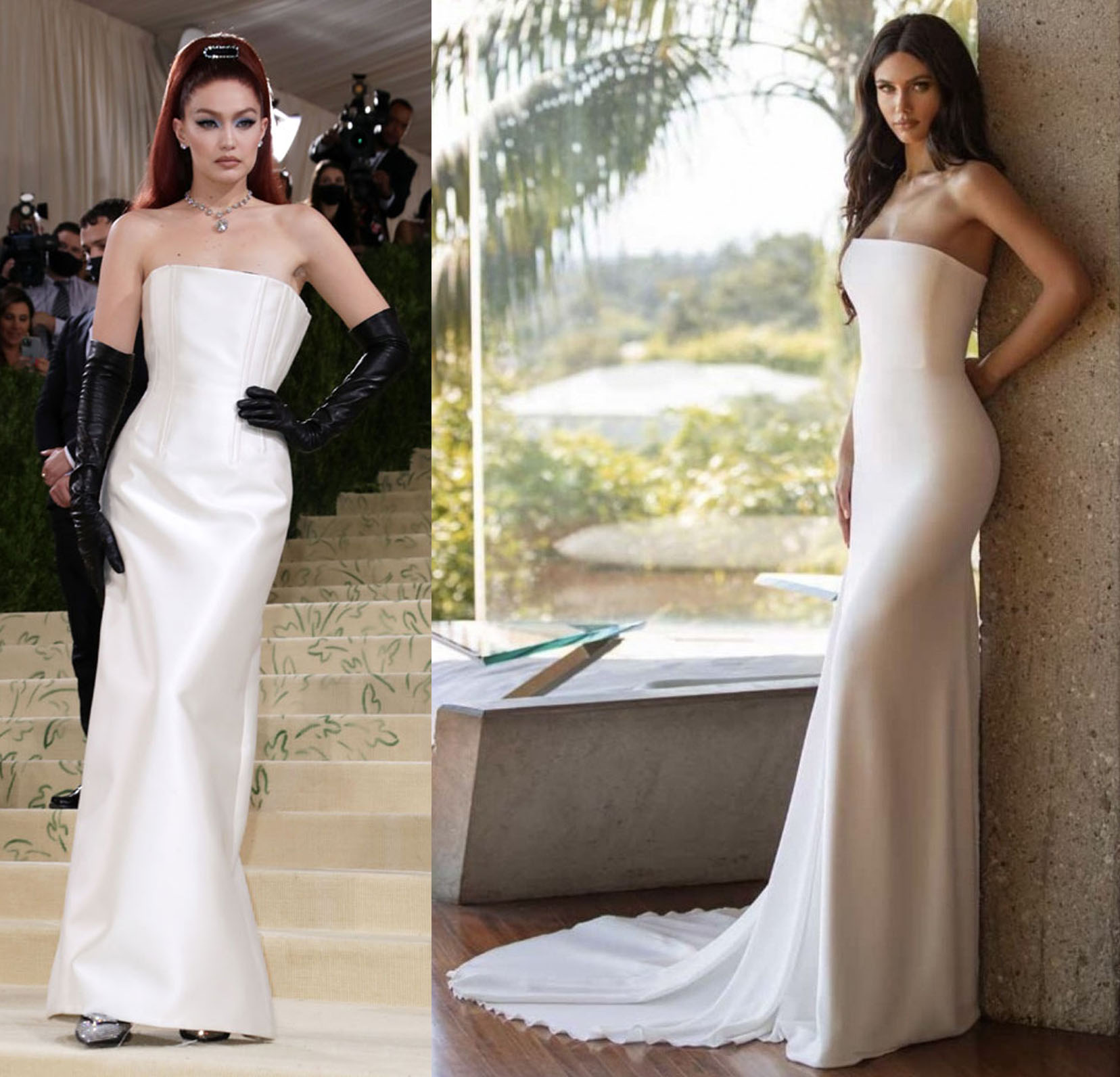 ---
We absolutely LOVE colour, so Rose Leslie's look is a big win for us with the brave combination of red hair, a bright red lip and a BRIGHT yellow dress. Not many people can pull this off like she can! Just like Rose, the fluro strapless sweetheart tea-length tulle dress is so charming and delightful. Ivanna by Jadore offers the same splash of colour, but toned down to a playful lemony yellow to make it more wearable for school formals and evening soirees. The cascading levels of tulle can be easily altered to that coveted ankle length, or embrace the ball gown!
If you love the vibrancy of this Oscar De La Renta gown but yellow isn't quite the colour for you, check out the range of other gorgeous colours from Jadore Evening.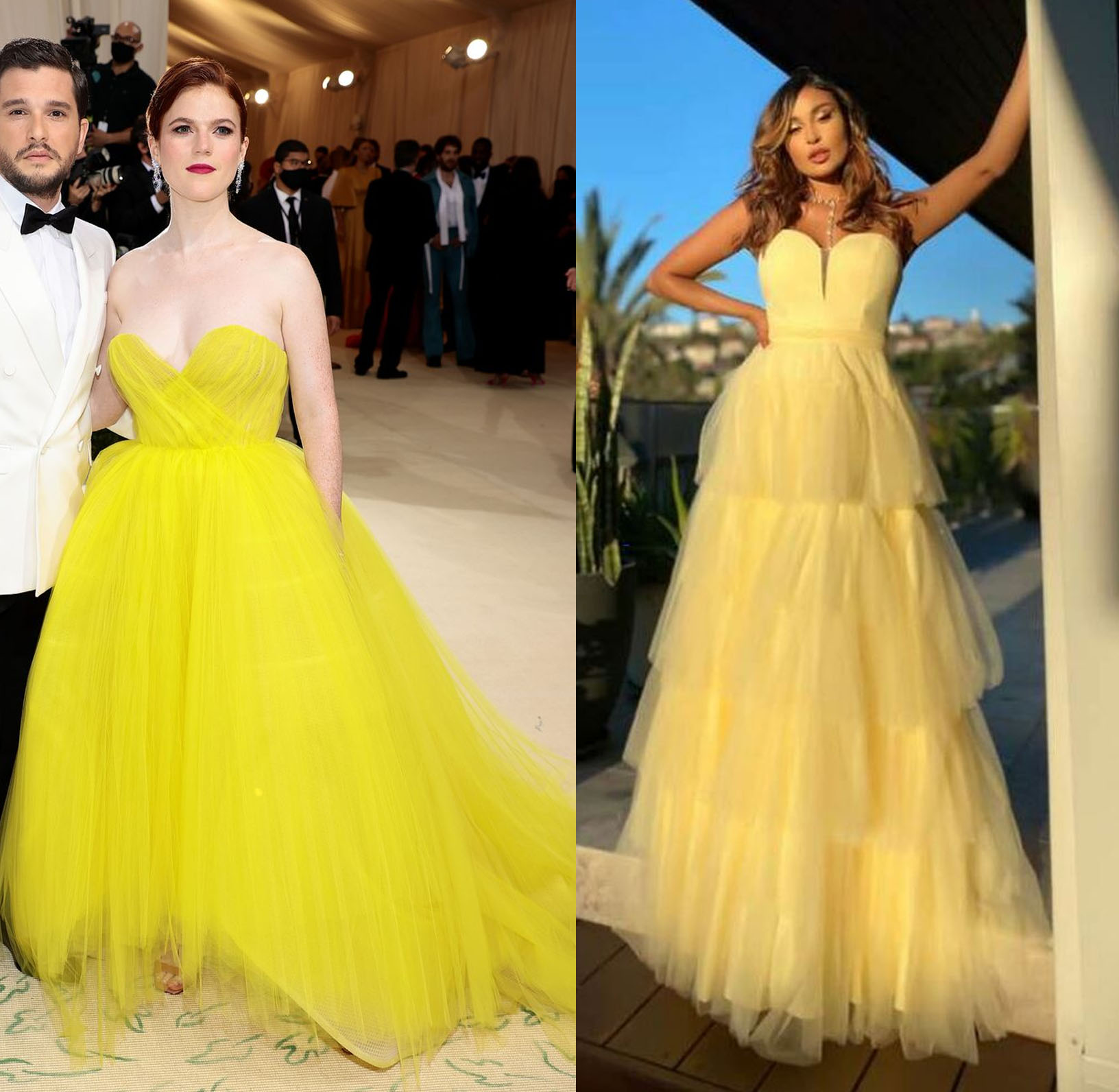 ---
Rachel Smith is a work of art in Rodarte! These gorgeous pink sequined frills bring out Rachel's youthful exuberance and are pure joy to look at. Once again we have tiered tulle from Jadore in the Gracelyn ball dress, flowing from the waist like a couture wedding cake. The extraordinary sculptural sleeves on the Rodarte gown may be a bit much for your regular evening function, so the sequin strapless bustier of this Jadore dress forms a safer yet still stunning alternative.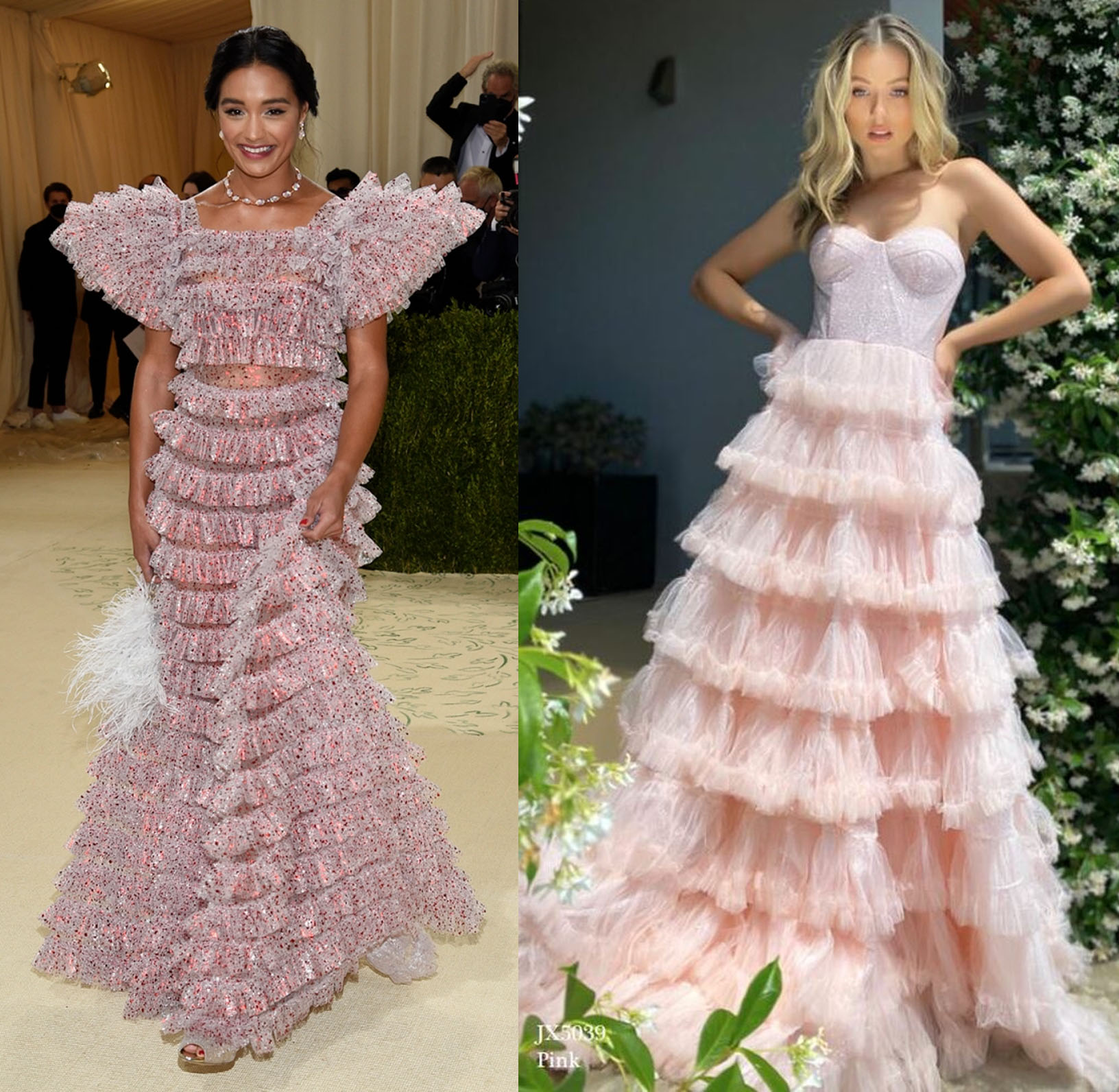 ---
Royal purple from head to toe, Camila shimmered in to the Met in this sequined Michael Kors two piece. Once again we find ourselves questioning if this look really screams Met Gala, but we'd also love to go back in time and wear this glitzy number to our high school formals. Luckily for our younger customers, you can still dazzle in a head to toe sequin look with the Nyla two piece by Jadore Evening, with a ruched hip and high leg split for added drama.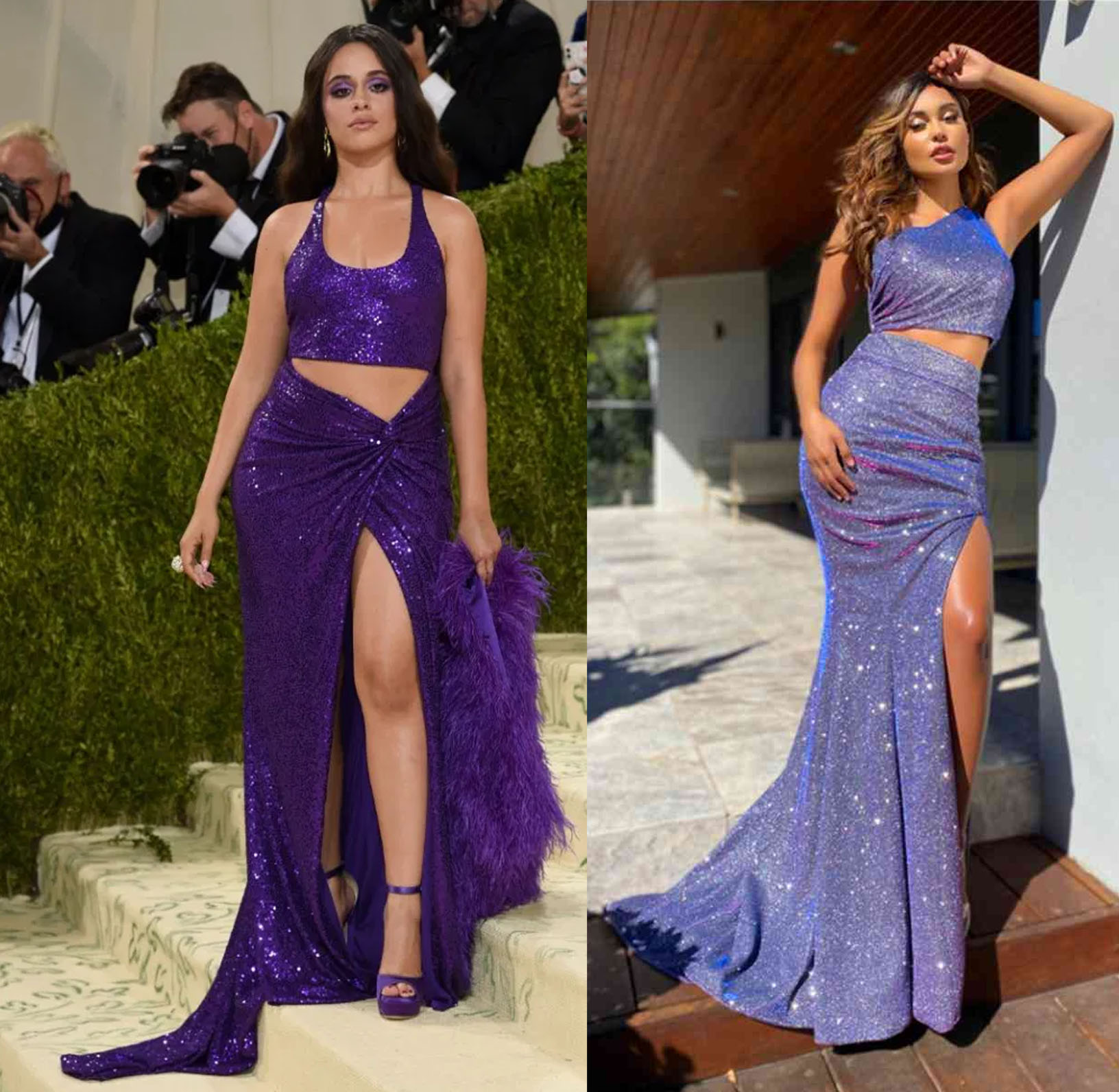 Fashionably Yours Bridal & Formal Store Wahroonga is Sydney's best bridal shop for convenient, affordable and personalised wedding dress shopping. Shop for wedding dresses online Australia and internationally from our gorgeous casual wedding dresses,Casual wedding dresses australia,Casual wedding dresses for older brides,Wedding dresses online,plus size wedding dresses,bridal gowns,beach wedding dresses,wedding dresses near me,wedding gown,meghan markle wedding dress,dresses for wedding, wedding dress,wedding dress shops near me,bridal shops,vintage wedding dresses,gown for wedding,princess beatrice wedding dress,wedding dress styles,Wedding dress shop Sydney,Cheap wedding dresses online Australia,sexy wedding dresses,bridal stores near me,ball gown wedding dress, Romantic bohemian wedding dresses,
---